© 2020 Makelab
Makelab's typical production consists of 3D-printed, custom decor, engineering parts, jewelry, and more. Today, Makelab's website and Instagram page tell a different story — a company that has fully dove into the fight against COVID-19 and is 3D printing PPE, or personal protective equipment, for those who need it most. We caught up with Christina Perla, co-founder and CEO of Makelab, to learn more about the company's newfound mission, the PPE printing process, and how individuals with and without access to this technology can do their part to help.
SIGGRAPH: Share a bit about your thought process in shifting efforts during the pandemic to create 3D-printed PPE for essential workers? How did the idea come about?
Christina Perla (CP): When NYC began reaching its apex, we saw a huge call for PPE for medical workers, frontline workers, and all essential workers. There was mass panic coming from everywhere: the government, our peers, the news, and the media. We saw an opportunity to adjust our factory, pivot, and mass manufacture PPE, specifically Protective Face Shields and Mask Extenders.
At the end of the day, this role just made sense for us. The beauty of 3D printing and our business is that the technology lends itself well to agile pivoting — 3D printing is an agile and lean supply chain. The match between the need for PPE and the services we provide made the idea too good not to jump in and get involved with, especially considering Makelab's ability to handle volume while retaining quality service.
We thought to ourselves, "We can handle this. We can help. Let's do it." Once this was decided, we made a COVID-19 response page, set up a workflow, adjusted our files for 3D printing, and got started.
We thought to ourselves, "We can handle this. We can help. Let's do it."
SIGGRAPH: From a technical standpoint, how does printing PPE differ from other Makelab projects, like jewelry or cosplay pieces? What are the different materials needed to make a face shield?
CP: Printing PPE is pretty different, in a good and easily scalable way. For PPE, we need PLA filament, clear plastic for the visor shield, foam, and rubber bands. Fortunately, we've secured steady vendors to provide the raw materials, aside from the PLA.
This differs from our other projects, like jewelry or cosplay pieces, as we require higher-end, more functional materials for these, and each part that is printed is very different from one another.
SIGGRAPH: What is your biggest challenge in production?
CP: The biggest challenge in production is the assembly of the kits — it's a huge bottleneck. This aspect is the most time consuming since it requires one's full attention. We've also sent 75% of our team to work from home, and have been sending them batches of parts to assemble into kits. Additionally, we've asked friends, family, and other volunteers to assist us with this process. All volunteers assemble and date the kits, while wearing masks and gloves. From there, we retrieve the batch and deliver it to its destination.
SIGGRAPH: Who receives the PPE you produce? How many orders do you ship a day? How many essential workers have you been able to help?
CP: So many people, and we're so happy we are able to help! We've sent a bunch of PPE to local NYC organizations, but surprisingly, a lot of dental offices are also requesting these items as well. We assume they need face shields for essential dental surgeries.
Since transforming our factory to start producing PPE, we've delivered over 1,575 Protective Face Shields and mor than 750 Mask Extenders to multiple organizations. We ship anywhere from 10–20 orders a day and can make 175 shields per day. We've sent PPE to NewYork–Presbyterian Hospital, NYU Langone Health, Trader Joe's, Mount Sinai Hospital, SUNY Downstate Medical Center, Northwell Health, St. Barnabas Hospital, Good Samaritan Hospital Medical Center, Booth Memorial (NewYork–Presbyterian Queens), and more.
SIGGRAPH: What are the cost implications in producing PPE? Can you talk more about the GoFundMe and how much you've raised to date?
CP: The at-cost pricing is $9.25 USD. This is the unit price for all materials plus labor costs for 3D printing and kit assembly. We just launched the GoFundMe Thursday, 26 April and are at about 6% to our $20,000 goal. Before this GoFundMe, we were solely accepting orders directly, meaning that the customer decides where the PPE goes, but we wanted to do more and push harder. We wanted to mobilize our efforts and expand our reach.
With this fundraiser, we can send PPE to our own contacts and get it to them faster, rather than waiting on orders to come in. This is a great productive alternative to offer alongside direct orders for those who are conducting their own donations and fundraisers, using us as a manufacturing site. With these new contributions, we can purchase more raw materials, more filament, and make 5,000 more face shields or 15,000 more mask extenders. ⁠⠀
SIGGRAPH: How do you see the role of 3D printing expanding in both the fight against COVID-19 and the future of medicine/medical supplies?
CP: I love seeing 3D printing really delivering in filling the gap between the dire need and the larger manufacturers. One of the best things about 3D printing is that there is no tooling setup required. If there is a 3D model, you can easily send it to the printer, and, a few hours later, you have a 3D print. I can see 3D printing continuing to fill gaps in supply chains as demand continues to develop and evolve.
SIGGRAPH: What can others with access to advanced technology do to join the fight? Is there a PPE design you offer that owners of 3D printers could download in order to make their own versions at home in order to support their communities?
CP: Yes — we have a file that we can send out to anyone that has a 3D printer! We are also accepting donations of any raw materials, and the breakdown of materials is listed on our website under each product, along with a donation form for anyone who is interested or has a lead. We will happily accept any help!
---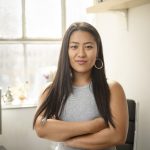 Christina Perla resides in Brooklyn, NY and is the co-founder and CEO of Makelab, a 3D printing service company. After acquiring a friend's company with her partner, Manny, Makelab was born and she hasn't stopped since. Christina is also on the Board of Directors for the global nonprofit, Women in 3D Printing. Aside from thinking of engaging ways to activate the local NYC 3D-printing community, she works with other board members to foster a diverse industry and expand the global reach of Women in 3D Printing through interviews, events, networking opportunities, and resources. When she has free time, she loves to spend it with her fiancé and their dog, Milo. She loves a good, long, strenuous hike anywhere woodsy during the warmer months, and loves to start every day with a good (usually difficult) workout.