The day after SIGGRAPH Asia 2016 came to a close, our International Resources Committee (IRC) settled into some well-deserved holiday time after a successful week in Macao … wait, wait, there is no down time for IRC. SIGGRAPH 2017 planning began as soon as SIGGRAPH Asia ended.
And so it has been six months (and counting) of preparations have resulted in many awesome things that we can't wait to share with the rest of the ACM SIGGRAPH community!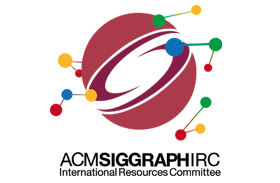 Our year-round activities have focused on creating tons of new content: regional snapshots for the ACM SIGGRAPH Blog featuring the state of CG in regions like North America, China, Venezuela and South America in general; interviews with CG and animation professionals for the new IRC podcast; special translations into Chinese for our Tencent and WeChat channels. We have also been busy with the English Review Service for both SIGGRAPH and SIGGRAPH Asia 2017. We have even renewed the face of the IRC with a brand new logo! One that represents the IRC as the place where everything converges.
At the same time, we have been really enthusiastic in preparing our long-standing material for the conference, plus a few surprises:
We will have our regional sessions at the ACM SIGGRAPH Theater, the traditional focus for IRC during the conference. But this year we are introducing three newbies: "SIGGRAPH for Beginners", "Fantastic Student Portfolio Showcase" and "Silicon Valley Kids: Get-Together for Young Entrepreneurs". Thanks to social cards especially designed for each event, you can learn about the speakers of each session. Make sure you check them out in our IRC FB page. The complete list of sessions to be held at the ACM SIGGRAPH Theater can be found in the SIGGRAPH online program.
We hope you enjoy the multilingual audio guides for the Emerging Technologies, VR Village, Art Gallery and Studio (also new!). An important addition in the list of languages this year has been Thai, in honor to the upcoming SIGGRAPH Asia 2017 in Bangkok. You will be able to listen to the audio guides by scanning the QR codes (with the IRC logo) located on the contributors' signs.
Last, but not least, is the gem of the year: the Triviatron. This is a quiz game about ACM SIGGRAPH, SIGGRAPH conferences and animated feature films, distributed as one of the mini-games in the ScavengeAR app. Once at the conference, download the ScavengeAR app, collect all the sigglets around the venue, and when you need a rest, open the Triviatron to learn about the conference and the organization that makes it happen.
If you want to know more about the International Resources Committee, learn about our activities or attend our sessions, come to visit us at the International Center, South Lobby, Los Angeles Convention Center. See you soon at SIGGRAPH 2017!
---
There's still time to register for SIGGRAPH 2017. Join us in Los Angeles, 30 July – 3 August, 2017!