photo courtesy Jessica Sommerville
by Jessica Sommerville
This is the second installment in the regional snapshot series. In the previous article we focused on the current state of the Computer Graphics Industry in Australasia.This article explores both current trends emerging within computer graphics and the job and work climate within the United States and Canada. It is an accompaniment to the ACM SIGGRAPH International Resources Committee's regional sessions held annually at SIGGRAPH conferences. To help interpret the state of the region I have sourced the inside expertise of Lara Hopkins (Framestore Global Recruitment Consultant) and Zeb Wood (Lecturer Media Arts and Science, Human Centered Computing School of Informatics and Computing IUPUI). You can read more about Lara and Zeb at the end of the article.
---
Current Trends
In recent years, it is becoming increasingly difficult to find work within the VFX industry in the US. Lara Hopkins has witnessed a trend where major VFX houses are reducing the size of their companies and are shifting production globally. She tells us, "In the 1990's, as a CG artist, you could start in any of the major studios as a junior and expect to have a long, well paid career with job progression, great benefits and good work. This is now no longer as straightforward, as production is divided among teams set up all around the world."
On the flip-side, those seeking to work in VFX in Canada are much more likely to find work, as many companies have set up in Vancouver and Montreal, mostly as a reaction to the film subsidies available there (we also see VFX houses opening throughout Asia because of cheaper labour costs).
However, with the move towards mainstream VR/AR, data visualization and theme park projects, there is a lot of work emerging in non-traditional areas like VR/AR and advertising.
Hopkins explains that "there are plenty of opportunities in the U.S. for really talented artists who are happy to work across a broad range of projects and not necessarily on features."
Hopkins believes that despite the fact that VR content is in its infancy, we see various brands and studios increasingly using emerging technologies as a part of their marketing budget. She emphasizes the differences between the traditional VFX pipeline and a new importance placed on a "generalist attitude" (having some coding skills will help) when working with these technologies. "CG Artists who are highly technical and agile, with the ability to work in unfamiliar pipelines and problem solve both creatively and technically, will suit these projects."
Wood's background in visualization and 3D printing gives him a unique perspective on this area. He has a great passion for using CG outside of film and advertising in areas like healthcare and historical preservation. For example, there is an increase in virtual reality being used for mental health and physical-related domains. Wood echoes the sentiment about VR/AR: simulation and visualization are an area where CG has the most potential for growth. Wood tells us that a few years ago there were few markets where CG artists could develop. However, as VR and AR hit the mainstream market, the need for content creators, storytellers and developers is rapidly expanding. In particular, Wood is most excited about augmented (mixed reality) hardware and content, "The opportunity to consume media from anywhere, integrated within our world, promises exponential growth in interactive content and content creation."
Wood is also equally excited about 3D printing for many of the same reasons. "We live in a time where people who need prosthetics, burn masks, dental work, and other devices can have perfectly fitting treatments that heal, provided by 3D printing. It is personal, and we are changing lives." Working on 3D prototyping for personalized medicine at Indiana University requires a diverse team. Wood's team includes dentists, surgeons, engineers, and digital designers. "The best part of what we have found is that real innovation requires designers and problems solvers. There is nothing better than holding something you have made to help someone in need, I promise you. I have seen it first-hand, and I cannot wait to show the world what our team is developing."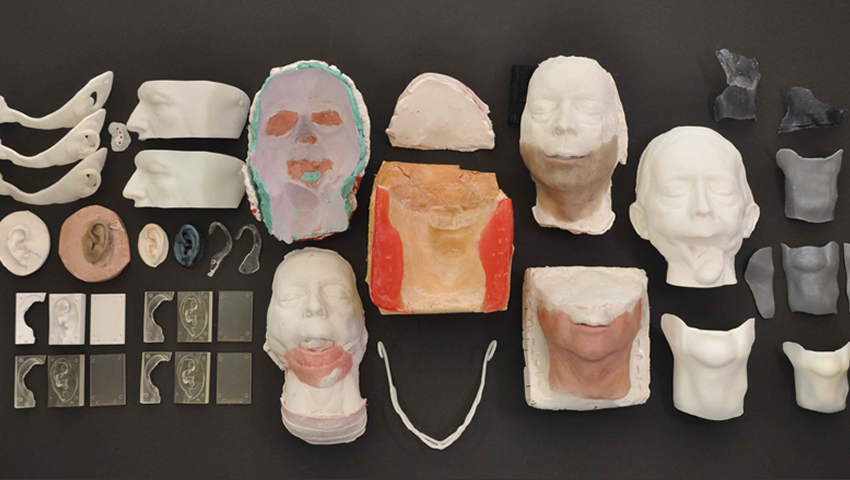 photo courtesy Zeb Wood 
Wood also discusses the potential of using computer graphics in historical and artifact preservation projects. His team has been working closely with local historians, librarians, and CEOs of museums to protect art and artifacts digitally. He notes an unexpected trend that has made many of these projects a reality. "The substantial cost reduction in digital scanning and other capture technologies like photogrammetry, and their subsequent use outside of games, is making this possible." Wood cites a recent project as an example. Using digital scans, his team was able to recreate Bethel, a 180 year old African American church in Indianapolis. "The church was sold to a hotel developer, but we are incorporating oral histories, photographs and videos in the virtual reconstruction to help it live on." He notes that one of the biggest challenges his team is facing is access. "We want Virtual Bethel and other projects like it to be accessible to all, especially youth."
Jobs and Work Climate
Hopkins believes that job growth is down within the US for long form traditional areas, including high end CG and VFX feature films. Hopkins also believes that immigration is becoming increasingly challenging for non-U.S. workers, because the availability of H1B visas (the standard visa for CG artists) has decreased, making it tougher for many to enter the country to work. She sees this trend continuing under the Trump presidency. It will become increasingly more difficult for people without a green card or citizenship to work in the US. "This will provide challenges for any company in the U.S. seeking to hire the best global talent, and will more than likely increase the chance of large studios growing their global offices where they won't have the same issues," Hopkins says.
While there may be challenges in the U.S. market, the job market for CG artists in Canada is very good. There is a lot of demand and no lack of work, particularly in Vancouver, where many companies compete for artists. The increased competition among companies has at times made it difficult to hold on to artists who have received more lucrative offers elsewhere. Hopkins provides this advice to artists: "be mindful that things can change, and don't burn your bridges by leaving companies in the lurch for the promise of more money. It is worth building up your reputation as someone who is loyal and stays until project is delivered. You never know when you will be in a different market, and people have long memories."
If you are considering working in Canada, Hopkins reminds job seekers not to forget Montreal. "It is a really great city with a very low cost of living in comparison to Vancouver, and there are a lot of great companies opening up there. It is only an hour to New York by plane, much closer to Europe, and the city has a particularly European feel."
Wood's recommendation when looking for work in North America: "make friends, be humble, work hard, and communicate clearly."
He emphasizes that, "if you want work in entertainment, it's an uphill battle, especially when you are in the Midwest."
Wood shares his concerns regarding students trying to get their foot in the door. "As an educator, I am always fearful that our volatile market trains too many young people and does not have enough work to sustain a quality of life worth living." He anticipates that as hardware costs continue to decrease, "marketing, education, visualization, and personalized mini-manufacturing sectors will be substantially larger and disruptive." He provides this piece of advice to students. "Make sure you do not have your blinders on, the world is an exciting place in which your skill sets are critical to the flow and understanding to solve the world's next best problems."
---
Jessica Sommerville, born and bred in Sydney, Australia, is a digital artist currently working as a modeler in the Art Department at Animal Logic on The Lego Ninjago Movie. She is also a member of the ACM SIGGRAPH International Resources Comittee.
Lara Hopkins has 25 years of experience in the VFX and Animation Industry, initially working in VFX production and now having a focus on talent, recruitment and VFX management. Her most recent focus has been on crewing Framestore's new office, which opens in Chicago in April this year, as well as supporting their VR and emerging technology teams across the network. Lara's role involves searching for the best VFX artists and producers for advertising, VR, emerging technology and film projects.
Zeb Wood teaches CG pipelines at the School of Informatics and Computing at IUPUI, in Indianapolis. With a background in visualization and 3D printing, Wood provides us with an interesting approach in which he explores the many ways in which computer graphics are being implemented in fields outside the VFX industry.