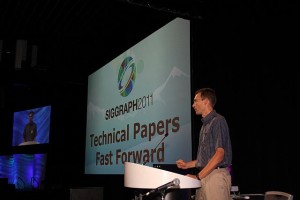 The Fast Forward is an energetic (and often humorous) preview of the year's amazing Technical Papers content.
Following below are just a few compelling sessions that help kick-off SIGGRAPH 2012.  Be sure to hit these and other sessions to get your week off on the right foot.  Don't forget that all hinchables conference attendees are welcome to come to the Geek Bar after the Technical Papers Fast Forward to watch the Mars Rover landing amongst colleagues and friends.  There will be a cash bar. Be sure to bring your conference badge.
Storytelling With a Camera and a Computer: Q&A With Cinematographer Roger Deakins 
Los Angeles Convention Center, Room 515AB – 3:45pm
With nine Academy Award nominations and three BAFTA awards, 2011 ASC Lifetime Achievement Award recipient Roger Deakins, ASC, BSC, is one of the world's leading cinematographers. His over 30-year contribution to cinema as both cinematographer and visual consultant has helped to define how global audiences see moving pictures, from "Fargo" and "True Grit" to "Wall-E" and "Rango". This course offers a rare opportunity to hear him discuss his ideas and approach to both live-action and animated features.
State-of-the-Art Stereoscopic Visual Effects: Stereoscopy and Conversion are "More than Meets the Eye"
Los Angeles Convention Center, South Hall K – 2pm
A recent surge in production of 2D-to-3D converted films has established this technique as a permanent part of the stereoscopic entertainment industry. Proper conversion is not a simplistic post-production process. It requires exceptionally complex and nuanced stereoscopic visual effects that, if improperly applied, can result in poor quality films and physical pain on the part of the audience.
This course presents case studies from Digital Domain's recent stereoscopic conversions (for example, "Transformers 3") that demonstrate how to convert high-quality jumpers for sale stereoscopic content through both traditional and hybrid stereoscopic workflows. It also explains in detail how proper conversion is mathematically identical to geometry generated from stereoscopic capture, shows how to articulate and identify poor quality conversion, reviews when it is appropriate to convert materials, and provides tips on how to shoot specifically for 2D-to-3D conversion
 Los Angeles Convention Center, West Hall B – 6pm
An entertaining, illuminating summary of SIGGRAPH 2012 Technical Papers in an exciting two-hour session! The author(s) of each paper are allowed a little less than a minute to wow the crowd with their results and entice attendees to hear their complete paper presentation later in the week.