© Lee Harris, Electric Skies Ltd; Benjamin Cleary, Michael O'Connor, Mr. Kite
Warning: heartbreak ahead! Get ready for a whirlwind of emotions as you experience "Glimpse," an animated interactive VR experience presented by Mr. Kite and directed by Academy Award-winning writer/director Benjamin Cleary and VR creator Michael O'Connor. During this presentation, you'll dive into the imaginative mind of Herbie, a panda who has just recently broken up with his deer girlfriend, Rice, and how he uses art to turn a heartbreaking end to a beautiful beginning. Learn all about the makings of this incredible visual journey and how it came to be.
SIGGRAPH: Tell us about the process of developing "Glimpse." What inspired you to pursue this VR experience?
Michael O'Connor (MO) and Benjamin Cleary (BC): When Benjamin Cleary and I started our company, Mr. Kite, we wanted to explore how we could tell stories in ways that they had never been told before. With "Glimpse," we wanted to place people right into our story as active participants, truly inside of the life of another person with a fully fleshed out history. That history in "Glimpse" focuses on the relationship between Herbie and Rice and, over the course of the piece, we want people to feel the full force of falling in love, dancing with another soul, and then having that love taken away from them as everything dissolves into a cosmos of memories.
SIGGRAPH: How did the story idea come about? What was your favorite aspect of depicting the animals' relationship over time?
MO and BC: I was listening to Herbie Hancock's "Chameleon" while looking in the mirror, nursing a meaty hangover, and internally regaling my failed romantic relationships. I had eaten an admirable amount of feta cheese the night before and I looked like a blue panda. At this moment, I said to myself, "Her-bie or not Her-bie?"
As we developed the experience, it was super important to us that although we were placing audiences into the body of Herbie, the male side of this relationship, everyone should be able to identify with the emotions underneath. Using anthropomorphic creatures enabled that important duality of both detachment from gender and attachment to character.
SIGGRAPH: Did you come across any specific difficulties in making this compelling story translate into a VR world? If so, how did you overcome those challenges?
MO and BC: Initially we wanted to physically create a talking panda and deer and shoot the whole thing as a live-action piece. We spoke to the team behind "Jurassic Park" about how they managed to make the dinosaurs but after learning that this was fiction and would cost more than $450, we had to pivot to making a VR animation.
So we got to work. Making a VR piece during the pandemic was challenging, but our producer Lee Harris pulled us through. We had to build a number of collaborative tools so we could experience the same things together in VR no matter where we were in the world. These tools were truly invaluable. It's immensely important to be able to share the virtual spaces you are creating with your team.
SIGGRAPH: Drawings and illustrations play a key role in this animated, interactive VR experience. Why did you choose art as the medium for Herbie to share his memories?
MO and BC: Herbie is an illustrator who documents his life through his "Daily Scribbles," a visual diary of his experiences. Embodied as Herbie, we, as the audience, delve into his artwork and his past. In this way, as storytellers, we unlocked a fun, nonlinear way of exploring and unearthing the story of Herbie and Rice. On top of this, by using illustrative art, we were able to pepper "Glimpse" with symbolism and Easter eggs that could provide layers for those who want to experience "Glimpse" multiple times, while also using Herbie's studio as a kind of art gallery to increase that deep sense of immersion in the raw, expressive emotion conveyed in visual art.
SIGGRAPH: What do you hope viewers gain after watching "Glimpse"?
MO and BC: "Glimpse" is ultimately a global story that we hope strikes a personal nerve with all of those once or currently heartbroken souls out there. Like grief in general, sometimes it's not about getting over the heartbreak but, rather, finding a way to get through it.
We are proud to join the emerging movement of storytellers who are discovering the grammar of VR. We hope that viewers will enjoy some of the ways that we used the 360 space, interactive opportunities, and the power of the real-time engine to tell a story in a fun, unique, and emotionally resonant way.
SIGGRAPH: What advice do you have for VR storytellers looking to participate in future SIGGRAPH conferences?
MO and BC: Build a great team and trust them. Making narrative-driven VR requires diverse skills: film, games, animation, VFX, theatre, and more. Our mantra was "best idea wins" or to fill that out, "whoever has the best idea — whether it's the directors, the producers, an intern, developer, whoever that might be — if they have an idea and it works, then it goes in." Sometimes you find your golden nugget in a delightfully mad box of spiders.
SIGGRAPH 2022 will be here before you know it! View our registration options to find the one that best fits your CG goals, including both virtual and in-person options.
---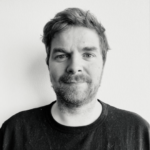 Michael O'Connor is a designer and producer of flagship titles for global video game market leaders SEGA and Nintendo throughout his career in the games industry. His credits include "Football Manager," "Donkey Kong Country," "Super Smash Brothers," and "Yoshi's Woolly World." He is the director of award-winning interactive VR experience, "Glimpse" (2022).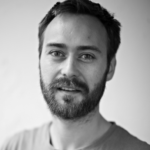 Benjamin Cleary is an Oscar-winning writer-director. His debut feature film "Swan Song" recently released on Apple TV + and features Mahershala Ali, Awkwafina, Naomie Harris, and Glenn Close. It was nominated for a BAFTA and a Golden Globe. In 2016 his film "Stutterer" won over 40 awards including an Academy Award for Best Live Action Short.