Image Caption Needed
Witness the beauty behind one of science's greatest mysteries: the human brain.
Through collaboration with the Society of Neuroscience (SfN) and the world's leading scientists and creatives, the recent ARTECHOUSE "Life of a Neuron" exhibit gave visitors an experiential view of life at a cellular level. Made possible by decades of neuroscience research and cutting-edge technology, this immersive experience featured installations from multidisciplinary artists from around the globe — including Synthestruct, Akiko Yamashita, fuse*, Gil Castro, Maurice Benayoun, Alvaro Cassinelli, and Server Demirtas. If you missed it live, no need to panic: We caught up with the exhibit's creators to dive into the media and technology-based art used to tell the story.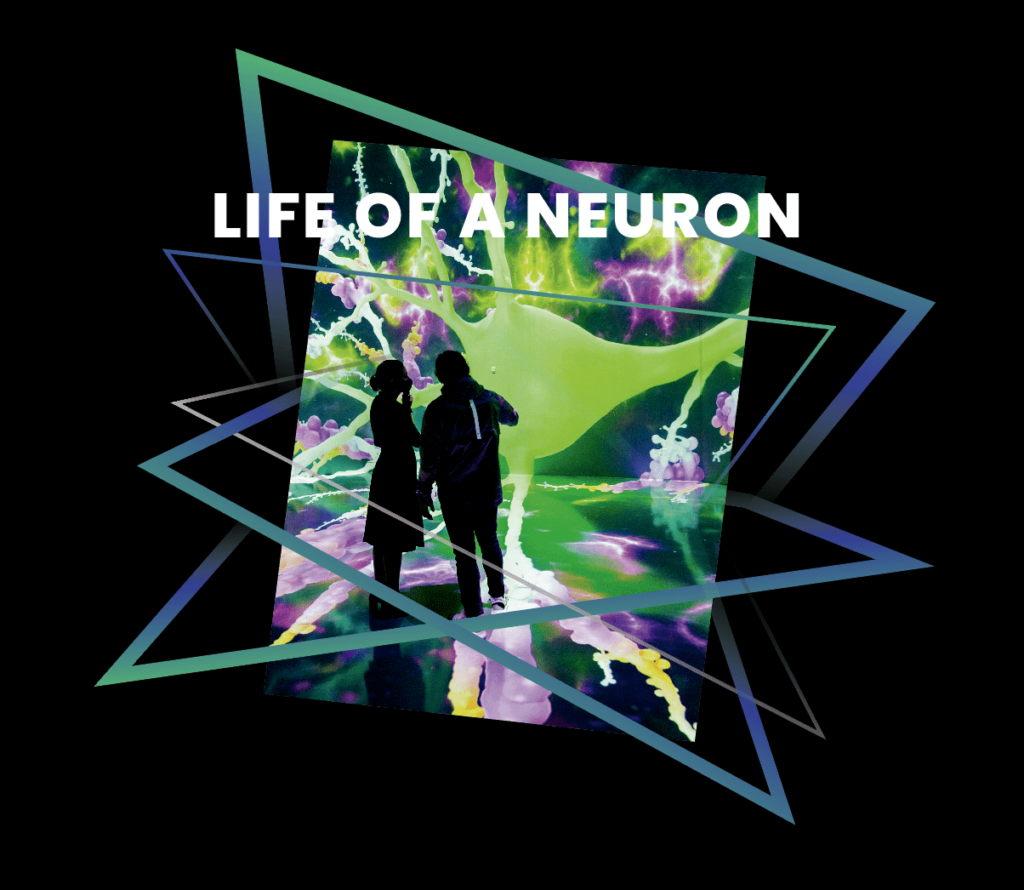 SIGGRAPH: Share some background about the "Life of a Neuron" exhibit. What inspired its creation?
ARTECHOUSE Studio: In 2018, SfN was looking for a special way to celebrate the last 50 years of science and what the next 50 years of science could bring to the understanding of our humanity, including a diverse set of perspectives and mediums that can spark the imagination of both the scientists and the general public. They sought to create something for the public, as opposed to an exhibition designed for scientists. The collaboration with ARTECHOUSE was born from the desire to present a legacy project that was appreciable by both the wider public and SfN's 30,000 neuroscientists alike, while still recognizable as intellectually sound and viable.
From the outset, both ARTECHOUSE and SfN agreed we wanted to tell a universal story about all of us and about what makes us unique at the cellular level. ARTECHOUSE found a potential story arc through SfN's "Brain Facts" publication, which presented the neuron as the key to understanding the life cycle of the brain. This concept was intertwined with the dream project of Dr. John Morrison (the lead scientist of the project), who wished to construct a human neuron in the prefrontal cortex that people can physically explore.
We chose to tell this story using a neuron from the prefrontal cortex because it is what makes us human. The prefrontal cortex is highly plastic because it processes new information every day. This ability to be renewed every day through learning and experiencing is very human. At the very core of the human experience is a neuron that allows this human story.
It is impossible to distill the breadth of neuroscience into a singular installation. To achieve greater accessibility, "Life of a Neuron" uses a chronological framework to elucidate scientifically accurate stories about the neuron that appeal to both the general public and the scientific community.
"The human brain has 100 billion neurons, each neuron connected to 10,000 other neurons. Sitting on your shoulders is the most complicated object in the known universe."

—A quote from the physicist Michio Kaku conveying the complexity and wonder of the human neural system succinctly covers what would become an ongoing dialogue of discovery with a global group of incredible neuroscientists.
SIGGRAPH: Break down the technology used throughout the "Life of a Neuron" experience. What was used and how could visitors engage with it?
ARTECHOUSE Studio: "Life of a Neuron", formed by a variety of display and sensory technologies, featured a fully immersive storytelling environment. Utilizing an array of 4K projectors and a complex computational system to showcase surround visuals, visitors were invited to experience this life cycle as though they too were only a few millimeters in size. Auxiliary installations, some relying on cameras for user input, offered visitors opportunities to interact with and contribute to sections of the exhibition, each with its own unique journey within the greater context. This technological tapestry was woven to support the overarching narrative by providing visualization from a variety of viewpoints and abstraction of scale.
SIGGRAPH: Dive into the decades of neuroscience research that led to "Life of a Neuron": How long did the research take? How many team members contributed to the research? What are some of the favorite "fun facts" that the team learned and, eventually, shared in the exhibit?
ARTECHOUSE Studio: From the inception of the project to the premiere of "Life of a Neuron" in Washington, D.C., it took three years of effort to construct our "hero neuron" featured in the main story. There were nine people who were part of the core scientific development team. This team brainstormed on the goal, the data, methodology, and logistical needs to achieve the desired results. It was a monumental journey for this infinitesimally small part of the brain, taken from one patient's prefrontal cortex to transform over the next 18 months into a reconstructed 3D model, becoming the center of a groundbreaking, experiential exhibition. This reconstructed neuron, with its electron microscopy (EM) data integrated, is considered to be a huge scientific achievement with the entire process to be published as a paper.
The main installation, "Life of a Neuron", is augmented by supporting installations that touch on three supplementary topics chosen by SfN as most relevant to our time: vision, stress, and addiction. Neuroscientists who are considered pioneers of each topic were brought on to consult and educate the artists who were chosen to represent each topic. This process took about a year with the disruption of COVID-19.
There is so much we have learned over the course of producing "Life of a Neuron," from how it's not our eyes, but our brains, that actually see to how our genetics affect the way proteins are processed at the synaptic level. However, despite all the complex knowledge gained through this journey, the most appreciable fact resonates with what we've set out to tell from the very beginning: We all share the same core; it is our experiences that differentiate us. What makes us individuals is in our synapses. They are sculpted by our experiences. Learning continuously modifies the synapses. What is fascinating is that technically, your brain is different in the evening than in the morning.
SIGGRAPH: What challenges did you face while developing the final experience that you presented at ARTECHOUSE?
ARTECHOUSE Studio: Like everything else over the past two years, COVID-19 shaped the development process of "Life of a Neuron". And while there were other specific challenges, all were either created or exacerbated by the pandemic. Our team was required to maintain even greater attention to detail and continuity as we all contributed from our respective corners of the globe. A particular experience that stands out is when science labs nationwide had to shut down at the start of the pandemic, along with the businesses. Our brain specimen that was to be reconstructed was stuck in limbo in New York. Luckily, our imaging sponsor, Zeiss's headquarters in Germany, was able to operate, so this specially prepared microscopic specimen made an international trip during the start of the pandemic. It got imaged into thousands of slices that would go through the hands of a neuroscientist based in Italy named Corrado Cali, Ph.D., to emerge into its 3D data form. At a time when the vast majority of the public was confined at home, our "hero neuron" traveled internationally to become a scientifically accurate 3D model, emerging as the foundation of a groundbreaking art exhibition.
SIGGRAPH: What's next for "Life of a Neuron"? Do you intend to travel the exhibit or will you start a new project?
ARTECHOUSE Studio: "Life of a Neuron" will be traveling to our New York City location this summer and will continue to tour various locations, inspiring and educating the public with its powerful medium. ARTECHOUSE is the leading 21st-century arts organization in producing and presenting technology-based art, providing the most advanced exhibition platforms. We do this through our ongoing collaborations with artists, leading designers, and our own studio team. We currently have six different exhibitions on view in six different cities; three at our venues located in NYC, D.C., and Miami, and three at our partner venues in Las Vegas, Montreal, and Reykjavik. We also have multiple projects in production, along with taking "Life of a Neuron" on a tour.
SIGGRAPH: What advice do you have for someone who wants to focus on the use of technology in their art?
ARTECHOUSE Studio: To specialize. It helps to develop an aesthetic identity, workflow, and attain a professional skill set. The traditional notions of artistic progression won't get you far, since technology-driven art is uniquely community-driven due to its interdisciplinary nature.
Have an innovative digital media project to share with the computer graphics and interactive techniques community? Submissions for SIGGRAPH 2022 are still open! For even more from ARTECHOUSE, listen to Episode 33 of the SIGGRAPH Spotlight podcast to hear Andres Burbano (associate professor, Universidad de los Andes) chat with ARTECHOUSE Co-founder and Art Director Sandro Kereselidze, among others, about the evolution of interactive and immersive art.
---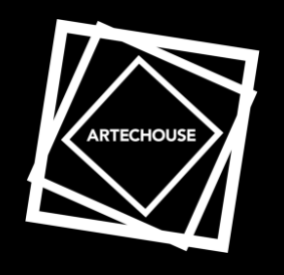 A pioneer in the field of innovative digital and experiential art, ARTECHOUSE expands the possibilities of art and how we experience it through innovative technology-driven exhibitions and experiences. ARTECHOUSE connects progressive ideas, artists and audiences to stimulate innovation and creativity at the intersection of art, science and technology. What started as the nation's first digital art space is now a home, online and off, for technology-driven art innovation, with a mission to empower and fund the creation of new, experiential and exploratory art forms that make an impact.