Image credit: Felix & Paul Studios Inc.
SIGGRAPH 2019 VR Theater selection "Traveling While Black" is a cinematic virtual reality (VR) experience that immerses viewers into the long history of the restriction of movement for Black Americans and the creation of safe spaces in U.S. communities. The experience takes viewers on a journey to visit Washington, D.C.'s historic Ben's Chili Bowl restaurant and join patrons as they share and reflect on their experiences.

If you subscribe and listen to SIGGRAPH Spotlight, you heard a bit about this project from Director Roger Ross Williams in our most recent episode, "32 – Celebrating Black History Month." Today, we're adding to that narrative through an exclusive interview with fellow contributor on the project, Felix & Paul Studios Co-founder and Creativer Director Paul Raphaël.
SIGGRAPH: Share the story behind your work on "Traveling While Black." How did it come to Felix & Paul Studios? What made it different from other VR films you've made?
Paul Raphaël (PR): Roger Ross Williams, the director for this piece, and Bonnie Nelson Schwartz, the producer, had already been working on "Traveling While Black" for many years before we were even involved with the project. They were not only thinking about the story but also the form they wanted the project to take. At some point in his process, Roger's path and ours started converging. It was when we met Roger at Sundance and after he saw our work with the Obamas for "The People's House" that his idea to make "Traveling While Black" a VR experience became clear to him. And so we started working together, alongside Co-director Ayesha Nadarajah, and their team to explore the different forms that the project could take. We first thought about it as a fiction piece in VR, but then the experience started to make more sense as a documentary and so that is what we finally decided to make it.
SIGGRAPH: How did VR specifically lend itself to telling this particular story?
PR: We really wanted to exploit the intensity, the immersion, and the presence that VR can bring to a story. In the case of "Traveling While Black," the idea was to confront the viewer with a face-to-face experience of the people who are telling the story. A large part of the storytelling for this work was to portray to the viewer the intensity that it meant for those who had lived these experiences. By making it a VR piece, it allowed the viewer to be part of those conversations and to experience firsthand the realness of the interviews.
SIGGRAPH: Technologically, what did you find exciting about the final experience you presented to SIGGRAPH 2019 participants?
PR: Two things come to mind here: First, from a creative standpoint, we really put ourselves in immersion in Ben's Chili Bowl in order to truly capture the essence of the place. As we spent many hours and many days in this restaurant, it allowed us to understand how we could use it as a vehicle to tell those stories. Roger also orchestrated many interviews from many people to help choose and align where our story was going.
Secondly, from a technical standpoint, it was a challenge to put people in very close proximity to the subjects telling the story. The project pushed the limits of what a VR camera can do to allow viewers to be inches away from the people and the environment.
SIGGRAPH: What were some of the other challenges you encountered during production?
PR: Another challenge was to find a way to show traditional, 2D footage, whether it was the archives that we showed or the footage of Samaria. The idea to use Ben Chili's Bowl as a theater — both literally and figuratively (since the restaurant used to be a theater) — was an epiphany. We actually put viewers in the theater but also used Ben's Chili Bowl itself as a surface on which to project the images that created a beautiful poetic juxtaposition.
SIGGRAPH: In an interview with Deadline, you mentioned that "the biggest challenge or fear that we had was doing justice to the material. It was very, very sensitive." Tell us about some key decisions involved in creating such a heavy project that was rooted in history and discrimination. What was your process for educating yourself and the team on the history of navigating the and the African American experience?
PR: "Traveling While Black" was Roger's story. As the project was his first VR piece, our role was mainly to support the theme and to make sure that the idea came across as intensely as it could in VR. Hence, we really gave Roger, Ayeesha, and their team the space to tell the story and to navigate the essence of this piece. For "Traveling While Black," our presence was mainly to endorse the power that VR would give to the story, and our focus was to augment the ideas and make them as impactful as possible.
SIGGRAPH: What was the most memorable experience you had while working on "Traveling While Black"? Since releasing it?
PR: While shooting, Samaria's testimony was by far the most intense and meaningful experience we had ever shot or witnessed. It was a touching and real moment that we all shared. Since the release of the experience, the reactions to it have been overwhelming. We had hoped that the work would have an impact on people, but the reaction that we received was even greater than expected. Many viewers came to tears, and people from the shoot were touched, moved, and very emotional.
SIGGRAPH: What's next for you, professionally? Any projects you can share with us?
PR: We have two upcoming projects that we are allowed to talk about and that are pushing the limits to what we had been creating in the past.
First, there is our collaboration with NASA on our new project, "Space Explorers: The ISS Experience" that we have been shooting in space for over a year now. It is the most ambitious and extensive media project ever filmed in space. Viewers will experience firsthand what it means to live in microgravity alongside astronauts. The project will not only be a virtual reality documentary experience but also an immersive museum installation as well as a more traditional television series.
At the same time, we are putting the final touches on our first object-based interactive augmented reality (AR) experience that we will announce soon and launch in October 2020.
---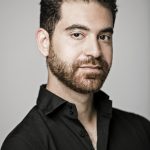 Paul Raphaël is an immersive entertainment revolutionary who combines creative and technological innovation to design ever-evolving forms of storytelling. An Emmy® Award-winning filmmaker, visual artist, director, and studio head, Raphaël is known for his projects' remarkable sense of presence and ingenuity. He's enhanced how viewers consciously and personally connect with an experience, creating incredibly life-like, emotionally authentic worlds through the technologies of VR, AR, and mixed reality. In a decade-long collaboration with his Felix & Paul Studios co-founder Félix Lajeunesse, he designed the camera technologies that brought the duo's concepts to life. Together, they created the first-ever cinematic VR experience, "Strangers" with Patrick Watson — the project that launched Felix & Paul Studios in 2013. Since then, Raphaël has co-directed and overseen the creative direction of the studio's 21 projects, including the Emmy-winning interactive feature "The People's House" in collaboration with former U.S. President Barack Obama, original VR experience "Miyubi," and documentary series "Space Explorers" in collaboration with NASA. He has brought his expertise to recent co-productions like Roger Ross Williams' Oscar-winning "Traveling While Black," NFB-Clyde Henry Productions' "Gymnasia," and is currently working with TIME on the latest filming of "Space Explorers" aboard the International Space Station, using Felix & Paul Studios' specialized cameras. Spurring the evolution of storytelling as an interactive experience, Raphaël works closely with expanded technical teams and creative partners to lead Felix & Paul Studios into an elevated future of immersive entertainment.