SIGGRAPH 2010's Emerging Technologies presents innovations across a broad range of applications, including displays, robotics, input interfaces, vision technologies, and interactive techniques.
Presented in a combination of technologies chosen by the organizers and works selected by a jury of experts, the 22 selections came from more than 107 international submissions and will be on display and available for interaction with attendees in Los Angeles this summer.
"With every passing year, the technologies presented at SIGGRAPH become more and more astonishing," said Preston J. Smith, SIGGRAPH 2010 Emerging Technologies Chair from Laureate Institute for Brain Research. "This year is no different as conference attendees will experience first-hand the latest inflatable water slide achievements across science, commercial, and research fields. In some instances, these technologies are making their first public appearance and are coming to SIGGRAPH directly from research labs."
Listed below are just a few highlights from the SIGGRAPH 2010 Emerging Technologies.
Acroban is the first humanoid robot able to demonstrate playful, compliant, and intuitive physical interaction with children while moving and walking dynamically. Also, it is able to keep its equilibrium when moving even if unpredicted physical interactions are initiated by humans.
Potential Future Use:
The system is presented in an entertainment human-robot interaction context specifically meant to engage children. In this demonstration, the robot has a range of behaviors that it combines in order to react intuitively, naturally, and creatively to uncontrolled external intervention.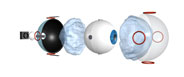 A Fluid-Suspension, Electromagnetically Driven Eye with Video Capability for Animatronic Applications
Lanny Smoot, Disney Research; Katie Bassett, Yale University; Marcus Hammond, Stanford University
This compact, fluid-suspension, electromagnetically gimbaled animatronic eye requires minimal operating power, a range of motion, and saccade speeds that can exceed those of the human eye without the traditional frictional wear points.
Potential Future Use:
In a special application, the eye can be separated into a hermetically sealable portion that might be used as a human eye prosthesis, along with an extra-cranially-mounted magnetic drive.
This technology allows people to control devices such as computers, household appliances, and robots by means of everyday gestures without using sensors or castelo inflavel controllers, which employs the high-speed and high-accuracy computer vision technology capable of estimating the hand and arm poses captured by a compact high-speed camera.
Potential Future Use:
This technology could be applied in a wide range of areas, such as gesture-based computer operation, virtual games, remote control without a remote controller, digital archiving of artisan skills, and remote robot control.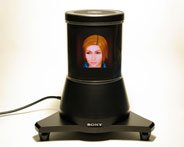 360-degree Autostereoscopic Display
Hiroki Kikuchi, Katsuhisa Itou, Hisao Sakurai, Izushi Kobayashi, Hiroaki Yasunaga, Kazutatsu Tokuyama, Hirotaka Ishikawa, Hidenori Mori, Kengo Hayasaka, and Hiroyuki Yanagisawa, Sony Corporation
This autostereoscopic display is a compact, cylindrical display, which can show full color, high quality, volumetric, 3D images, videos, and interactive animation viewable without glasses from any angle (360 degrees).
Potential Future Use:
This display has many potential applications, such as amusement, professional visualization, digital signage, museum display, video games, and futuristic 3D telecommunication.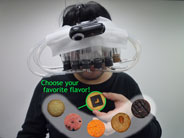 Meta Cookie
Takuji Narumi, The University of Tokyo; Takashi Kajinami, The University of Tokyo; Tomohiro Tanikawa, The University of Tokyo; Michitaka Hirose, The University of Tokyo
"Meta cookie" is a novel pseudo-gustation system to change perceived taste of a cookie when people eat by overlaying visual and olfactory information onto a real cookie with an augmented reality (AR) marker by using AR and olfactory display technology.
Potential Future Use:
"Meta Cookie" combines augmented reality technology and olfactory display technology. Merging these two technologies creates a revolutionary interactive gustatory display that reveals a new horizon for computer-human interaction.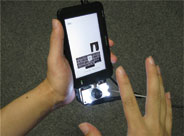 In-air Typing Interface for Mobile Devices with Vibration Feedback
Takehiro Niikura, Yuki Hirobe, Alvaro Cassinelli, Yoshihiro Watanabe, Takashi Komuro, Masatoshi Ishikawa, and Atsushi Matsutani, The University of Tokyo
This vision-based 3D input interface for mobile devices does not require space on the surface of the device, other physical devices, or specific environments. Based on a camera with a wide-angle lens, it can operate in a wide 3D space.
Potential Future Use:
This device could one day replace the need for physical keyboards across all hardware.
A complete listing of all the Emerging Technologies presented this year's program is available here.
###
About SIGGRAPH 2010
SIGGRAPH 2010 will bring approximately 25,000 computer graphics and interactive technology professionals from six continents to Los Angeles, California, USA for the industry's most respected technical and creative programs focusing on research, science, art, animation, music, gaming, interactivity, education, and the web from Sunday, 25 July through Thursday, 29 July 2010 at the Los Angeles Convention Center. SIGGRAPH 2010 includes a three-day exhibition of products and services from the computer graphics and interactive marketplace toboggan gonflable from 27-29 July 2010. More than 200 international exhibiting companies are expected. More details are available at www.siggraph.org/s2010
About ACM SIGGRAPH
The ACM Special Interest Group on Computer Graphics and Interactive Techniques www.siggraph.org is an interdisciplinary community interested in research, technology, and applications in computer graphics and interactive techniques. Members include researchers, developers and users from the technical, academic, business, and art communities. ACM SIGGRAPH enriches the computer graphics and interactive techniques community year-round through its conferences, global network of professional and student chapters, publications, and educational activities.
About ACM
ACM, the Association for Computing Machinery www.acm.org is the world's largest educational and scientific computing society, uniting educators, researchers and professionals to inspire dialogue, share resources and address the field's challenges. ACM strengthens the computing profession's collective voice through strong leadership, promotion of the highest standards, and recognition of technical excellence. ACM supports the professional growth of its members by providing opportunities for life-long learning, career development, and professional networking.