© 2022 WBEI TM & © DC
"The Batman" is the 19th appearance of the Caped Crusader in film and, as such, director Matt Reeves needed to find a new angle for the titular hero. Wētā FX's work includes striking scenes in Gotham City, the Batmobile launching through flames in a chaotic car chase, and a novel approach to lensing and in-camera effects. Compositing Supervisor Beck Veitch and Animation Supervisor Dennis Yoo presented their work to great accolades during a Production Session at SIGGRAPH 2022.
SIGGRAPH: Briefly tell us about your career and current role at Wētā FX.
Beck Veitch (BV): I always wanted to work in a field that challenged me. I figured out that I am a visual problem solver, and it took me two careers before visual effects (VFX) to figure out that compositing was what I was looking for. I studied to be a secondary school art teacher, and I quickly realized I loved teaching but was not a good fit for schools. I loved the classroom but did not love the support work you need to do to teach. Meetings, reports, and school politics made me stop and reassess my options. The more I investigated compositing, the more it seemed a good fit for me.
I managed to get my chance to get into VFX in 2004, when I faked a holiday in a different state to get an interview at Rising Sun Pictures. The second film I ever worked on was Christopher Nolan's "Batman Begins," working on the car chase! I started work at Wētā FX at the beginning of the first "Hobbit" film at the beginning of 2012, and "The Batman" was my first project as a compositing supervisor. Supervising has been a great experience so far — being able to work with people, not only to create amazing looking shots, but to also encourage and challenge my team, has been the highlight of my career so far.
Dennis Yoo (DY): I started at Wētā FX in 2003 as creature animator for "Lord of the Rings: The Return of the King." I've been animating and creating previs for most of my career at Wētā. I assisted in supervising previs for "The Adventures of Tintin" in 2012 and starting supervising animation in 2016.
SIGGRAPH: We love your description of taking "cues from '70s noir crime thrillers" translating into a "brooding, ominous tone" for "The Batman." Tell us more about how this influenced Wētā FX's approach and tools selection.
BV: It was having to match Greig Fraser's stunning photography that really governed our treatment of our VFX work. We were lucky enough to have time at the beginning of the project to look-dev the lens smearing and the bokeh so we could seamlessly integrate our VFX elements. Luckily, Ben Morgan (lead compositor on the chase sequence) and I are total bokeh nerds, so it was a great chance to get into the subtleties of how bokeh really works.
SIGGRAPH: You mentioned your biggest and most complex scene was the Batmobile chase sequence. What made this challenging? Can you share an example of how one challenge was met?
BV: Adding rain to the Batmobile chase sequence is a great example of this. We had such a tight deadline, so we had to look at it a different way than trying to fully simulate rain, splashes, mist, and spray. Traditionally, we would try and do everything as close to "real" as we can get, but due to time, budget, and people resources, we could never have completed the project in time. We really had to examine the question, "What elements make a shot feel wet?" Using that question to deconstruct the elements needed, we were able to focus our resources and divvy out the work. We also were really open to unorthodox ideas — I always said this project was like "thinking outside the box, while flying by the seat of your pants!"
DY: The most challenging part for me was the climax of the car chase. The sequence edit wasn't complete, and editorial didn't have enough footage or previs to help tell the story they wanted to tell. We needed to help the director visualize with computer graphics (CG) what we could do to complete what was missing story-wise. We created postvis shots to help tell that story and created entirely new fully CG shots to add in the missing story points.
SIGGRAPH: Can you describe and provide one example of an in-camera effect recreated in comp? How did this enhance "The Batman"?
BV: Our "caustic flares" are a great example of an in-camera effect that we used in comp to help integrate our CG vehicles. When applied to CG traffic and streetlights, the very organic nature of the elements lent our CG an extra level of believability. We made sure not to overplay the effect and not to draw too much attention to them — just to "kiss" them into shots.
SIGGRAPH: What scene from "The Batman" are you most proud of and why?
BV: Can I say all of them? We were really lucky to have a such a range of work, from the Batcave to the Batmobile chase, the Memorial to the Iceberg Lounge. We had CG bat murmurations, nightclub dancers, and highway traffic! We had face replacements and cape replacements! Every scene had its unique challenges, and I loved how our team came together to tackle them.
DY: I am most proud of the car chase scene, especially the climax when the Batmobile jumps over the trailer. There was so much involved in that shot, starting with postvising the story point, cameras, timing, and composition of the vehicles. We then had to animate the vehicles as realistically as possible to go alongside real plate vehicles before adding in all of the special rain, debris, and crash FX. We finished it off by lighting and comping fully CG shots to run side by side with plate shots. They needed to be spot on in order for the audience not to notice, and the best part was they didn't.
SIGGRAPH: What do you hope SIGGRAPH 2022 participants learned from attending your presentation?
BV: Often VFX requires complex builds and simulations, so I hope that we've shown how simple solutions can work just as well. Applying our crown splash solution to shots helped sell the "realness" of our CG rain.
DY: Hopefully they took away the process for how we work, as well as the artistry involved, even when using our most technical tools.
SIGGRAPH: What was it like being back at SIGGRAPH in person for the first time since 2019? Any key moments or memories that made an impact for you?
BV: This was my first SIGGRAPH! Actually, SIGGRAPH has been on my bucket list for quite some time, so being able to attend and present was such a privilege. I really enjoyed speaking to students and the SIGGRAPH volunteers, and I hope I have piqued their interest in compositing.
DY: The moment from SIGGRAPH that had the biggest impact on me was when all of the people who enjoyed our presentation came up to us. Not just people who came up to us during the "meet and greet" but throughout the week when we were randomly greeted by people who wanted to talk to us about our presentation.
Are you seeking more exciting production and animation-related stories? There's still time to register for SIGGRAPH 2022 and access hundreds of hours of on-demand content in the virtual conference platform.
---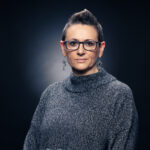 Beck Veitch is a compositing supervisor at Wētā FX with over 17 years of experience in visual effects. She played an integral role in Wētā 's work on Matt Reeves' "The Batman," helping to develop the look of camera lensing and rain effects for the action-packed Batmobile chase.
Beck's previous projects include lead compositor on Disney's "Mulan and Alita: Battle Angel." In 2018, she won a Visual Effects Society Award for her work on the Oscar-nominated "War for the Planet of the Apes," recognizing her role in creating Caesar's hidden fortress and its surrounding environment. Career highlights include compositing on Marvel's "Falcon and the Winter Soldier," "The Hunger Games," "Harry Potter and the Half-Blood Prince," and "Charlotte's Web."
Beck is committed to increasing the visibility of VFX as a career for girls and young women and regularly participates in Wētā FX's outreach to local schools.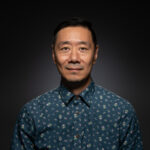 Dennis Yoo has more than 20 years of experience in feature film animation and has worked on some of Wētā FX's most compelling characters.
He joined Weta Digital in 2003 as a creature animator on "The Lord of the Rings: The Return of the King" and has worked on a slew of critically-acclaimed titles including "King Kong," "Avatar," "The Adventures of Tintin," "The Jungle Book," and the "Planet of the Apes" trilogy. He was animation supervisor on "Mortal Engines," on Disney's "Lady and the Tramp," and on "The Green Knight." His most recent credit is animation supervisor on Matt Reeve's "The Batman."
Dennis also is an experienced previs artist, a skill he developed early in his career while working on Discovery Channel's "Dinosaur Planet" series. He has continued to hone this skill alongside his animation career, which has enhanced his creative understanding of framing and composition, pacing and cutting of a scene, and how characters can drive a story at a sequence level. Dennis has been recognized with two Visual Effects Society Awards for Outstanding Animated Character in a Photoreal Feature for King Louie from "The Jungle Book" and Caesar from "War for the Planet of the Apes."