©Lukas Bieri. Still from "3.5%" (short film)
What might Europe look like if we continue to ignore the climate crisis? Step into a world transformed by the effects of climate change with "3.5%", Lukas Bieri's SIGGRAPH 2022 Electronic Theater selection. Through stunning visuals and compelling commentary, Bieri paints a vivid picture of what Lucerne, Switzerland, would look like after the devastating effects of a climate crisis. The film calls for an urgent need for collective action and political pressure. In this interview, we delve into Bieri's creative process, explore the themes and messages at the heart of "3.5%", and hear his advice for aspiring animators.
SIGGRAPH: Tell us about "3.5%". What inspired you to create it?
Lukas Bieri (LB): "3.5%" is the graduation short film I created during my studies as an animator and VFX artist in Lucerne. The film was almost entirely made by me. I wrote the script, directed it, and did the VFX work. With the film, I wanted to depict the fear and sadness that I feel when I think about the climate crisis. The inspiration for the film came from my daily observations of the city of Lucerne. Lucerne is a lively place with a lot of water throughout and around the city. I wanted to create a stark contrast by showing how the city would look after the glaciers had melted and climate change had transformed it into a dry, dusty, and dead place.
The title "3.5%" refers to a scientific finding that inspired the project. It states that non-violent protests always create systemic change when at least 3.5% of the population actively participates. This realization inspired me and offered a spark of hope amid all the grim news on climate.
By combining intense visuals with commentary by climate activist Greta Thunberg explaining why political civil disobedience can be a powerful tool, and placing the message about the 3.5% rule, I hoped to inspire people to feel what I feel and think about how taking action can shape our future.
SIGGRAPH: "3.5%" has been selected for several film festivals. How do you think these screenings have helped raise awareness for the themes depicted in the film?
LB: I am happy to say that "3.5%" has been well received by audiences and has been screened at several film festivals. I believe these screenings have helped increase awareness about the pressing issue of the climate crisis by highlighting its catastrophic potential for irreversible damage and emphasizing the urgent need for political action. By combining powerful visuals and commentary by climate activist Greta Thunberg, I hope to have helped persuade viewers to take political action and push for a sustainable future.
SIGGRAPH: What was the most challenging aspect of making "3.5%", and what was the biggest lesson you learned?
LB: The most challenging aspect was learning the process of creating VFX on that scale while already working on the project. I started with a vision and some knowledge in 3D and compositing, but I learned a lot of the workflow and skills on the project by doing the actual work. I had to learn Nuke from scratch, but thanks to my pre-existing After Effects knowledge, I fortunately got the hang of it quickly. At the beginning of the project, I did a lot of initial technical research and testing. This helped me avoid major mistakes during the actual project. Looking back, preparing played a critical role in ensuring the production and post-production went smoothly.
SIGGRAPH: The film features several visually striking scenes. Can you talk about the creative and technical process you followed to bring the scenes to life?
LB: To bring the scenes to life — or in this case, transform the lively city into a place devoid of life — I started by filming tracking shots of the original locations in Lucerne. I then 3D-tracked the scenes, rebuilt the geometry in 3D, and projected the footage onto the geometry. This was the base for dirtying the virtual set, placing and removing objects from the scenes, and relighting them. I used Blender for the 3D work and Substance Painter for the textures. As I basically rebuilt the entire scene in 3D, I gained a lot of flexibility that I didn't necessarily have when I was filming. The entire shoot was very run and gun, and I wasn't able to control the lighting on location. So I was happy to have this flexibility in post-production. The final image is a combination of the original footage blended with 3D renderings and 2D assets to create depth with composited dust and atmosphere elements.
SIGGRAPH: What do you hope audiences take away from "3.5%"? How do you hope the film will inspire or influence viewers?
LB: I hope audiences take away the sense of urgency and the need for action when watching "3.5%". My hope is that the film will inspire people to look at today's world and think of it as something worth taking care of. I hope the film encourages audiences to participate in voting, demonstrations, and other non-violent forms of protest to push for a system that is by default environmentally friendly and sustainable.
SIGGRAPH: Finally, what advice would you give to aspiring animators who are just starting out?
LB: Since I assume that, like me, you live for what you do, I would like to offer the following advice: Take the time to rest and eat well, and don't forget to find other things that spark your interest and give you joy and inspiration. Allow yourself to look for inspiration outside of your little creative cave and encourage yourself to think about things outside of work. I wish you all the best on your journey and hope that you find fulfillment and happiness in your life within and outside of your creative pursuits!
Showcase your talent and vision at the prestigious SIGGRAPH 2023 Electronic Theater. Submit your project by 21 March!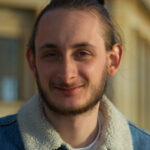 Lukas Bieri has freelanced as a multimedia designer and animator since 2018. He graduated with a bachelor's in animation from the Lucerne School of Art and Design (HSLU) in 2021. He currently works in Zurich as a VFX generalist.