© Charles Reitcheck, Estela Antunez, University of Idaho 2022
At SIGGRAPH 2022's Appy Hour, enter the kitchen with "Rosita's Cocina," an app designed to help Latinx communities learn about their family's history, language, and traditional food. We connected with Charles Reitcheck and Estela Antunez, the creators behind the app, to learn more about its development and discuss how food brings people together and tells rich stories of its own.
SIGGRAPH: Share some background about your SIGGRAPH 2022 Appy Hour project "Rosita's Cocina." What inspired it?
Charles Reitcheck (CR) and Estela Antunez (EA): "Rosita's Cocina" was inspired by the need for fun and engaging educational activities designed for communities that are not the target market of other options on the market. The app was designed to bring forward an experience that is fun for people of all ages and creates a bond between old and new generations in Latinx communities.
SIGGRAPH: Tell us about how you developed "Rosita's Cocina." Did you face any challenges in its creation?
CR and EA: "Rosita's Cocina" was designed in Adobe XD, which was a great way to design, concept, and iterate quickly. Assets were designed in Adobe Photoshop, allowing for easy style or color palette tweaks.
SIGGRAPH: Food brings people together and tells rich stories of its own. Why did you choose food as the medium for "Rosita's Cocina"?
CR and EA: Food is the method of education in "Rosita's Cocina" because food connects people on a very emotional level. It creates an atmosphere around the people sharing a meal. Food means connection. It's a form of art dedicated to people they love and an embrace from generations' past.
The goal of "Rosita's Cocina" is not solely designed to teach and improve Spanish abilities but also for spending time with abuelos learning about the memories they have about the food they are helping you learn to cook, strengthening connections to the user's history.
SIGGRAPH: How do you hope your app will be used moving forward? What do you want users to take away from it?
CR and EA: As we continue to improve "Rosita's Cocina," updates will bring voice acting, a new UI/UX, more mini games, more fleshed out interactions with Rosita, and easier editing and creation of new recipes.
SIGGRAPH: What can SIGGRAPH 2022 participants expect when they experience "Rosita's Cocina" during Appy Hour?
CR and EA: The audience can expect a new and innovative experience that breaks through language barriers and encompasses the importance of reaching out to those of the Latinx and other minority communities through loveable experiences. Hopefully participants at SIGGRAPH 2022 will see the value in our project and the effects it will have on minority communities to have technology and applications designed for them.
SIGGRAPH: SIGGRAPH is excited to host its first in-person conference since 2019 — and first-ever hybrid conference. What are you most looking forward to about the experience?
CR: I am most excited to get to meet everyone else who was accepted into Appy Hour, and the Electronic Theater is second on my list!
EA: I'm looking forward to the new people I'll meet and the other projects shown in Appy Hour. I'm also excited to watch the animations from the Electronic Theater!
Will we see you at SIGGRAPH 2022, 8–11 August, in Vancouver? Appy Hour is available to Full Conference Supporter, Full Conference, Experience Plus, and Experience registration types. Register now.
---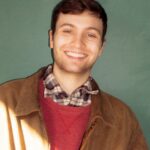 Charles Reitcheck is from Boise, Idaho, and completed his undergraduate studies at the University of Idaho in virtual technology (B.S.) and design and Spanish (B.A.). He has studied Spanish for over a decade, leading to a love for sharing and teaching about the many diverse Spanish speaking cultures.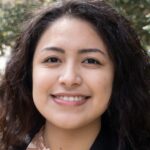 Estela Antunez is from Boise, Idaho, and graduated from the University of Idaho with a bachelor's in virtual technology and design (B.S) and a minor in landscape architecture. Her familial connection to the content and her artistic talent contributed greatly to the project.