If you've ever been at a SIGGRAPH conference and needed information in a language other than English, you've interacted with the International Resources Committee (IRC). If you're not from North America, you've talked to us. If you've wandered into the SIGGRAPH Village, you've met us. If you've "graduated" from the SV programme, you were directed to the IRC once or twice. But who (and what) is the IRC, really?
Here are some fun and interesting facts behind the people that keep the SIGGRAPH organization, including its conferences and content, truly global.
1. Our committee members are individuals who speak multiple languages. You know all the cool SIGGRAPH videos with the many, many different language subtitles? That's us!

2. The multi-lingual podcasts on the SIGGRAPH website? That's our voice you're hearing.

3. Did you know that there is a dedicated panel on "Women in CG"? We spearhead this panel session too.

4. Our committee members are from all over the world and most (if not all) of them have lived in a few different countries and currently reside in a country that is not their birth country.

5. You know that session you go to on the state of CG in your world region? We put that together.

6. The year round multilingual tweets, FB & LinkedIn posts? That's us again.

7. When we're together in SIGGRAPH, we look like a poster for United Colors of Benetton.*
As you can see, we do not only volunteer at the Conference. It is a year-round effort that includes promoting ACM, ACM SIGGRAPH, and the SIGGRAPH conferences through various networks and media.
If you're interested in volunteering and propelling the state of CG in your world region to SIGGRAPH, apply here. And we are always interested in interacting with people from all over the world. So drop us a message in the comments below!
* United Colors of Benetton brand is the property of Benetton Group.

---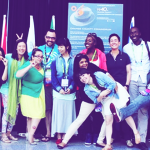 ACM SIGGRAPH is an international organization, with members focused on creating and discovering computer graphics/interactivity at companies, studios and research centers around the world. Attendees and contributors of its annual conferences travel far and near to create, inspire and enjoy the vibrant sense of community that is SIGGRAPH. To support this, the ACM SIGGRAPH International Resources Committee (IRC) hosts the International Center at the SIGGRAPH conference, and also drives year-round strategies that promote ACM SIGGRAPH, connect our global community, and provide useful services.