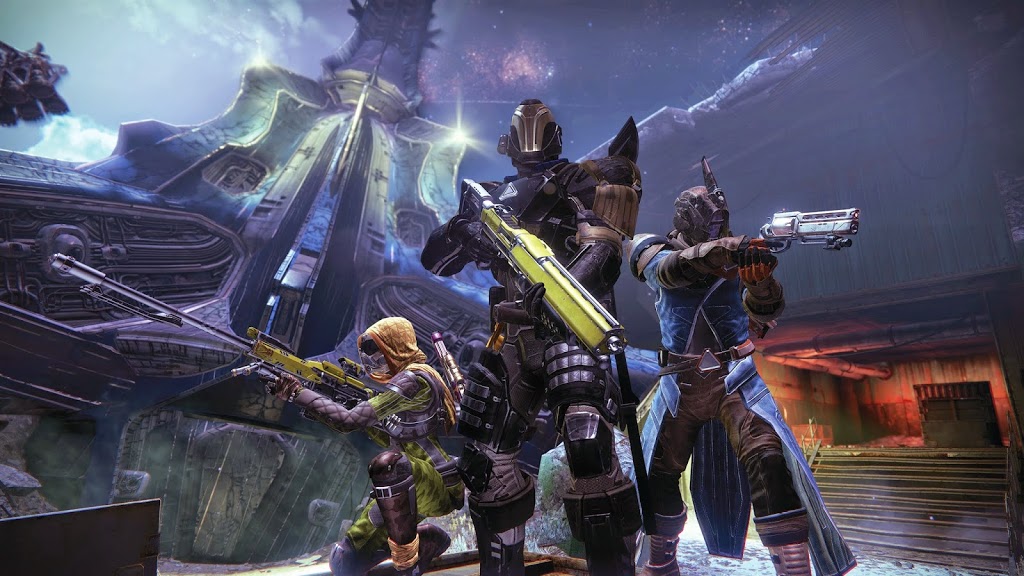 Bungie's upcoming video game "Destiny"
The Games Focus spotlights the creators, visionaries, and pioneers of the game industry with presentations from the world's leading studios, including 2K Games, Inc., Activision, Blizzard, Inc., Bungie, Inc., Crytek, EA DICE, Microsoft Game Studios, Ubisoft Entertainment S.A., and many others.
Topics include: advances in real-time pula pula inflavel character rendering in video games, character and general asset pipelines, real-time character animation, new solutions for game navigation, novel human-computer interfaces,amazing advances in hardware and software collaboration, and more.
"Never before have games been more prevalent in society. They are on phones, tablets, computers and  gaming consoles – in essence all around us," said Natalya Tatarchuk, SIGGRAPH 2014 Games Chair from Bungie, Inc. "This importance is reflective in the amount of depth and quality of gaming content at SIGGRAPH – there is something for everyone across a variety of disciplines – from advanced practitioners to complete novices."
Listed below is SIGGRAPH 2014 content that maybe of interest to castelo inflavel the following people: 3D Modelers, Animators, Engine Programmers, Games Programmers, Graphics Programmers, Graphics Engineers, Tools Programmers, Game Researchers, Product Managers, Technical Artists, Technical Designers, and Technical Managers.
Courses
Digital Ira and Beyond: Creating Photoreal Real-Time Digital Characters
SUNDAY, 10 AUGUST 9:00 AM – 12:15 PM | Vancouver Convention Centre, East Building, Ballroom A
Courses
Navigation Meshes and Real-Time Dynamic Planning for Interactive Virtual Worlds
SUNDAY, 10 AUGUST 10:45 AM – 12:15 PM | Vancouver Convention Centre, West Building, Rooms 118-120
Courses
New Generation of Microscopic Crowd-Simulation Algorithms
SUNDAY, 10 AUGUST 10:45 AM – 12:15 PM | Vancouver Convention Centre, East Building, Exhibit Hall A
Courses
Attention-Aware Rendering, Mobile Graphics, and Games
SUNDAY, 10 AUGUST 2:00 PM – 5:15 PM | Vancouver Convention Centre, West Building, Rooms 211-214
Courses
Kinect Technology in Games
SUNDAY, 10 AUGUST 2:00 PM – 3:30 PM | Vancouver Convention Centre, East Building, Ballroom A
Courses
Advances in Real-Time Rendering in Games, Part I
MONDAY, 11 AUGUST 9:00 AM – 12:15 PM | Vancouver Convention Centre, East Building, Exhibit Hall A
Talks
Capture in Depth
MONDAY, 11 AUGUST 9:00 AM – 10:30 AM | Vancouver Convention Centre, West Building, Rooms 109-110
Talks
Simulation
MONDAY, 11 AUGUST 9:00 AM – 10:30 AM | Vancouver Convention Centre, West Building, Rooms 118-120
Technical Papers
Sound & Light
MONDAY, 11 AUGUST 9:00 AM – 10:30 AM | Vancouver Convention Centre, East Building, Ballroom A
Courses
Advances in Real-Time Rendering in Games, Part II
MONDAY, 11 AUGUST 2:00 PM – 5:15 PM | Vancouver Convention Centre, East Building, Exhibit Hall A
Technical Papers
Faces
MONDAY, 11 AUGUST 3:45 PM – 5:00 PM | Vancouver Convention Centre, East Building, Ballroom B-C
Technical Papers
Controlling Character
TUESDAY, 12 AUGUST 9:00 AM – 10:30 AM | Vancouver Convention Centre, East Building, Ballroom B-C
Computer Animation Festival – Production Sessions
Creating Content to Drive Destiny's Investment Game: One Solution to Rule Them All
TUESDAY, 12 AUGUST 9:00 AM – 10:30 AM | Vancouver Convention Centre, West Building, Ballroom C/D
Talks
Creature Feature
TUESDAY, 12 AUGUST 9:00 AM – 10:30 AM | Vancouver Convention Centre, West Building, Rooms 211-214
Technical Papers
Non-Photorealistic Rendering
TUESDAY, 12 AUGUST 9:00 AM – 10:30 AM | Vancouver Convention Centre, East Building, Exhibit Hall A
Production Sessions
Creating Content to Drive Destiny's Investment Game – One Solution to Rule Them All
TUESDAY, 12 AUGUST 9:00 AM – 10:30 AM | Vancouver Convention Centre, West Building, Ballroom C/D
Exhibit Studio – Courses
Creating Next-Gen 3D Interactive Apps With Motion Control and Unity3D
TUESDAY, 12 AUGUST 9:15 AM – 10:45 AM | Vancouver Convention Centre, West Building, Exhibit Hall A
Birds of a Feather
Games as Therapy
TUESDAY, 12 AUGUST 10:00 AM – 11:00 AM | Vancouver Convention Centre, East Building, Room 2
Talks
About Face
TUESDAY, 12 AUGUST 10:45 AM – 12:15 PM | Vancouver Convention Centre, West Building, Rooms 211-214
Courses
Character Heads Creation Pipeline and Rendering in Destiny
TUESDAY, 12 AUGUST 10:45 AM – 12:15 PM | Vancouver Convention Centre, West Building, Ballroom C/D
Technical Papers
Displays
TUESDAY, 12 AUGUST 10:45 AM – 12:15 PM | Vancouver Convention Centre, East Building, Exhibit Hall A
Technical Papers
Fabrication-Oriented Design
TUESDAY, 12 AUGUST 10:45 AM – 12:15 PM | Vancouver Convention Centre, East Building, Ballroom B-C
Talks
Sampling
TUESDAY, 12 AUGUST 10:45 AM – 12:15 PM | Vancouver Convention Centre, West Building, Rooms 109-110
Birds of a Feather
Virtual Globes Using WebGL and Cesium
TUESDAY, 12 AUGUST 11:00 AM – 12:00 PM | Vancouver Convention Centre, East Building, Room 9
Courses
Destiny Character-Animation System and Lessons Learned
TUESDAY, 12 AUGUST 2:00 PM – 5:15 PM | Vancouver Convention Centre, West Building, Rooms 211-214
Studio – Courses
Developing a 3D Model Viewer for iOS Using COLLADA and OpenGL ES
TUESDAY, 12 AUGUST 2:00 PM – 5:15 PM | Vancouver Convention Centre, West Building, Exhibit Hall A
Technical Papers
Games & Design
TUESDAY, 12 AUGUST 2:00 PM – 3:30 PM | Vancouver Convention Centre, East Building, Ballroom B-C
Talks
Think Big
TUESDAY, 12 AUGUST 2:00 PM – 3:30 PM | Vancouver Convention Centre, West Building, Rooms 118-120
Technical Papers
Animating Characters
TUESDAY, 12 AUGUST 3:45 PM – 5:15 PM | Vancouver Convention Centre, East Building, Ballroom A
Technical Papers
Computational Sensing & Display
TUESDAY, 12 AUGUST 3:45 PM – 5:15 PM | Vancouver Convention Centre, East Building, Exhibit Hall A
Real-Time Live!
Real-Time Live!
TUESDAY, 12 AUGUST 5:30 PM – 7:15 PM | Vancouver Convention Centre, West Building, Ballroom C/D
Courses
Building an Empire: Asset Production in Ryse
WEDNESDAY, 13 AUGUST 9:00 AM – 10:30 AM | Vancouver Convention Centre, East Building, Ballroom A
Technical Papers
Fabrication
WEDNESDAY, 13 AUGUST 9:00 AM – 10:30 AM | Vancouver Convention Centre, East Building, Exhibit Hall A
Talks
Let There Be Light
WEDNESDAY, 13 AUGUST 10:45 AM – 12:15 PM | Vancouver Convention Centre, West Building, Rooms 109-110
Technical Papers
Light Transport
WEDNESDAY, 13 AUGUST 10:45 AM – 12:15 PM | Vancouver Convention Centre, East Building, Exhibit Hall A
Technical Papers
Mesh-Based Simulation
WEDNESDAY, 13 AUGUST 2:00 PM – 3:30 PM | Vancouver Convention Centre, East Building, Ballroom A
Production Sessions
The Production and Visual Effects of "Killzone Shadow Fall"
WEDNESDAY, 13 AUGUST 9:00 AM – 10:30 AM | Vancouver Convention Centre, West Building, Ballroom C/D
Courses
Physically Based Shading in Theory and Practice
WEDNESDAY, 13 AUGUST 2:00 PM – 5:15 PM | Vancouver Convention Centre, West Building, Rooms 211-214
Technical Papers
Reflectance: Modeling, Capturing, Renderings
WEDNESDAY, 13 AUGUST 2:00 PM – 3:30 PM | Vancouver Convention Centre, East Building, Exhibit Hall A
Talks
Dynamics
WEDNESDAY, 13 AUGUST 3:45 PM – 5:15 PM | Vancouver Convention Centre, West Building, Rooms 109-110
Technical Papers
Hair & Collisions
WEDNESDAY, 13 AUGUST 3:45 PM – 5:15 PM | Vancouver Convention Centre, East Building, Ballroom A
Dailies
Dailies
WEDNESDAY, 13 AUGUST 6:00 PM – 8:00 PM | Vancouver Convention Centre, East Building, Ballroom B-C
Birds of a Feather
Khronos Annual BOF BLITZ™ AFTER PARTY Hosted by OGA
WEDNESDAY, 13 AUGUST 7:30 PM – 9:00 PM | Marriott Vancouver Pinnacle Downtown, Pinnacle Ballroom
Technical Papers
Fluids
THURSDAY, 14 AUGUST 9:00 AM – 10:30 AM | Vancouver Convention Centre, East Building, Exhibit Hall A
Birds of a Feather
Global VR Meetup
THURSDAY, 14 AUGUST 9:00 AM – 12:00 PM | Pan Pacific Vancouver, Oceanview 5-7
Technical Papers
Hardware Systems
THURSDAY, 14 AUGUST 9:00 AM – 10:30 AM | Vancouver Convention Centre, East Building, Ballroom B-C
Technical Papers
Changing Your Perception
THURSDAY, 14 AUGUST 10:45 AM – 12:15 PM | Vancouver Convention Centre, East Building, Ballroom A
Talks
Crowded, Furry and in a Hurry
THURSDAY, 14 AUGUST 10:45 AM – 12:15 PM | Vancouver Convention Centre, West Building, Rooms 211-214
Technical Papers
Fast Rendering
THURSDAY, 14 AUGUST 10:45 AM – 12:15 PM | Vancouver Convention Centre, East Building, Exhibit Hall A
Technical Papers
Stretching & Flowing
THURSDAY, 14 AUGUST 10:45 AM – 12:15 PM | Vancouver Convention Centre, East Building, Ballroom B-C
Courses
Introduction to 3D Gestural Interfaces
THURSDAY, 14 AUGUST 2:00 PM – 3:30 PM | Vancouver Convention Centre, West Building, Rooms 211-214
Talks
Perception
THURSDAY, 14 AUGUST 3:45 PM – 5:15 PM | Vancouver Convention Centre, West Building, Rooms 118-120