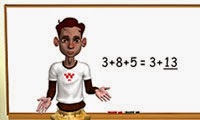 Image Credit: Charismatic and Eloquent Instructor Avatars With Scriptable Gesture © 2014.                                Jian Cui, Nicoletta Adamo-Villani, Voicu Popescu, Purdue University
Every year, teachers and students look forward to the in-depth educators sessions at SIGGRAPH. This year's program includes student-run pipeline productions, augmented reality in education, animatronics, strategies and tools for teaching online, WebGL, and virtual worlds for therapy.Bouncy Castle And, on Sunday (10 August), the SIGGRAPH Education Committee presents an all-day training course on Unity3D just for educators.
Meet with educators over coffee during the Morning Meet and Greet on Monday and Tuesday from 8:00 A.M – 9:00 A.M. then stay for presentations and discussions during Birds of a Feather sessions on topics including:
Augmented Reality in Informal and Formal Education
Collaborative Content Creation in 3D Digital Design
Scientific Visualization Using 3D Printing
Strengthening the School-Industry Continuum
Teaching intro and Advanced Graphics with WebGL
The Dyslexic Advantage in Computer Graphics
Courses, Panels, Studio Projects and Talks are offered every day of the week at SIGGRAPH 2014, and all include topics with an education focus.  Here is just a sampling:
Creating Next-Gen 3D Interactive Apps With Motion Control and Unity3D
Through a series of live-coded examples, this course grounds attendees in the fundamentals of using the Unity3D engine for game and application development, integrating the Leap Motion Controller into an application, and designing and developing a next-generation 3D interactive application with motion control.
Presenters: Elizabeth Ruscitto, David Holz and Daniel Plemmons, Leap Motion, Inc.
Introduction to 3D Gestural Interfaces
With the proliferation of inexpensive motion-sensing technology, 3D gestural interfaces are becoming common in applications such as video games pula pula inflavel and mobile computing. This course provides an introduction to design and development of 3D gestural interfaces, covering topics from user tracking to gesture recognition and evaluation.
Presenter: Joseph LaViola, University of Central Florida
An Evaluation of University Education as it Relates to the VFX, Animation, and Game Industries 
This ever-changing digital age requires individuals with different perspectives to coalesce around ideas to create new techniques and paradigms that enable both academia and industry to thrive. This intelligent, spirited, creative panel will examine how education and industry can work together to unite their visions in an era of profound change.
Speakers: Margaret Lomas Carpenter, Texas A&M University; Frederic Parke, Texas A&M University; Donald House, Clemson University; Jerry Tessendorf, Clemson University; Dave Walvoord, DreamWorks Animation Studios; David Parrish, Reel FX Creative Studios; Jack Stenner, University of Florida; Gracie Arenas Strittmatter, BioWare; Michelle Robinson, Walt Disney Animation Studios
Cultivating Creative Thinking Across Disciplines: Stories From the Field
Creative thinking across disciplines is what distinguishes the perfunctory from the inspired. Hear reflections from renowned individuals whose work depends on successful integration of art and science in different ways. Speakers, representing industry and academia, share inflatable slide lessons learned in establishing creative environments for effective productivity and educational transformation.
Moderators: Ginger Alford, Trinity Valley School and Fort Worth Museum of Science and History
Panelists: Paul Dietz, Microsoft Research; Mk Haley, Disney Research; Roger Malina, University of Texas at Dallas; Ramesh Raskar, MIT Media Labs
Participants design, program, and build drawing machines that will be showcased in a live crowd-sourced voting event.
Presenter: Erik Brunvand, Paul Stout, University of Utah
Stina and the Wolf – Feature Film Production in Education
Staff from the University of Portsmouth review the making of "Stina and the Wolf", a feature length CGI film driven by performance capture and discuss how this novel approach in higher education is giving their students that extra edge.
Presenters: Alexander Counsell and Paul Charisse, University of Portsmouth
The Making of "Owned": A Student-Built Iterative Pipeline
A large group of Brigham Young University students created a short animated film in two-thirds the time required for previous BYU animations yet with more time to focus on artistic quality. The main factor in this improvement was student-generated pipeline that allowed all departments to work in parallel and iterate quickly.
Presenters: 
Seth Holladay, 
Brigham Young University; 
Brent Adams, 
Brian Kingery, 
Daniel Clark, 
Carson Crawford, 
Kaleb Goulding, 
Jeff Raines, 
Evan Roberts, 
Susan Hatton, and 
Andrew Rasmussen, 
Brigham Young University Center for Animation
Development of Communication Assistant Application with Blinking for Physically Handicapped Children and Elderly People
Two new communication applications, Eye Talk and Eye Tell, were developed to help physically handicapped children and elderly people who cannot mechanical bull for sale speak communicate with others. The apps are operated with eye-blinks to detect letters or symbols and translate them into sound.
Presenters: Ippei Torii and and Kaoruko Ohtani, Aichi Institute of Technology
Virtual Dog Head: Using 3D Models to Teach Complex Veterinary Anatomy
A new method of interactive learning through incorporation of 3D computed tomography (CT) scan-generated models of the larynx and hyoid apparatus in dogs using OpenGL and the Oculus Rift. 
Presenters: Matt Viehdorfer, Sarah Nemanic, Serena Mills, and Mike Bailey, Oregon State University 
Charismatic and Eloquent Instructor Avatars With Scriptable Gesture
Introducing a new approach that allows users to create animation stimuli for research on instructor gesture without the prerequisites of artistic talent or programming expertise. The approach has been used to support experiments that investigate the benefits of instructor gesture in the context of mathematical equivalence learning.
Presenters: Jian Cui, Nicoletta Adamo-Villani, and Voicu Popescu, Purdue University