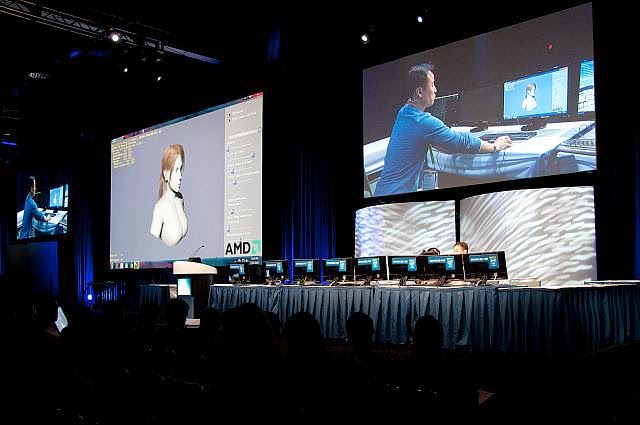 A scene from last year's Real-Time Live!
SIGGRAPH 2014 is conducting an augmented reality – virtual reality contest in order to showcase the best augmented/virtual reality experiences to date.  The contest is giochi gonfiabili open to anyone interested in augmented/virtual reality: researchers, students, hobbyists, and professionals. Contestants can use any software and hardware they choose.
Up to three finalists will be selected to demonstrate their technology at SIGGRAPH 2014, during Real-Time Live! The winning team will then be announced from the Real-Time Live stage!
All finalists will also have the opportunity to demonstrate their system to attendees during SIGGRAPH 2014's new networking event "Appy Hour," Wednesday, 13 August, 5:30-7:30 pm.
Oculus VR is on board to provide DK2s to the top-three finalists, with one of them being signed for the grand prize. The DK2 is the latest development kit for the Oculus Rift that allows developers to build amazing games and experiences for the consumer Oculus Rift. 
The new deadline to submit is 25 June 2014.
For more information and to submit your work to the contest, click here.