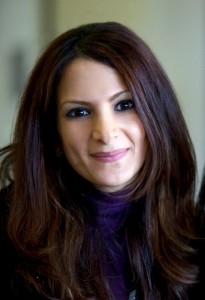 Following below is a brief interview with Mona Kasra, SIGGRAPH 2011 Art Gallery Chair, who explains her vision and insights into this year's amazing Art Gallery – Tracing Home.
Kasra is a new media artist and educator currently pursuing a PhD at University of Texas at Dallas with a focus on emerging media and communication.
What was your vision behind this year's Art Gallery?
Tracing Home actually came about as a result of blending SIGGRAPH 2011's main conference theme "Make it Home" into my personal research interests around the effects of networked media on our culture and our existence. Home is a strong component in production of identities and can signify community and belonging while, on the other hand, can indicate a sense of displacement and isolation. As an Iranian-American, I have been personally fascinated by its personal, political, historical, or cultural definitions.
Given that our understanding of the word home is constantly being shaped and reshaped, I was eager to see how digital artists trace home in the age of networked technology where our sense of body, space, and time is rapidly dematerialized through non-physical hyper-connections. I was especially looking for artworks that critically addressed the current blurring boundaries between virtual and physical. Jumping CastleSo, Art Gallery's Call for Submission (CFS) this year invited artists to submit their digitally mediated artworks that searched for, examined, or constructed different dimensions to the concept of home in the 21st century. I should mention that after the jury process, I was blown away by the variety of perspectives that the participating artists have embarked on – certainly beyond what I had imagined in the first place.
How did the community respond (number of submissions, etc)?
The response to SIGGRAPH Art Gallery's CFS was quite impressive this year. We received over 300 high quality submissions from across the world in a broad range of mediums and disciplines. Submissions varied from those directly responding to the main theme of the exhibition… to those who drew attention to variety of sub-themes and for instance dealt with the ideas of nostalgia, spirituality, surveillance, privacy, control, etc.
All together, the level of breadth and creativity in many of the entries was incredible. The Selection Committee – which was composed of a group of artists, curators, and academic experts in the areas of art, science, and technology – had to go through a lengthy and difficult process of evaluation in order to identify and assemble the content of this year's exhibition. The outcome of their careful selection is a fresh look at home in relation to its physicality as well as its emotional and sociopolitical aspects.
How will this year's experience be different than the past?
Well, Art Gallery this year is thematically much more specific and narrowed down. We asked the artists: "where and what is home in the networked era?" and invited them to creatively engage in a more detailed exploration of a rather familiar concept. As a result, even though the selected artworks are very different in approach and technology, an invisible but unifying conceptual theme connects them all tightly. I certainly hope that such strong interconnection among the artworks would further engage the audience with the content of the works and the content of the overall exhibition.
This year, during the course of the conference, SIGGRAPH 2011 Art Gallery committee will provide the audience with educational opportunities such as guided "Daily Tours" and "Informal Art Talk" sessions. The goal of these programs is to expand on Tracing Home and expose the attendees to the various ways that artists use technology for artistic and conceptual expression.
Additionally, thanks to SIGGRAPH International Center, Art Gallery will be offering multilingual podcasts which will further explain artists' thoughts and ideas behind their exhibited works. We hope that these podcasts facilitate self-guided tours of the gallery as attendees will be able to access the audio files on the spot just by scanning assigned QR codes using their smartphones. Podcasts will be accessible on the web closer to the conference and can also be downloaded prior to visiting the gallery.
You have been involved with the Art Gallery for several years now, what keeps you motivated to stay involved as a SIGGRAPH volunteer?
Simple… the ultimate opportunity to meet and work with some of the most inspiring artists and art lovers from around the world. The experience has been truly worthwhile.

What is the best advice you can give an artist interested in submitting to future SIGGRAPH conferences?
My advice is three-fold actually:
1- Read SIGGRAPH Art Gallery's Call for Participation (CFP) carefully and thoroughly. CFPs vary every year. Submissions that do not relate or respond to Art Gallery's CFP stand no chance of getting accepted to the show by the selection committee.
2- Spend substantial amount of time to review and follow the submission requirements. Incomplete or wrongly completed submissions will not be considered. Write a lucid description for your submission and provide a detailed Artist's Statement. Explain your vision, intentions, and process in depth and especially address how your work relates to the CFP.
3- Keep an eye on the submission deadline. Every year, Art Gallery receives multiple requests from artists for late submissions, all of which regretfully get declined.
What do you hope attendees take away from this year's Art Gallery?
First and foremost, I hope Tracing Home will be a memorable exhibition that inspires, informs, and engages the audience with its space and content; one that fosters dialog between attendees and participating artists. Secondly, in terms of our theme and our preoccupation with home in the networked age, I hope the selected works will collectively trigger the audience to re-examine and reflect on our new life trajectories especially in regards to hybrid realities of virtual and physical.
For complete details, visit the Art Gallery web page.
For the preview video, visit the video page.