The SIGGRAPH Technical Papers program has been at the core of the SIGGRAPH conference for the past 50 years. At SIGGRAPH 2023, Technical Papers will welcome back the two integrated paper tracks introduced last year: Journal Papers and Conference Papers. Presenters will have the unique opportunity to gather in Los Angeles, 6–10 August, to share their research and discuss the latest results during a formal Q&A as well as small group poster-session format conversations.
Here, SIGGRAPH 2023 Technical Papers Chair Alla Sheffer highlights key areas you should be aware of as you plan your Technical Papers submission.
What We're Seeking
As the premier international venue for disseminating and discussing new scholarly work in computer graphics and interactive techniques, we are seeking high-quality research papers that cover a broad spectrum of areas such as animation, simulation, imaging, modeling, human-computer interaction, haptics, robotics, visualization, programming languages, immersive experiences, machine learning for visual computing, and so much more.
When submitting your work you will be able to specify if you want it to be considered for both Conference and Journal tracks (Dual-Track Submission) or whether you only want it to be considered for the Journal track. In the first case, if the paper is accepted, the Technical Papers Committee will then assess which track the paper should be in. If you choose the Journal track, its acceptance will be decided on the criteria for the Journal track. Now, you may be wondering which track to choose. Read on to learn more about the differences between Journal and Conference Papers.  
Both Journal-only and Dual-Track submissions will be reviewed by the same Technical Papers Committee. The Technical Papers Chair will work with the Technical Papers Committee and the tertiary reviewers to evaluate each valid submission.
When deciding which track a Dual-Track submission is suitable for, reviewers will be instructed to expect similar novelty for both programs and to consider completeness when assessing the track the paper should be accepted to. Specifically, they will be instructed to be less demanding about formal completeness, validation, and experimental evaluation when it comes to accepting papers to the Conference track, thereby allowing publication of riskier/earlier-stage work.
Both tracks will continue the SIGGRAPH Technical Papers program from previous years, publishing high-quality, groundbreaking research that is presented at SIGGRAPH.
Which Track Should I Submit To?
Use the notes and chart below to guide your decision to submit to the Dual-Track or to the Journal track.
What Are Journal Papers?
Journal Papers are expected to satisfy the ACM Transactions on Graphics (TOG) criteria of excellence established over the years, and contain novel, well validated, and comprehensively described ideas which advance the state of the art. Papers accepted to the Journal track will be published in the SIGGRAPH 2023 issue of ACM TOG.
What Are Conference Papers?
Conference Papers are expected to contain novel ideas and similarly advance the state of the art but can be less complete or comprehensive (e.g., have less extensive validation or formal verification). As such, papers must be no longer than seven pages, excluding references and figure pages. Papers accepted to this track will be published in the SIGGRAPH 2023 Conference Proceedings in the ACM Digital Library.
Compare and Contrast
Review this chart, also outlined on the Technical Papers call for submissions, to determine which track to submit to.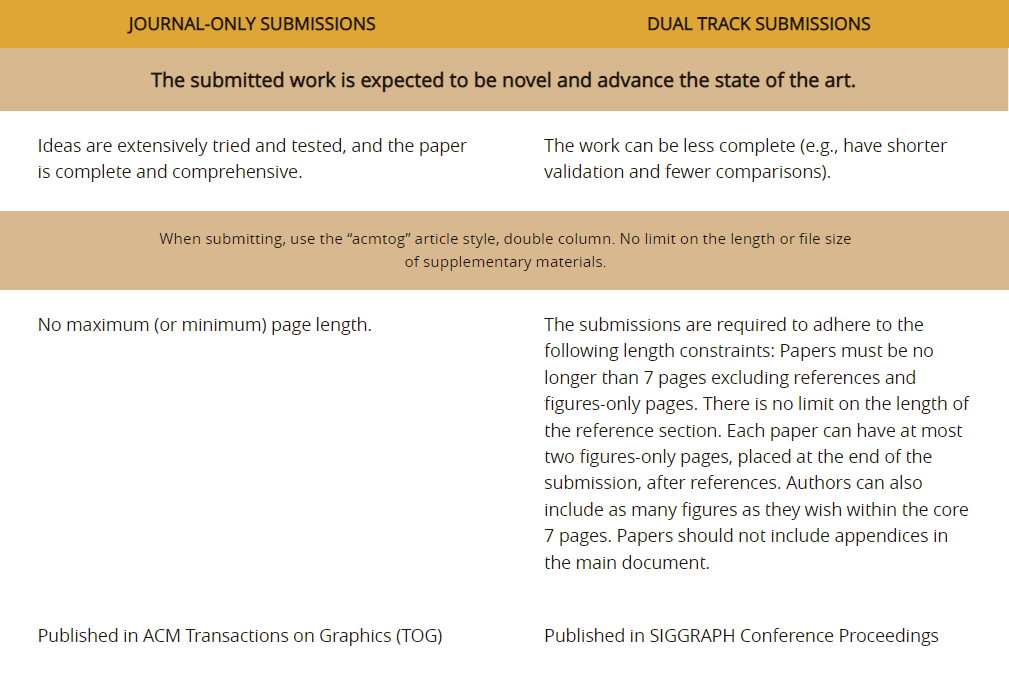 What's New?
While Technical Papers is following a similar format as what was introduced for SIGGRAPH 2022, there are notable changes. The live Technical Papers Fast Forward is back! To save contributors preparation time, we have simplified the post-acceptance process: Pre-recorded video presentations are no longer required for SIGGRAPH 2023 Technical Papers. Instead, all presentations will be made live, in person in Los Angeles, 6–10 August. At least one Technical Papers author is required to register at the appropriate level and present.
Submit Your Technical Paper
Ready to submit your outstanding research to the 50th SIGGRAPH conference? Mark your calendar with these important dates, and bookmark these helpful resources to simplify your submission experience.
Dates and Deadlines
Tuesday, 24 January, 22:00 UTC/GMT: Submission Form Deadline
By this day, you must create your submission form with the title, complete list of co-authors, and the specification of conflicts of interest (COI) for each co-author. Once the paper is submitted, the list of authors can no longer be edited.
Wednesday, 25 January, 22:00 UTC/GMT: Paper Deadline
The complete submissions is due on this day, which includes either the actual PDF paper or an MD5 checksum (which will be required in lieu of the actual files starting at some point on this day). If you wish to submit supplemental material (additional details or comparisons, movies, code, data, etc.) as well, these files (or their MD5 checksums) must also be uploaded by this date and time.
Thursday, 26 January, 22:00 UTC/GMT: Upload Deadline
This is the deadline for uploading all materials if you used MD5 checksums. No new or changed material may be uploaded. Only files matching MD5 checksums submitted the previous day are valid.
Resources
For all additional questions and submission details, please review the following resources or contact the Technical Papers Chair.
---
We can't wait to see how you will make history at SIGGRAPH 2023 by submitting your scholarly work. Submit now. Seeking inspiration? Revisit past SIGGRAPH Technical Papers research on the ACM SIGGRAPH Blog!