photo by Andreas Psaltis © 2022 ACM SIGGRAPH
On Monday, 8 August, SIGGRAPH 2022 participants left the bright hallways and harbor views of the Vancouver Convention Centre to enter the Electronic Theater — the program's first in-person premiere since 2019. The premiere was the first of three live, ticketed viewings in Vancouver, with the option to purchase virtual tickets to watch the reel from wherever you are in the world.
Introductions and Awards
After playing the trailer, SIGGRAPH 2022 Electronic Theater Director Darin Grant took the stage as "Digital Darin" — in person and in motion capture. Both Darin and Digital Darin welcomed SIGGRAPHers to the first night of the show by sharing the central message of this year's Electronic Theater: "Anyone can create magic from anywhere."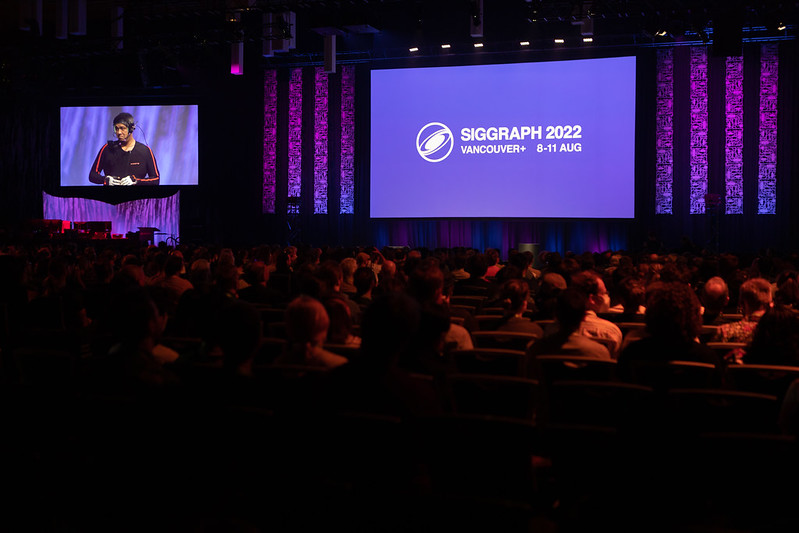 photo by Andreas Psaltis © 2022 ACM SIGGRAPH
Then, Darin invited a few special guests to the stage. First up was Dani Bowman, CEO at Danimation Entertainment. Dani and her team were recognized for being the 100% autistic workforce who produced the captions for the Electronic Theater.
On the premiere night, this year's award winners tuned in virtually to accept their prizes. SIGGRAPH 2023 Electronic Theater Director Kalina Borkiewicz took the stage to present the Best in Show award to "The Seine's Tears." Yanis Belaid, one of the film's directors, accepted the award virtually. Michela Ledwidge then presented the award for Best Student Project to "Yallah!" director Nayla Nassar. Finally, Boo Wong took the stage to present the Jury's Choice award to Director Lei Chen of "The End of War."
You may notice one award has yet to be revealed. Electronic Theater viewers select the recipient of the Audience Choice award, which will be revealed at the end of the live conference week. Stay tuned to hear more!
Key Themes
And into the show! The energy in the Electronic Theater was palpable as the first film rolled on screen, with films covering action, animation, scientific visualization, and more. The audience shared laughter in moments of satire and found humor, beauty, and color in depictions of the broken. These films made statements and inspired. They evoked joy, even when showing characters' darkest moments. Viewers were wowed by behind-the-scenes looks at popular hits like "Dune" and "Severance." There was surely something special about gathering together to watch the latest groundbreaking storytelling for the first time in three years.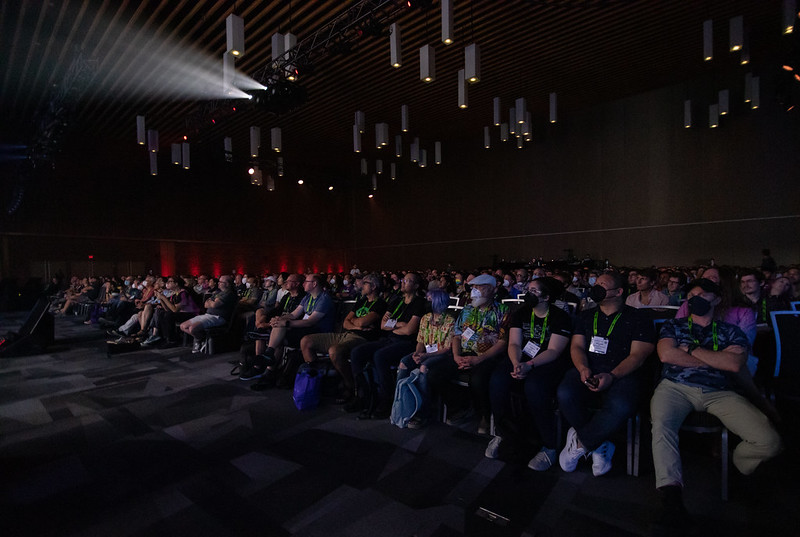 photo by Andreas Psaltis © 2022 ACM SIGGRAPH
Where Can I Watch?
There's still time to witness the show-stopping animation of the SIGGRAPH 2022 Electronic Theater! Full Conference and Full Conference Supporter registrants received a ticket to see the show on Monday, Tuesday, or Wednesday of the live conference week. All other SIGGRAPH participants are welcome to purchase a ticket to see the show live in Vancouver. Joining us virtually? You have the option to bring the Electronic Theater directly to you by purchasing a virtual ticket.
Check out even more Electronic Theater-related content from SIGGRAPH: