Image Credit: "It" © 2017 Warner Bros. All rights reserved
With Halloween around the corner, there's no more perfect time to talk horror VFX on the ACM SIGGRAPH Blog. Diving into the conference archives (specifically, the SIGGRAPH 2018 Talk "It: How to Build a Terrifying Clown"), we caught up with Rodeo FX Animation Supervisor Yvon Jardel to discuss the ever-frightening box-office film "It" (2017). Yvon took us through the process of developing Pennywise beyond Bill Skarsgård's performance, and how the Rodeo FX team found terror in the transformation. Read on to find out how Pennywise went from a man in a costume to a full-fledged nightmare.
SIGGRAPH: Tell us about the process of developing Pennywise and the Ancient Cistern for "It." What was your role on the project?
Yvon Jardel (YJ): I was the animation supervisor for "It", so I was mostly concerned with the performance of everything that was going to be moving or coming to life. With Bill Skarsgård playing the Pennywise character, I was mainly focused on augmenting the actor's performance. The process for developing these augmentations started with a lot of research. First, we got Bill's motion test b-roll so we could see how the costume moved. This allowed us to ensure that the costume was behaving realistically in the transformations. We were also given the material costumes and props to scan, ensuring that everything was at high frequency and was being rendered realistically.
We had more out-of-the-box augmentations in what we called the "kill mouth", where the outcome was even scarier than the prosthetic. The process started with a drawing from the concept artist. We then took that drawing and translated it into a 3D skull. From there, we connected it to Pennywise's normal head. The most challenging part of the process was rigging it in a way that gave us a certain level of control and realism.
In regards to the Cistern, we had to create a lot of poses of floating corpses, then work to chop off limbs randomly. It was both fun and creepy to do.
SIGGRAPH: What inspiration did you draw from the 1990's "It" clown, if any, and what changes did you make to bring the iconic character into 21st century horror?
YJ: Like anyone going into a movie that is based on a book or has a previous film attached to it, we reread the books and watched the movies. But we weren't creating an homage to the old character. Everything we created was inspired by Bill's performance and the ideas of the director, which, through animation, created a completely different character. One of unthinkable horror.
SIGGRAPH: What difficulties presented themselves when working on "It", as a horror film, that you might not see when working on a non-genre film?
YJ: I think it's actually the opposite for us as animators. In other films, the animation you animate is not subtle — people are going to react to it. Working on a horror film is easier because the cinematography makes it scary. You don't have to make it perfect because the lighting and costumes and everything are there to help you. The challenge was giving the shots more impact than in a normal film. We work hard in visual effects to make audiences believe in and have a reaction to something. It was very enjoyable to create this film because you knew the shot you worked on was going to get a reaction in theatres.
SIGGRAPH: How many shots did you work on for "It"? Which was your favorite transformation to create?
YJ: I worked on 99 shots for "It". Something that was super fun was the sequence in the Cistern. Pennywise transforms multiple times into the fears of each of the children. Whether the fear was small, like they were scared of insects, or big, like their parents dying in a fire, it was fun to create such a fast-moving sequence of transformations that were all equally scary in their own right. There was supposed to be a climax where he's on the ground and gets smashed by everyone, very fast-paced, and he was going to vomit the new fear—we called that "a concentric nightmare". That would've been the most complicated shot because you have two rigs to animate over each other. Another complicated transformation was the "coming out of the bridge" scene, which was similar to the fridge scene. These were tough because we kept the face real but the body was changing. Working around a constraint like the face is always more difficult.
SIGGRAPH: How did the "Unrealistic" nature of Pennywise (costume, makeup, shape) contribute to how you created the visual effects?
YJ: The performance of Bill really added to the character and informed what we were going to do with the transformations. His movements were caricatured in a way that made it a little easier. The most absurd contortion can still be thought of as realistic with this character.
SIGGRAPH: What is the most surprising effect in the movie that the audience might not realize in animation or CG?
YJ: The most surprising effect for people is the fridge shot (shown above). After seeing the movie, some people thought that we had hired a contortionist and that it was a real person doing that movement. With VFX, you are always trying to mix real and fake elements to confuse people. In this scene, we kept Pennywise's head the same but completely animated the body. I believe people are drawn to the eyes and therefore to the movement of the body looks more realistic, like it could be a contortionist.
SIGGRAPH: When was your first SIGGRAPH conference, and what made you decide to attend?
YJ: In my first year of work in animation (2007), my student film was accepted at SIGGRAPH; however, my company wouldn't let me go to see it be presented. Two years ago, I went as a speaker for my work on the hit TV Show, "Stranger Things." I loved presenting and seeing all that SIGGRAPH had to offer. It made me sad that I wasn't able to go in 2007 as a young professional.
For those with a subscription — and a desire to watch the terror unfold — "It" is currently available to stream on Hulu and HBO Max. If you're interested in submitting to or attending a future SIGGRAPH conference, sign up to our mailing list to stay in-the-know.
---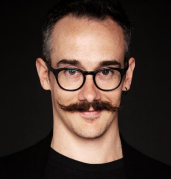 Yvon Jardel, has been animation supervisor at Rodeo FX since 2016. He has proudly built the Rodeo FX animation team into the high-calibre creative team it is today. As Animation Supervisor for the hit Netflix show Stranger Things, season 3, his team received 4 VES award nominations and 2 wins for their work. His recent contributions also include Stranger Things season 4, Fantastic Beasts and Where to Find Them, the design of several complex animated shots for the ever-shapeshifting Pennywise in Andy Muschietti's It, as well as hit films Jumanji: The Next Level, Bumblebee, Mowgli: Legend of the Jungle, Ant-Man and the Wasp, IT, and Valerian and the City of a Thousand Planets.
His ability to convey a character's emotions in an on-screen digital performance is
beautifully evident in his graduate short film, Blind Spot, which received a nomination at the
Cannes Film Festival. He has since honed his understanding of the workflow and pipeline
required to succeed in feature-animation-driven projects such as The Tale of Despereaux,
Where the Wild Things Are, X-Men: Days of Future Past, and A Monster Calls.
Yvon Jardel began his career studying traditional 2D animation at the famous school
Les Gobelins in Paris.