© Davigo Studio
The much-anticipated battle game "Davigo" is making waves, merging playstyles to combine the world of non-VR with VR elements in one virtual space. At SIGGRAPH 2020, audience members learned more about the challenges and triumphs of the game's creation. We caught up with the team behind the innovate elements to dig into the development process and expectations surrounding the game's release. (After going behind the scenes, watch the game's trailer at the end of this post.)
SIGGRAPH: Tell us about the process of developing your 2020 presentation "Davigo: Epic VR vs. PC Duels."
"Davigo" Team: There are only a handful of games out there in the sub-genre of "asymmetrical VR", so there are many inherent design challenges in the genre that can be overcome by applying novel solutions. We don't already have preconceived notions about what will work best, so we're free to experiment.
One ongoing challenge for us is balancing gameplay between two entirely different playstyles — one controlled with the human body through VR controllers and the other with a gamepad or mouse and keyboard. We aim to work within the constraints of each platform to create the best experience.
The other exciting part of the development of "Davigo" is interacting with our growing community, who can currently play an early version of the game; we've managed to attract over 10,000 fans to our Discord and Patreon communities. Talking with our players in real time and getting their reactions to new prototypes or features is an effective and motivating avenue for testing ideas and allowing us to create the best possible version of the game.
SIGGRAPH: Is there one game in particular that you played growing up, inspiring you to pursue a career path in the industry?
Andy Bacon (AB): When I started to pursue game development as a career, I was inspired by successful indie games at the time like "Fez" and "Braid." I was drawn to their unique gameplay mechanics and strong artistic vision. They also showed me it was possible to create a hit game and impact the industry as a solo developer or small team. When I started working in VR, I approached it with the pioneering spirit I got from those games. As a new technology, VR seemed like fertile ground for gameplay innovation and creative expression, and because the VR gaming space was relatively small and not as saturated with content, I saw an opportunity to stand out and steer the industry in a positive direction.
Robert Koch (RK): I can't say there is one game in particular that led me to my current career. I grew up playing a lot of old-school games from the '80s and '90s — from LucasArts and Sierra adventure games to tycoon games, CRPGs, and puzzle games. Near the top of my list of favorites are classics, like "Thief" and "System Shock 2", which heavily prioritized full immersion in their design aesthetic and included what were novel mechanics at the time. I love games that try new things and experiment with the medium, which is why I'm so interested in VR game development; we have the chance to dream up and create new ideas that no one has experienced before.
Erik Roystan Ross (ERR): My favorite game growing up was "Super Mario 64" — the sprawling worlds coupled with the tight, innovative controls allowed the player the freedom to tackle each challenge in their own way. The game also drove Nintendo's development of the thumbstick, showing the marriage of software and hardware innovation that can hopefully be replicated in the VR space.
SIGGRAPH: Let's get technical. How many people are involved in development and how long have you been working on the game so far? What has been your biggest challenge?
"Davigo" Team: There are three developers working on "Davigo," and we've been developing it since April 2019.
The biggest challenge is indeed balancing the two playstyles. However, we also have other, more self-imposed design challenges; for example, ensuring highly physical gameplay and minimal use of conventional UI.
SIGGRAPH: Given all players — of vastly different sizes — interact in the same virtual space, how do you balance player speeds? How do you ensure mechanics appear natural? What are some other unique challenges that come from merging non-VR and VR elements in one virtual space?
"Davigo" Team: Balancing player speeds was the first concept we prototyped. You can read in our paper that we decided to slow the giant down. As an alternative, we tried speeding up the little player, but the game became too hectic and harder to comprehend. Besides, giants in movies or games are usually lumbering and slow, so we hope this decision helps the VR player become more immersed in the character. The follow-up challenge with that is making players buy into that concept and not see it as a frustrating limitation.
Some challenges are inherent to the current VR hardware that's available to consumers. Our design currently limits locomotion, as we feel conventional VR locomotion mechanics, such as teleportation or grab-and-drag to move, are out of line with our goals to keep things physical and immersive. One example of a solution to this is, instead of having the giant traverse the level, the giant can move the level itself, as you can see in this GIF.
The physicality of the game also prevents us from choosing some mechanics. For example, we need to ensure the giant's hands don't get too close together, or too close to the giant's head. We don't want VR players smacking their controllers together or slapping themselves in the face!
SIGGRAPH: With such a complex game, how did you decide which topics to include in your presentation? What do you find most exciting about the final product you presented to the virtual SIGGRAPH 2020 community?
"Davigo" Team: The SIGGRAPH presentation was done based on early design challenges we faced: How can two players at vastly different scales take part in an evenly matched battle with each other in the same game world? How can we make the game as physical as possible, especially major game mechanics like throwing? Indeed, how can we make throwing feel as natural as it might in real life? The answers to these questions form the basis of our presentation.
The most exciting part of SIGGRAPH, and other events or presentations, is watching the initial reactions of people playing the game. Having others experience that same fun and excitement playing the game that we have makes the whole development process worth it!
SIGGRAPH: Fans are anxiously following your public roadmap for release information. Can you give any teasers regarding a release date and what's next for "Davigo"?
"Davigo" Team: We can't! Although we do have an internal schedule, we are not sure of when we will release because we have to ensure the game is ready. We can tell you that we intend to initially release via Steam Early Access, and we are currently planning a Closed Alpha and considering a Kickstarter to push engineering and art further. If all goes well, 2021 will have some major milestones for "Davigo."
After release, we hope to have the community support to continue developing and improving on the core gameplay and thinking about the game's long-term future.
SIGGRAPH: If you've attended a SIGGRAPH conference in the past, share your favorite SIGGRAPH memory!
AB: At SIGGRAPH 2014 in Vancouver, I played a demo of a VR game called "The Gallery" by Cloudhead Games. It used the Razer Hydra controllers, giving me full hand presence, which was new at the time. I remember being blown away by simple interactions, like picking up a letter and bringing it close to my face to read the text on it, or throwing a rock up with one hand and catching it with the other. I took off the headset with a huge smile on my face and left the conference buzzing with the excitement of VR and its potential. I still think about that demo all the time, and how "The Gallery" paved the way for future VR games by defining core interactions that so many emulate today. I hope to make a similar contribution to VR interaction design.
RK: I think my favorite memory is from SIGGRAPH 2018 — just seeing all the interesting and new ideas in the field of VR/AR there was exciting. One that particularly stood out to me was a drum training application for VR where you played a physical drum kit but saw an overlay while wearing an HMD. Give me a few days in there and I might actually get committed to learning long-term.
SIGGRAPH: What advice do you have for someone looking to submit to the Immersive Pavilion at a future SIGGRAPH conference?
"Davigo" Team: First make something you think is exciting, then find ways to communicate that excitement to others. It's one thing for you to be excited about your own project, but consider ways to market it to other people so they can get excited about it, too. Some projects I've seen are intriguing, but they were presented at a rough, prototype-level, which may make it harder for passers-by to picture the big idea that is the end result. So tell the audience more about the big idea that your prototype is exploring!
SIGGRAPH 2021 Immersive Pavilion submissions are now open! Submit your innovative advancement in virtual, augmented, or mixed reality through 23 February 2021.
---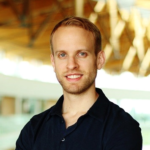 Robert Koch is a project manager, designer, and developer with a background in graphic and UX design. He previously worked as a project manager at Archiact Interactive, one of Canada's largest VR studios, developing innovative VR/AR applications for the architecture and engineering industry. As a VR/AR consultant, he has most recently worked with a major data analytics firm for their first foray into immersive technologies by developing a multi-user HoloLens-based data visualization prototype.
Erik Roystan Ross is a programmer, designer, educator, and technical writer. His design experience includes video games, practical VR applications, and websites. He has developed code for a wide variety of topics including physics, graphics, and network programming. He also maintains a Unity tutorial website and teaches post-secondary part-time at LaSalle College (formerly the Art Institute) and Vancouver Film School in the VR/AR program.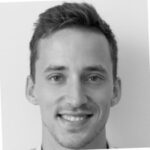 Andy Bacon is a game developer and educator focused on virtual and augmented reality. He has launched games for various VR and AR devices, including PlayStation VR, HTC Vive, and Lenovo Mirage. Two of his projects were finalists for Best VR Game at the Canadian Video Game Awards in 2015 and 2016. His previous clients include Disney, Marvel, and Telus. Andy is interested in pushing the boundaries of games and interactive experiences, using emerging technology to create new forms of play. He teaches Immersive Reality Game Design at LaSalle College Vancouver.