Copyright MadMicrobe Studios / Synergy Vision / Takeda
Making science more accessible requires equal parts scientific accuracy and artistic expertise. Awarded with "Special Recognition" by this year's Computer Animation Festival jury, SIGGRAPH 2020 Electronic Theater selection "Stem Cells: The Heroes in Crohn's Perianal Fistula Treatment" does just that, illustrating an informative and eye-catching display of a new treatment for Crohn's disease perianal fistulas. We caught up with MadMicrobe Studios' Animation Director Alan Smith for more project development details and to unpack his team's creative process.
SIGGRAPH: Before we dive in, could you provide a little more background for our readers who may be unfamiliar with the prevalence and treatment of perianal fistulas in individuals with Crohn's disease?
Alan Smith (AS): Crohn's disease isn't very pleasant, so the details aren't for the faint-hearted. It is common for individuals with Crohn's disease to develop an ulcer in their bowel that grows into a small hole. Unfortunately, this often continues tunneling through the tissue and eventually connects to the body's outside surface. This process can be very uncomfortable to say the least, and approximately only 50% of cases are successfully treated with surgery, so we're very pleased to help Takeda present a new non-surgical treatment that may allow tissue repair and fistula closure.
SIGGRAPH: What inspired you to develop this project? Can you share a bit about your experience in blending the art of animation and health science?
AS: We were excited to accept the project because the client was speaking in cinematic terms from the outset and eager to tell an accurate, scientific story whilst engaging the audience to bring it to life.
Their brief was two-fold. Firstly, we needed to provide a clear and simple overview of how mesenchymal stem cells (MSCs) can treat perianal fistulas. The aim was to upskill physicians on the molecular and cellular steps involved in fistula healing via MSCs, which is a fairly recent and revolutionary treatment option.
Secondly, we were tasked with creating a truly unique and impactful visual experience to be adapted for use in various environments. The first version was shown in stereoscopic 3D at the ECCO Congress in Vienna; other outputs included a version for use on desktop, mobile, and tablet, and another for use in a virtual reality setting.
SIGGRAPH: Describe the development process. How did you tackle the various stages?
AS: Following our in-house production process, we worked with Takeda to refine the script, ensuring there was an appropriate balance between the science and the story. Once the script was approved, we produced storyboards — keeping science at the forefront — and there were lots of discussions between our science director and the client experts.
At this point in the process, we proceeded with developing the characters, also known as the molecules. The science determines the shape, and we do in-depth research into the molecules. The colors tend to be based on client preference or are chosen in accordance with brand guidelines.
Photoreal style frames were produced for the various scenes, and once these were approved, we moved into the animation phase. The job progressed with three passes, and then the final animation was approved a few days before the launch.
The studio is always working at the edge of what is technically possible. We utilized [Maxon's] Cinema 4D and [Adobe] After Effects as our primary animation tools. For rendering we have been an early adopter of Redshift. For the first time, we combined the power of Redshift with a vast network of AWS render units, and having such a powerful render cloud available allowed us to push the envelope with the length and detail of scenes.
SIGGRAPH: Your animation makes it much easier for the average person to understand the health science behind this condition and treatment. What impact do you hope this accessibility has moving forward?
AS: It would be nice to think we are helping make science more accessible, and we tend to approach each new project from the layperson's perspective. Although most of the team members are trained medical illustrators, we are artists first, so we let the story lead the project and then ensure the science is accurate. Our company tagline, "where science meets cinema" sums up our process well.
SIGGRAPH: Have you ever attended a SIGGRAPH conference?
AS: Living in the UK, I'm afraid I have never had the opportunity to attend a SIGGRAPH conference; however, several of my U.S. colleagues attend each year and always rave about it. One of the great things we do as a company is utilize a group chat in which we share new ideas, discuss new tech, post about software glitches, etc., and a lot of what goes on at SIGGRAPH makes it into this chat!
SIGGRAPH: What advice do you have for someone looking to submit to the Electronic Theater for a future SIGGRAPH conference?
AS: If you have a great piece of animation that you're proud of, submit it. We never expected to have our submission showcased, and to be included in such good company is a career highlight!
SIGGRAPH 2021 submissions are open now! Visit the SIGGRAPH 2021 website for the latest information and open programs.
---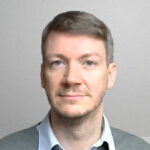 Alan Smith is not only a seasoned medical animation generalist, but also oversees our client expansion into the UK. With over ten years experience as director of animation in both the life science and broadcast industries, as well as receiving Master's Degrees in both the sciences and the arts, Alan brings a wealth of knowledge, experience and outstanding artistic talent with him