Light Pattern © 2015 Daniel Temkin
SIGGRAPHITTI is the official newsletter for the North American SIGGRAPH Conference, an annual five-day interdisciplinary educational experience of the latest computer graphics and interactive techniques. Sign up to receive SIGGRAPHITTI and read on for Issue 3 (2015). Don't forget to REGISTER NOW for SIGGRAPH 2015!
---
BEHIND THE MAGIC: INDUSTRIAL LIGHT & MAGIC'S 40TH ANNIVERSARY AND SIGGRAPH 2015 PRODUCTION SESSIONS
At SIGGRAPH 2015, we're kicking off celebrating Industrial Light & Magic's 40th anniversary with Dennis Muren and some surprise special guests. We will also pack the week with production sessions that go behind-the-scenes of some of the year's biggest films and accomplishments in digital visual effects.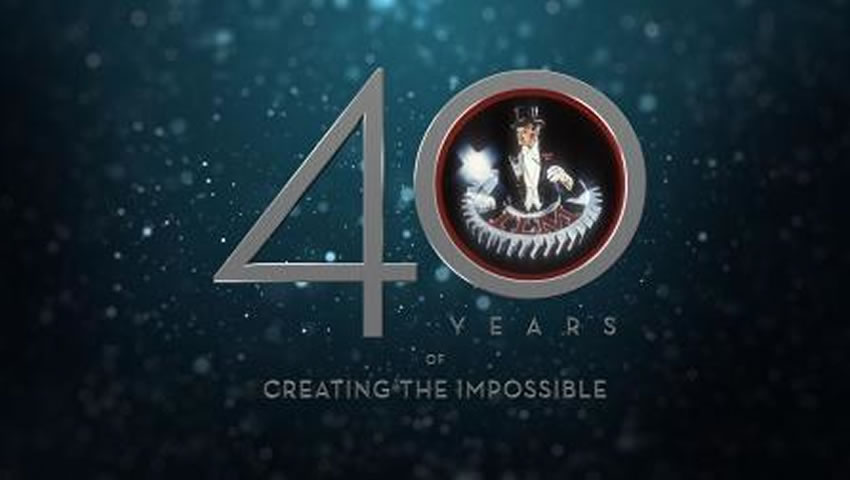 40 Years of Creating the Impossible © 2015 Industrial Light & Magic
SIGGRAPH Production Sessions are the place where the world's most elite and talented computer graphic experts and creative geniuses explain their processes and techniques for creating compelling content. Following each presentation, attendees are able to ask questions about the challenges and issues associated with complex productions — a can't-miss Q&A opportunity!
To learn more, check out the complete roster of amazing sessions in the SIGGRAPH 2015 Advance Program (beginning on page 27), as well as below.
Industrial Light & Magic's 40th Anniversary Presentation with Dennis Muren and Special Guests
Building San Fransokyo: Creating the World of Disney's "Big Hero 6"
Disney•Pixar's "Lava": Moving Mountains
Inside the Mind: The Making of Disney•Pixar's "Inside Out"
Double Negative Presents: The Visual Effects of "Interstellar"
From Post-it to Post Production, The Uncompromising Journey of "The Book of Life"
Image Engine Presents: Breathing Life Into "Chappie"
DreamWorks Animation Presents "HOME": Just Another Post-Apocalyptic-Alien-Invasion-Buddy-Road Movie?
The Park is Open: Journey to "Jurassic World" with Industrial Light & Magic
Fix the Future: Industrial Light & Magic and Visual Effects for "Tomorrowland"
The Making of Marvel's "Ant-Man"
The Making of the Characters of Marvel's "Avengers: Age of Ultron"
"Peanuts Movie": From Comic Strip to Feature Film
---
EMERGING TECHNOLOGIES SUBMISSIONS: ONES TO WATCH
Kristy Pron, Emerging Technologies Chair, is proud to announce that 117 submissions were submitted to the jury and 26 have been accepted, including six curated projects. Of these, 27 percent are submissions from outside the United States.
When asked to describe this year's content, Pron replied: "This year, we tried to bring in technologies that are not only innovative but help improve our work environments, everyday tasks, and leisure time. Attendees will see technologies from a wide variety of disciplines including the automotive industry, displays, and wearable technology that reinforce this year's theme and provide attendees with innovative, interactive experiences."
Emerging Technologies highlights include:
Ford Immersive Vehicle Environment
Elizabeth Baron, Ford Motor Company
Ford is the first automaker to use a new, ultra-high-definition, virtual reality lab that enables designers and engineers around the world to work together on vehicles in real time.
Christie Digital Sandbox
Kevin Wright and Roy Anthony, Christie Digital
By creating an overlapped array of projected images, Christie Digital uses projection technology to create truly seamless displays with resolutions that can scale up to tens of millions of pixels. The displays can be mapped onto any surface, regardless of its shape or material.
An Auto-Multiscopic Projector Array for Interactive Digital Humans
Andrew Jones, University of Southern California; Jonas Unger, Linköpings universitet; Koki Nagano, Jay Busch, Xueming Yu, Hsuan-Yueh Peng, Oleg Alexander, and Paul Debevec, University of Southern California
In this installation, users interact with life-size 3D digital humans displayed on an auto-multiscopic projector array. The dense array of video projectors produces stereo and motion parallax for multiple simultaneous users over a wide field of view without special glasses or headgear.
VibroSkate: A Locomotion Interface with Exact Haptics and Kinesthesia 
Daiki Sato, Masataka Ezoe,Arisa Shimizu, Ayaka Hino, Midori Kawaguchi, Katsuya Kikuchi, Hironori Mitake, Shoichi Hasegawa, and Yurio Hosaka, Tokyo Institute of Technology

VibroSkate is a small, low-cost locomotion interface that reproduces the exact haptics and kinesthesia of feet. With this skateboarding simulation, players feel the ground and their acceleration, with realistic skateboard vibrations.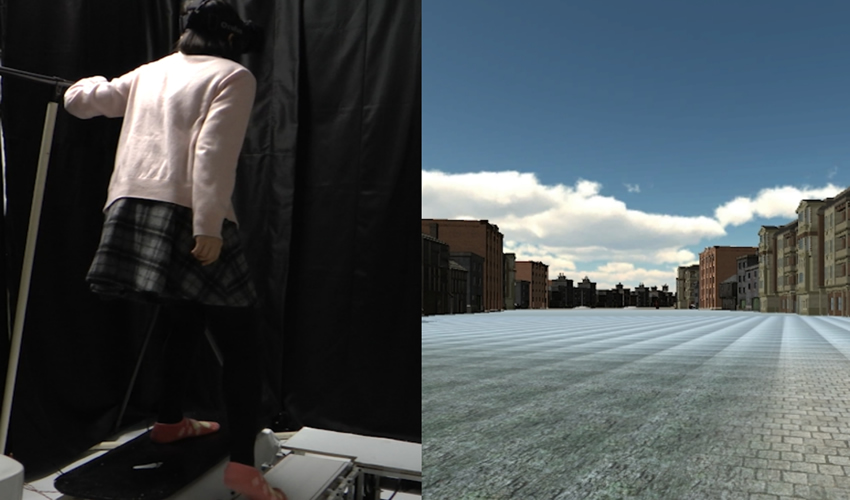 VibroSkate: A Locomation Interface with Exact Haptics and Kinesthesia © 2015 Tokyo Institute of Technology
Power of 2: Augmented Haptics for Interactive Gameplay
Ali Israr, Siyan Zhao, Kyna McIntosh, and JaeKyun Kang, Disney Research; Zachary Schwemler, Carnegie Mellon University; Eric Brockmeyer, Disney Research; Mark Baskinger, Carnegie Mellon University; Moshe Mahler, Disney Research
Power of 2 (Po2) is a new tactile feedback technology that utilizes two vibrating actuators to create illusory motion on and across hands. Combined with user gestures and interactive media (such as sound and visuals), Po2 creates highly dynamic and animated gameplay experiences on wearable and mobile handheld devices.
---
ART PAPERS: HISTORY AND CHANGE
Explore the changing roles of artists and the methods of art-making in our increasingly networked and computationally mediated world. In addition to core topics related to digital arts and interactive techniques, this year's Art Papers touch on history, memory, and human experience itself as they are archived, documented, and produced through art and computation.
Highlights for SIGGRAPH 2015 Art Papers include:
Yturralde: Impossible Figure Generator
Esteban Garcia Bravo and Jorge Garcia, Purdue University
An interview with José María Yturralde about his arrival into the field of computer art in 1968, as well as the process involved in the creation of impossible figures. The paper analyzes Yturralde's contribution through a modern software interpretation while inspecting the historical aspects in which it developed.
Yturralde: Impossible Figure Generator © 2015 Esteban Garcia Bravo and Jorge Garcia Galicia, Purdue University
Light Pattern
Daniel Temkin, Independent Artist
Light Pattern is a programming language in which one communicates with the machine through photographs, a process that explores the nuance and affect inherent in all code.
Ethics, Ecology, and the Future: Art and Design Face the Anthropocene
Kayla Anderson, The School of The Art Institute of Chicago
This paper provides a critique of how the Anthropocene is being addressed in art and design, focusing on works of critical, conceptual, and speculative design. Artists and designers discussed include: Marina Zurkow, Una Chaudhuri, Oliver Kellhammer, Fritz Ertl, Sarah Rothberg, Dunne & Raby, and Jae Rhim Lee.