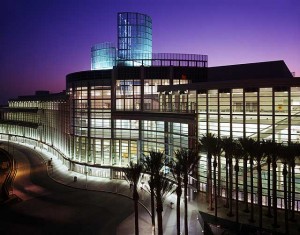 The Anaheim Convention Center at dusk.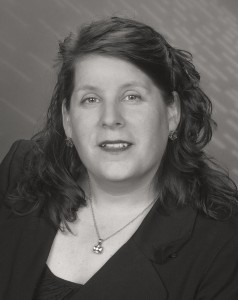 Mk Haley – SIGGRAPH 2013 Conference Chair
New to SIGGRAPH or just east jump need a refresher on how to best go about tackling the enormous breadth of the SIGGRAPH experience?  Read Mk Haley's pointers on how to go about getting the most out of your conference experience.  She is after all an expert …  this will be her 25th SIGGRAPH.
Plan ahead – use the Schedule at a Glance page to help try and prioritize your days in Anaheim.
Try to stay for more than a day – otherwise, trying to pack in the full SIGGRAPH experience in just one day can be maddening.
Don't be shy – one of SIGGRAPH's huge strengths is its welcoming and friendly people.  You meet people at SIGGRAPH that literally will change your life.
If you are completely new to SIGGRAPH be sure to attend the first-time attendee Birds of a Feather Session: Ready, Steady, SIGGRAPH!, Sunday, 21 July 12:30 PM – 1:30 PM, Anaheim Convention Center – Room 201 C
If you really, really, really want to get into a session, GET THERE EARLY.  Due to fire codes we are only permitted to allow a certain number of bodies in every room, so if you arrive only a few minutes early, you may not get in.
When in doubt, ask a volunteer.  You can always find volunteers around the SIGGRAPH 2014 booth that are anxious and eager to help out.  Pop by the booth for advice or just to chat about your favorite SIGGRAPH experiences.  Or you will find our wonderful student volunteers spread throughout the convention center.  They will all be wearing red t-shirts with "Ask Me" buttons on them.
Explore SIGGRAPH People – Add yourself to the gallery of SIGGRAPH People and browse and discover other SIGGRAPH attendees who will be in Anaheim.
Wear comfortable shoes and bring a light jacket and a hunger for everything that is awesome.
Collaborate with other attendees – whether that is in the Studio, at networking events, or anywhere else that people gather together during the week.
Get the new SIGGRAPH App to help you maximize your time onsite – it includes session feedback features, schedules, maps, exhibitor info, and an ability to connect with other attendees. Only registered attendees get full access to the content, scheduling and networking features of the app. Over the next few bouncy castle days, registered attendees should receive an e-mail message with a unique url to set up their profiles and begin using the app.  Questions about the app can be directed to the app provider, Zerista via email: support@zerista.com