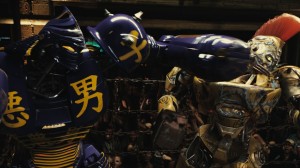 Image credit: Copyright DreamWorks II Distribution Co,. LLC, All Rights Reserved. Courtesy of Digital Domain
If you ever wanted to have your picture taken with something ridiculously awesome (like a 7-ft tall robot), then mark your calendars for SIGGRAPH 2012 where Noisy Boy from "Real Steel" is scheduled to make an appearance in the Computer Animation Festival Production Session "Making the Steel Real: Moving VFX Into Production".

Following is the session description: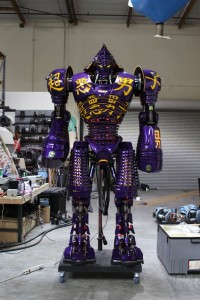 Click to enlarge photo.
Nominated for a visual effects Academy Award, DreamWorks' "Real Steel" was recognized not only for its rollicking boxing matches between CG robots, but also for the seamless way the film moves between practical robots and their CG counterparts. In this panel, some of the "Real Steel" filmmakers walk through robot design, explain key techniques and shots, and share the groundbreaking virtual-production process inflables that they packed up and moved to Detroit, which compressed the shooting schedule to 71 days with no second unit.
The session takes place Tuesday (7 August) from 10:45 AM – 12:15 PM in the LA Convention Center's Hall B.  PLEASE NOTE: After the session, Noisy Boy will be moved to a secure location nearby so that attendees have a few hours for photographs with him.  
To hear directly from Erik Nash, VFX Supervisor with Digital Domain, on how they made the film, click here.
Special thanks to Digital Domain and Legacy Effects for making Noisy Boy's appearance possible at SIGGRAPH 2012.
More information on Digital Domain:
Digital production company Digital Domain, a subsidiary of Digital Domain Media Group (NYSE: DDMG), was founded in 1993. The company has created visuals for more than 90 movies including Titanic, the Transformers series, TRON: Legacy, Real Steel and hundreds of commercials. Its artists have earned multiple Academy Awards®. Digital Domain recently completed visual effects for "Rock of Ages," "The Watch," "G.I. Joe: Retaliation" and the virtual likeness of the late rap star Tupac Shakur for Coachella. The company is production on "Jack the Giant Killer," "47 Ronin," "Ender's Game" and other features, and a full slate of commercials. Digital Domain has studios in California, Vancouver, San Francisco, Florida, Mumbai and London.
More information on Legacy Effects:
Since opening its doors in 2008, Legacy Effects has been involved in a wide variety of high profile feature films and commercials. Founded by John Rosengrant, Shane Mahan, Lindsay Macgowan, and Alan Scott, Legacy Effects has had the privilege of creating effects for films such as  "Avatar", " "The Avengers", "The Amazing Spider-Man", "Iron Man 2", "Thor", "The Muppets", "Snow White and the Huntsman" "Twilight: Breaking Dawn", and more. Notably, Legacy Effects co-owner John Rosengrant was recently nominated for an Academy Award for the effects inflatable water slide on the Hugh Jackman starrer "Real Steel".
Currently, Legacy Effects has been involved with Ang Lee's "Life of Pi", the upcoming "Total Recall" remake, the sci-fi comedy "The Watch", "The Bourne Legacy", Guillermo Del Toro's "Pacific Rim", the new take on the classic "Robocop", Marvel's "Iron Man 3" and the fantasy adaptation of "Seventh Son".