photo by John Fujii © 2022 ACM SIGGRAPH
Artificial intelligence (AI) has made its way into the world on a common basis as of late. As a society, do we have a basic trust of AI, or are we still apprehensive? This article breaks down the common misconceptions of AI and aims to elevate the human perception of how AI works. Discover what the future would look like if we allowed AI to enter the workforce without human barriers, and find out more about this topic by attending the SIGGRAPH 2023 Frontiers Workshop: "Building Trust With Computer Graphics and AI: The Role of Tech, Art, or Policy?" on Sunday, 6 August.
SIGGRAPH: Share some background about this Frontiers Workshop. What inspired you to organize it?
Nicolas Henchoz (NH): In this day and age, I realize that AI is raising more fear than curiosity for a lot of people. The debate is getting very emotional and political, which could soon lead to blockage and even anti-tech movements. This comes mainly from the fact that innovation has forgotten to seriously take human perception into account. Improving ethics and performances will not solve the issue alone — reliability doesn't mean trust — trust is a subjective perception. However, with my design research center, the EPFL+ECAL Lab in Switzerland, we have performed studies on converting reliable and explainable AI into trust. We have the ability to monitor human perception in a real environment by real psychologists. It's extremely complex.
SIGGRAPH: Why is building trust so important in the new age of AI?
NH: We often discuss some spectacular demos of generative AI. From my point of view, the real impact lies in other areas: application for diagnostics, new therapies, complex environmental management to face global warming, knowledge retrieval, etc. But medical patients or doctors, for instance, will never adopt future innovation in domain like healthcare if they feel a lack of trust. Just one bad feeling would be enough to reject very useful services and tools.
SIGGRAPH: What lasting effects do you think AI will have on our areas of computer graphics and interactive techniques?
NH: Today, we often see AI as the machine replacing the human in producing image and text. AI, to me, is more about the "wow" factor. The lasting effect will be more in the capacity of assisting humans in creative works. It's like an exoskeleton for the brain! It allows us to produce totally disruptive immersive installations, movies, images, and data interactions for many fields of application. Good creation requires uniqueness, originality, meaning, conscious understanding, and intention. That's not what a machine does, but it can massively help to turn ideas and concepts into realizations.
SIGGRAPH: How do you incorporate AI into your own research?
NH: AI is involved in most of our design research: detecting brain patterns to cure tinnitus, clustering of digitized archives to create new experiences in cultural institutions, taking advantage of generative AI to foster collective identity, managing food data to improve diets in Europe, etc. In fact, AI is now involved in most of our projects, in a way or another. Our role is to create human experiences that matter, and to take advantage of available data and technologies. We have the capacity to monitor the factual and emotional impact on humans.  
SIGGRAPH: Each speaker in your Frontiers Workshop will cover a different perspective of this debate: generative AI, tension between fake and inducing trust, criticality of human perception, and policy. What makes these areas of AI so compelling and necessary for discussion?
NH: Developing meaningful AI perspectives with positive implementation and human acceptance requires all these disciplines to work together. It is critical to move beyond tech-driven innovation. Success requires addressing economical, social, and human dimensions in the forefront, not after the damage has been done! I think that we'll be able to extract, from this workshop, a short publication which could contribute to define a future framework for AI innovation. SIGGRAPH will continue to pave the way for the future of AI.
If you enjoyed reading about the future of artificial intelligence, don't miss joining us in Los Angeles, 6-10 August, for SIGGRAPH 2023! There's still time to register now!
---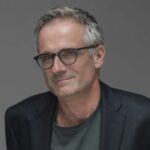 Nicolas Henchoz is the founding director of the EPFL+ECAL Lab, the Design Research Center of the EPFL (Ecole Polytechnique Federale de Lausanne), one of the two Swiss Federal Institutes of Technology. With a career spanning engineering, research, art direction, science reporting, and management, he launched the center 15 years ago in collaboration with the leading art school ECAL (Art and Design University, Lausanne). The EPFL+ECAL Lab brings a unique vision of innovation blending cultural creativity with scientific practices, real-life implementation, and human observation to foster disruptive concepts leading to sustainable adoption. His research outcomes have led to multiple academic contributions at ISMAR, HFES, CHI, SIGGRAPH, DRS, and Leonardo amongst others. His projects have also received several awards including the International Design Festival Berlin, Best App of the Year (Splash award), Design Prize Switzerland, and Best User Experience (Best of the Web). He is a visiting professor at the Politecnico di Milano and member of the Global Alliance for Media Innovation. He has curated more than 30 exhibitions in institutions like the American Institutes of Architecture (New York), the Royal College of Art (London), the Musée des Arts décoratifs (Paris), and Harvard University. He has been decorated Chevalier des Arts et des Lettres by the French minister for culture and communication.