Image Credit: © Brie Henderson
Grab your best dress — it's time to switch from glam to animation! The ACM SIGGRAPH Blog team had a chance to chat with Brie Henderson, costume designer with Netflix and Marvel Studios, before Women's History Month 2022 wraps to discuss her career and how she ended up in the niche world of costume design for animation. After going through severe burnout caused by the pandemic, Brie has found her true calling by combining her two loves: fashion and animation. Whether you've been contemplating changing career paths or not, you'll definitely find inspiration in Brie's journey.
SIGGRAPH: Share some background on your career. What brought you to character design and animation? What's your favorite thing about your job?
Brie Henderson (BH): I started my animation career at the Academy of Art University, San Francisco where I initially studied fashion design until I switched to visual development, [which is when I began] focusing on character design. When I graduated, my portfolio was very costume heavy. I then had my first stint with Marvel Studios' animation arm. After a while, I wasn't getting a lot of opportunities in the animation field so I decided to pause and go back to school for both costume design and animation. Then, when COVID-19 hit, I [was forced] to leave school because quarter-based systems are hard enough already without it being online. From there, animation pulled me back and I got a job with Netflix as a color stylist. I've been [working with Netflix] for about two years now, as well as freelancing at other studios.
My favorite thing about my job is being able to dive into different cultures, and being able to look past both modern-day and ancient colonialism to really see the people that we're borrowing information from and being inspired by. As a costume designer, I like to take on the big task of being both costumer consultant and student, just trying to learn as much as I can from other professionals in my niche field.
SIGGRAPH: What is the best career advice you've ever received? Who gave it?
BH: Dan Casey, who I adore with all my heart, told me to be unapologetic. He gives me very sound, dad advice, and is constantly mentoring me to "always be myself" in my stories, when I participate in panels, and in my career.
SIGGRAPH: In your opinion, what technology doesn't get a lot of love but has greatly improved the world?
BH: Anything in VR. [VR] gets a lot of love, but it doesn't at the same time — not in animation, at least. When I teach students who work in 3D, I tell them that they have to get used to using VR for modeling. I've been on two films so far where the modelers use VR to work in and there's nothing else cooler. I genuinely believe this technology will be the next Blender.
SIGGRAPH: What excites your most about your work? Where does your passion come from?
BH: It's not often that you get [to develop] your career in what you got your degree in. I switched into animation thinking I could bring fashion to character design … and I did that. My position is seen as a small, extremely niche career. It's not as widespread as you would think, and I only know about five other people in the industry. That alone brings me the greatest joy because it makes it so special.
My passion comes from giving back freely, from the knowledge I acquired on my films. I'm constantly trying to further my skills so I can share everything that I've learned with other creators, so that they can then further their own techniques and knowledge and have the arsenal they need to get into the industry.
SIGGRAPH: What is one contribution you've made to the animation industry that have been most meaningful to you?
BH: I love doing panels. The point is not about just me, but being a part of [a group of] extremely talented, like-minded individuals who all have different backgrounds and personal stories, but who are solely there to give back to the animation industry and share their knowledge with future generations. Getting to be part of that — especially when it's a diverse group because representation us so important — and to give young professionals the inspiration to know that they can do anything.
In April, Netflix is sending my coworker and me to Washington, D.C. to [speak at] HBCUs (historically Black colleges and universities) to help bridge the gap between animation and students of color. [The schools] have amazing, budding animation departments, and Netflix's goal is to funnel Black talent by strengthening these bonds and allowing the students to see animators/creators who look like them in animation roles.
SIGGRAPH: What's one thing you keep at your desk that you can't live without or that inspires you?
BH: "Steps" was my first feature film at Netflix and, when I rolled off, I got a gift in the mail of a mug inspired by the two main characters with the costumes that I designed. It was the most gorgeous thing that I had ever seen and just meant the world to me. It was [a perfect] accumulation of everybody's hard work and effort.
SIGGRAPH: Share a resources you frequent for inspiration.
BH: The very first book that I bought as a professional costume designer was "What People Wore When" — it is a complete, illustrated history of costumes from ancient times through the 19th century for every level of society. I love this book because it includes everything from 19th century Sri Lanka to Scandinavia, Germany, Austria, Spain, Algeria, and more. It's not just through the lens of the European historical fashion and encompasses most of the world, which is so rare when looking for costume history books.
SIGGRAPH: Finally, since we're celebrating Women's History Month, what advice do you have for the next generation of female creators entering computer graphics?
BH: I'm highly inspired by any person of color, especially women, who have made their way into the animation industry. This is a cutthroat industry and it is hard enough to get into it as a female and/or person of color, you have to protect yourself and know your craft. My advice: Play to your strengths and work for what you believe in.
Read more career profiles from the ACM SIGGRAPH Blog by clicking here. And, if you're looking to connect with computer graphics professionals like Brie in-person, register now to join us in Vancouver for SIGGRAPH 2022.
---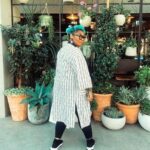 Brie Henderson is from New York City — the Bronx, specifically — and has been drawing all her life. Her love affair with costumes and clothing has lasted as long as she can remember and it all somehow came together when she graduated from Academy of Art University and took a quarter at Los Angeles's Fashion Institute of Design & Merchandising (FIDM) before joining Netflix! Since working in animation, it's been an awesome, wild ride, leading to costume design work on projects like "Spider-Man: Across the Spider-Verse – Part One", "Steps", "My Dad the Bounty Hunter", and more! Brie now lives in Burbank with one perpetually storyboarding housemate, two cats that live rent-free, 90 plants, and way too many earrings. As pastimes, she enjoys plant care, miniature housebuilding, and is even self-publishing an art book!