© Fan Xiang. Photo: Yi Liu, 2019
How do you visualize your family tree? SIGGRAPH 2020 Art Paper "Enhanced Family Tree: Evolving Research and Expression" reimagines the possibilities of family trees with an evolving series of exhibits, and took home the Best in Show award for the Art Papers program. We connected with lead author Fan Xiang to learn more about what inspired the project, the meaning behind the use of metaphor, and how Xiang and her collaborators enjoyed their first SIGGRAPH experience.
SIGGRAPH: Share some background about "Enhanced Family Tree". What inspired the project?
Fan Xiang (FX): I am an only child. China practiced the one-child policy for almost 40 years, so there are a lot of people like me who grew up in a no-sibling environment. Every time my friends would talk about their siblings, I always wondered, "What if I had a brother or sister?" On another hand, my own family is a DINK [double income, no kids] family, and I like to observe friends' parent-child relationships. As a spectator, I found that parents' tolerances only go to their own children. Also, some parents would even pin faith on their children and voluntarily give up self-growth. These facts confused me about the meaning of fertility, and I wanted to understand the big picture — that is, observe it with a longer timeline.
These reasons led to my desire to draw a big family tree when I learned of the Chinese Biographical Database (CBDB) at Harvard University. Theoretically speaking, CBDB may give us an opportunity to see the "landscape" of reproduction of the whole nation using data visualization approaches.
SIGGRAPH: Tell us about the process of developing your research. How many people were involved? How long did it take?
FX: This project started in 2017, right after I opened the CBDB website for the first time. I still remember sitting at the dining table with my husband, Shunshan Zhu (Sam), who is the second author of this paper, and I excitedly told him my idea. He is a software engineer, who was not as excited of course, but he said he would like to take a look at the CBDB website and check on the database to see if he could do something to connect people in CBDB through their relationships. So, this is a project started from our own dining table.
We encountered several problems along the way. The messy data of the database crashed Sam's software from time to time. After we talked to CBDB about the issues, we started to understand the current situations, techniques, and standards of historical databases. In the early stages of our project, when we connected persons in the database using their kinships, we didn't actually get trees like we imagined. Instead, we got a lot of shapes connected by messy lines, and this made us really frustrated. We ultimately put the project aside for a few months. However, I am a person who loves to expose my troubles, so when I showed my messy trees to Professor Xiaofeng Fang, he said, "This kind of messy is really interesting. It is actually a start point of new research. You have to answer why it isn't an ideal tree structure like you imagined." His answer helped me go to the next stage, and we eventually built some trees in 2D.
On the technology side, when I meet with teachers and students from different disciplines, I like to think what they can help me with. For example, during winter break of 2018, I met Yilin Zhu, who at that time just enrolled as a Ph.D. student in computer graphics at Stanford University. I asked him how to turn our 2D trees into 3D, and he shared some academic papers he found on his flight back to the U.S. and immediately started his experiments once he landed in LA. In just a few days, he finished some code to generate 3D trees. This was the first time I heard about 3D technology in computer graphics, and it opened my interest in the field. I then understood the reason Yilin chose Stanford over game design at Carnegie Mellon after he got his bachelor's degree from Tsinghua University, and I also knew the value of his current lab.
As we kept going with our visualizing experiments using different media, we needed all kinds of brains to solve the problems we faced. The problems we encountered along the way include but are not limited to data purge, optimization of 3D structures, selections of printing materials, choices of printing technologies, Maya rendering, Unity rendering, and big-screen projection. Therefore, we involved many experts as authors for this paper.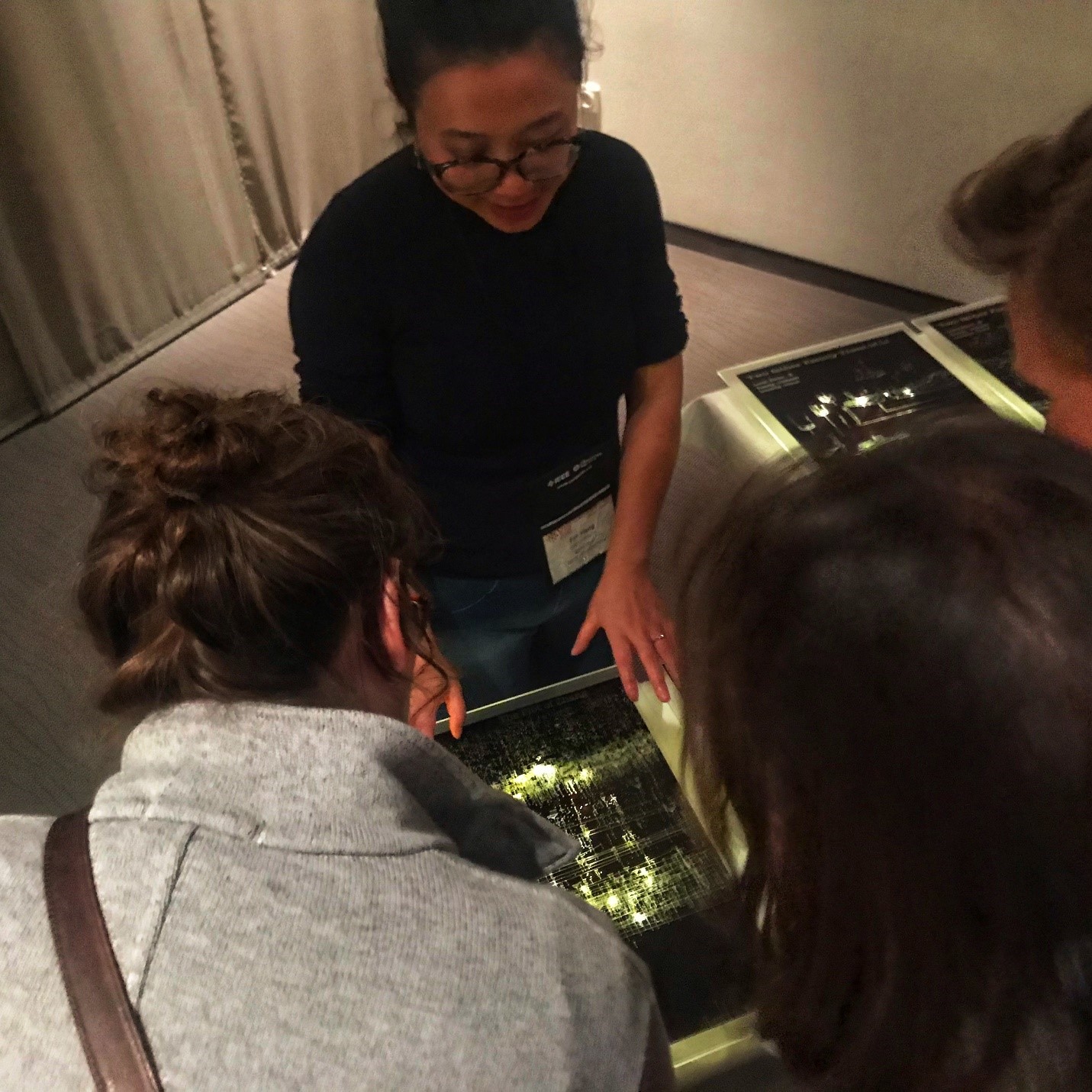 SIGGRAPH: What was the most challenging aspect of developing your research?
FX: No customer in the artistic visualization creation means there is no one judge and no end point of the work in progress. The development of the whole project is an experimental exploration out of anyone's control. It was not well planned. So, it had been hard for me to assign work to my team members. I couldn't guarantee a promising success to them. No funding to back up a project isn't a big issue, because it also means absolute freedom of research. All these factors actually ensured that I had enough time to do all kinds of experiments and think freely.
SIGGRAPH: "Enhanced Family Tree" uses the organic metaphor of a tree. What does that metaphor mean to you?
FX: Kinship is a kind of organic relationship. I never thought it was right to express a tree using traditional, stiff trees. Being visually metaphorical is the main task in information design. When I went to school at Massachusetts College of Art and Design, my professor, Jan Kubasiewicz, was always fascinated by the organic visualization in the classes, such as the project "Jellyfish" done by Carolin Horn.
SIGGRAPH: What do you hope SIGGRAPH participants take away from "Enhanced Family Tree"?
FX: In attending SIGGRAPH 2020 from Beijing, I evaluated the value of our work in comparison with others'. I think there are two things we can take away from "Enhanced Family Tree":
Open-ended approach: "Enhanced Family Tree" was formed gradually. If the starting point of research is fascinating enough, we might be gifted with many accidental opportunities and discoveries. Of course, a lot of people may feel uneasy about jobs that are not well-planned. Also, we were not able to get any funding for the project. However, for any creative work, uncertainty is a necessary risk one has to take.
Providing understanding for real life: Nowadays, we can make a lot of fantastic scenes, but those scenes are far away from our real lives. I don't want to go to another world to meet the fairies and super soldiers, but I hope computer technology can give me that power for my real life: the abilities of understanding, observing, and taking action. "Enhanced Family Tree" has not made emotional scenarios like flowering, fruiting, and withering, but so far, the research indeed provides some wisdom and support for me to understand a nation, a country, and history.
SIGGRAPH: Share a bit about your experience attending the virtual SIGGRAPH 2020. How did it go? Any favorite memories or sessions you enjoyed?
FX: This was our first SIGGRAPH. Like the host of our online Q&A Professor Daria said, "It is a good thing that attendees don't have to fly 20 hours to the U.S. and won't have jet lag." We did have jet lag, because our Q&A time was 4 a.m. I wondered, for first time in life, if I should take a nap before or after our session! Compared to my previous experiences of attending conferences, I actually felt people were closer to each other — as close as we were to the computer screens.
And all the content, including text and videos, can be played back on-demand, which helps to deeply understand what other people were sharing. I strongly recommend that even for an in-person SIGGRAPH in the future, we still have this kind of experience of well-arranged online access.
SIGGRAPH: Congratulations on receiving the Best in Show award for this year's Art Papers program. What does this award mean to you? What advice do you have for someone looking to submit to Art Papers for a future SIGGRAPH conference?
FX: Thank you so much. We are truly honored and deeply humbled by the decision, and we felt lucky because we knew it was a hard decision because of so many good projects. I would like to thank SIGGRAPH again, including the juries and reviewers, for this award. I have been a long-time reader of Lev Manovich, and I also visited Professor Nakayasu in Japan. It is quite an honor that we were accepted by SIGGRAPH 2020 along with them and other great artists.
We got the email from SIGGRAPH 2020 that we were accepted this March, and the reviewers gave very rigorous and constructive opinions. Their opinions made our paper more complete and much stronger, and this helped me realize the academic standards and value of SIGGRAPH's peer-review system.
SIGGRAPH is not very popular among artists in China. Chinese bloggers evaluate the acceptance of the SIGGRAPH conference as a tough achievement. I agree with that, and I think the point is that artists practice locally, but they must write a paper using a global art language. This is not easy, especially for some artists who are non-native English speakers. A lot of friends told me that the news of our win is a guide that leads people who are working in art, humanity, and computer graphics to go the distance in our field.
To the future contributors to the SIGGRAPH Art Papers program, I believe the jury chose us because our paper displayed evolving research. They could understand how we started, how we got here, and what we experienced along the long way of hard experiments. So, it is equally important to record the whole creation process and paper writing. Writing a paper is not a final report of an art practice, it has been happening along with an artist making progress and the research.
If you missed SIGGRAPH 2020, you can still think beyond with us — and check out Fan's sessions — when you register by 11 September.
---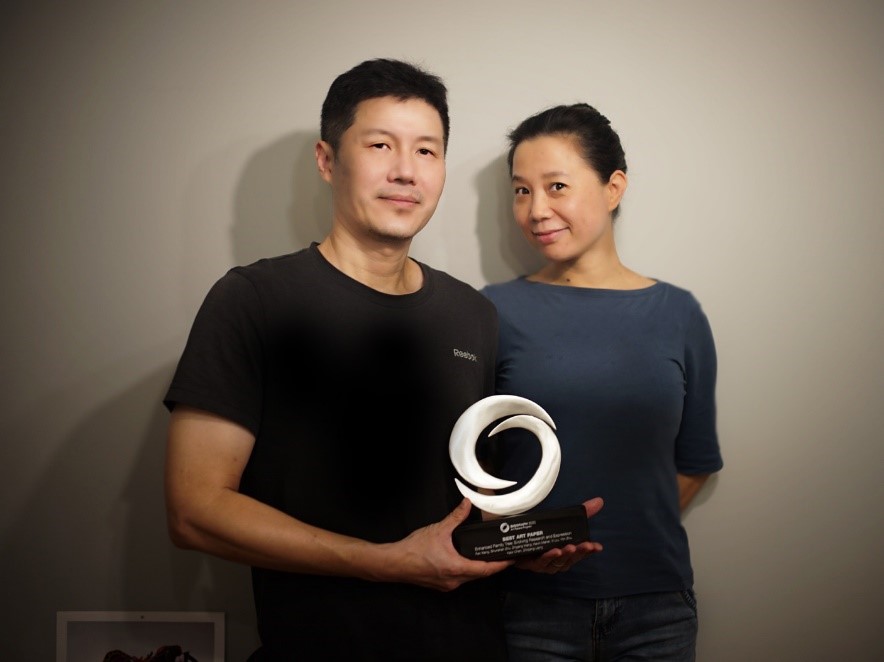 Fan Xiang is an artist, visual designer, and educator. Her activities vary from graphic design, spatial information design, interactive design, and digital arts. Fan is known for her visualization-based artworks. Her key projects encourage people to explore truth in various visualized perspectives of public data and triggers public attention on ideology aesthetics in mass media. She is fascinated by synthesizing visual design and technology as a telescope into unseen realities. Before getting into digital arts, Fan focused on research of public pictogram design in Japan and China. Her series of recent research projects focuses on dynamic media art, published in SIGGRAPH, IEEE VIS, XXII Triennale di Milano, and China National Design Exhibition. Fan got her art and design education from China, Japan, and the U.S. She is fluent in Chinese, English, and Japanese, and is obsessed with the taste and flavor of Uji Matcha tea.
Pictured above: Fan Xiang (right) and her collaborator Shunshan Zhu got their SIGGRAPH 2020 Art Papers Best in Show award through UPS on 1 September. The prize spent 20 days going through California, Alaska, somewhere in Korea, Zhengzhou, China, and eventually came to Beijing, China. Although there was no award ceremony in Washington, D.C., friends celebrated them with a feast of their hometown style and also shot this picture at a friend's home.