"Millennium Falcon": Smugglers Run © 2020 Walt Disney Imagineering
Real-Time Live! is one of the SIGGRAPH conference's most popular annual events, featuring demos of the latest applications of real-time technology. "The Technology Behind 'Millennium Falcon': Smugglers Run" is 1 of the 9 real-time demos set for SIGGRAPH 2020's Real-Time Live! event. We connected with Eric Smolikowski (Walt Disney Imagineering) to learn more about the technological innovations used to create this theme park attraction and how riders' rave reviews have touched him on a personal level.
SIGGRAPH: Your demo will showcase the technological innovations behind the "Millennium Falcon": Smugglers Run, which is part of "Star Wars": Galaxy's Edge at both Disneyland Resort and Walt Disney World Resort. Give us some background on those innovations.
Eric Smolikowski (ES): We had two major goals for the rendering of the attraction:
The first was to provide an immersive experience, which meant that we didn't want our guests to see a screen in front of them and instead see the environment all around them. (It also meant offering the highest fidelity as possible to put our guests in the "Star Wars" universe and movies the best we could.)
The second was to provide an interactive experience, which meant rendering the attraction in real time out of a game engine.
With those goals in mind, we knew we couldn't use traditional rendering to get the performance necessary to accomplish our goals. This is where, through our discussions with Nvidia, we got the idea to utilize a custom-built piece of hardware where we could multiply our horsepower by 4–6 times through the utilization of multiple GPUs in one single computer. Then we needed to adapt our game engine to utilize those GPUs as best we could. As for the game engine of choice to start from, we looked at which one could be a strong base to deliver the immersive experience we wanted to build. Epic's Unreal Engine 4 was an obvious choice, since its goal has always been to push visual quality boundaries.
SIGGRAPH: Tell us about the process of creating "Millennium Falcon": Smugglers Run.
ES: Building "Millennium Falcon": Smugglers Run was an extensive process. Not only did we need to build this innovative and unique piece of software technology, we also needed to build a game — and a large one. Although we have built interactive experiences at Walt Disney Imagineering before, building such a game was extremely novel for the company. We brought in a video game developer to help with the project, as well as our partners from Lucasfilm and Industrial Light & Magic to perfect the experience and make it deeply "Star Wars". Keeping everyone on the same wavelength was no small feat, and our production team was key to making this successful. The overall process, from the original story ideas to the design through to production took about five years, and although there was a very large team around the construction, the ride system, show-control systems, animatronics, audio, etc., the team who focused on building the interactive experience was several dozen.
SIGGRAPH: How did you achieve the goals of high fidelity, high resolution, and high frame rate for the experience?
ES: The expertise of our visuals partners at Industrial Light & Magic was key to building high-quality environments that best fit the "Star Wars" universe. We used their internal pipeline to build those assets, which greatly helped in achieving our goals. We then projected their content over five 2560×1600 projectors, with outputs blended together to create a seamless, high-resolution image over the surface of the screen. Those two aspects, combined with our high-performance, multi-GPU technology, allowed us to reach the bar we had set for ourselves.
SIGGRAPH: "Millennium Falcon": Smugglers Run is an attraction for all ages. What feedback have you received from those who have experienced the smuggling mission? What do you hope riders take away from the experience?
ES: Every friend I have who went down to "Star Wars": Galaxy's Edge to experience "Millennium Falcon": Smugglers Run has given me excellent reviews. I even had children from my kids' school come to me and thank me for the attraction. This has definitely touched me at a personal level.
They all have thoroughly enjoyed the whole experience, from discovering the real-size "Millennium Falcon" in the land, walking Hondo Ohnaka's hangar and the inside of the Falcon itself, to finally getting into the actual cabin and flying it through a tumultuous mission. It is magical all along. The mission's cooperation aspect makes for a special moment when playing with your friends and family. What's better than getting excited together and succeeding as a team?
I suggest that future riders out there try to have a full crew when going to execute the mission for Hondo. The thrill is much greater with a friend or family member at each position in the cabin.
SIGGRAPH: What's next for "Millennium Falcon": Smugglers Run? Any additional developments? Expansions planned for the ride?
ES: We are always looking at ways to enhance the guest experience. The immersive and interactive nature of this attraction makes multiple missions a possibility in the future.
SIGGRAPH: Share your favorite SIGGRAPH memory.
ES: I have attended the SIGGRAPH conference a couple of times now, and my fondest memory was at one of the real-time rendering Talks, where the presenter couldn't get audio to work for his video out of his laptop and cracked the joke, "This is a graphics conference, who cares about audio?!"
I always like to meet with the community every year and discuss graphics innovations in the main industries, like games and movies, and see how computer graphics is expanding across many other industries. This year, I am looking forward to attending my usual real-time and physically based shading Courses. It's always exciting to hear what my colleagues from the games industry have been up to over the past year.
SIGGRAPH: What advice do you have for someone who wants to submit to Real-Time Live! for a future SIGGRAPH conference?
ES: It can be quite overwhelming to see all the different presentations up on stage, but there are a lot of great things out there and you could be the next big thing. So, my advice is to just believe in yourself. If you trust you have built something great, don't hesitate to submit your application.
---
Don't miss the live demo of "Millennium Falcon": Smugglers Run during Real-Time Live!, 25 August at 4 pm PDT, and be sure to register for SIGGRAPH 2020, launching virtually on 17 August.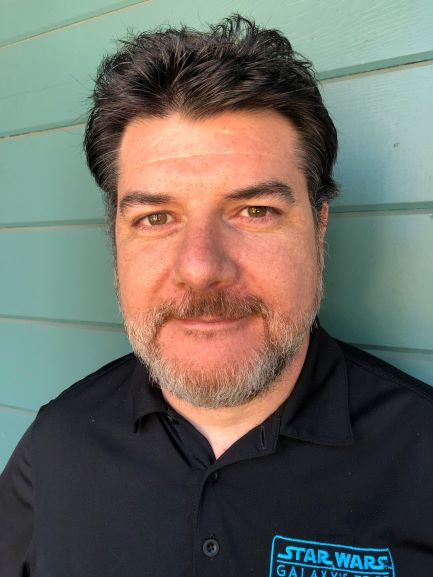 Eric Smolikowski is a veteran of the games industry who joined Walt Disney Imagineering in 2015 to lead the development of the technology behind the "Millennium Falcon": Smugglers Run attraction for Disneyland Park and Disney's Hollywood Studios. Eric started his career in Bordeaux, France, at Kalisto, a French game studio. He later moved to Brisbane, Australia, and then Los Angeles, and has worked at companies like Pandemic Studios, Electronic Arts, and Sony Santa Monica as a senior graphics engineer for game consoles, focusing mostly on the PlayStation platforms.