The Studio is perhaps the SIGGRAPH conference's most playful space, and we sat down with SIGGRAPH 2019 Studio chair Chrissy Cain to learn more about her vision for the program in Los Angeles next summer.
SIGGRAPH: Tell us about your volunteer journey with SIGGRAPH.
Chrissy Cain (CC): After many years of behind-the-scenes work as a system administrator in the SIGGRAPH Studio, my Studio friends urged me to throw my name in the hat [to chair the program]. It's a new type of adventure for me, but I'm thrilled to learn more about the inner workings of the conference, and also to be able to bring my unique touch to the Studio. It has been an important and inspirational part of my life for the last 16 years!
SIGGRAPH: As the official "makerspace" of the conference, what are you looking to achieve that's new and different for attendees in L.A.?
CC: I've always seen the Studio as a place for artists and makers to collaborate and bring projects from diverse disciplines together in new ways. I want to bring in some art and project areas we haven't seen in a while to create a greater diversity of expression. Like bringing together pieces of a puzzle, combining the talents of artists, makers, animators, programmers, and puppeteers will create a broader picture of our amazing SIGGRAPH culture.
This year, we hope to have a number of structured, planned, and time-sensitive projects that will allow attendees to drop in, get involved, and create something. Plus, they'll be able to plan their days and not miss talks or sessions.
Another big goal of mine is to see augmented reality in every corner of the Studio! I hope to delight all attendees with visual surprises that inform and entertain.
SIGGRAPH: The theme for SIGGRAPH 2019 is "thrive." In what ways will attendees thrive in your Studio?
CC: I believe that we thrive the most when appreciating and making use of diverse talents. In the 2019 Studio, we will strive to embody an inclusive environment where everyone can bring their unique skill set and play in a fun, collaborative space. Encouraging community and self-expression is an excellent way to help our attendees — and the conference — thrive!
SIGGRAPH: If you could describe the atmosphere of the SIGGRAPH 2019 Studio in one sentence, what would it be?
CC: That's difficult! The Studio is… bustling, colorful, surprising, and a place to play, get involved, learn something, and witness the spectacle that is SIGGRAPH!
Stay tuned to our website for more information about the SIGGRAPH 2019 Studio and program submissions, which will open in November of 2018.
---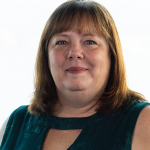 Chrissy Cain is currently working as a payroll analyst at a data ad-tech startup in Palo Alto, Calif., where she gets to play with numbers and spreadsheets all day. She has been in finance/HR/accounting for the last 12 years, and was in IT Systems Administration for 20 years before that. In 2001 she met a new coworker in the IT department of MBARI (Monterey Bay Aquarium Research Institute) named Pete Braccio. Pete asked her to come volunteer for The Guerrilla Studio at SIGGRAPH 2002 in San Antonio, Texas, and she was hooked. She's been volunteering ever since as the Studio's systems administrator. While building out the computers for workshops and attendees to use at the show, she has been learning about art, animation, 3D printing, motion capture, and enjoying all the wonderful and amazing sights at SIGGRAPH.