Image: Touch Hologram in Mid-Air, courtesy IMMERSION 
The Emerging Technologies Program at SIGGRAPH 2017 lets you interact with surprising experiences that move beyond digital tradition, blur the boundaries between art and science, and transform social assumptions. See, learn, touch, and try the state of the art in human-computer interaction and robotics.
Press play below to watch the SIGGRAPH 2017 Emerging Technologies Preview Trailer!
You can access the preliminary list of Emerging Technologies installations on the SIGGRAPH 2017 website and below are just a few highlights of some of the amazing projects you will experience.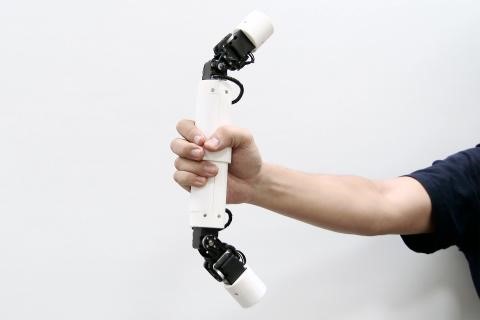 Bottomless Joystick 2
Authors: Yuichiro Katsumoto, National University of Singapore
Bottomless Joystick 2 provides the same kinetic sensation in midair as a normal joystick. It can be used by one person, or more than one, simultaneously. For first-person shooter games, one user can deploy two joysticks to simulate two handguns. Two joysticks can also represent feedback from ski poles, or boat oars, or a bow shooting an arrow.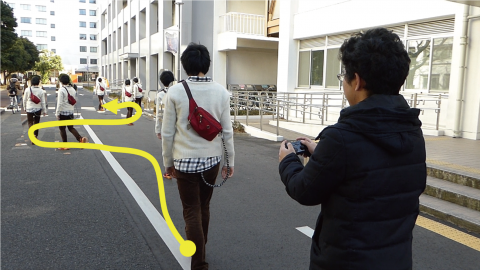 HangerON: A Belt-Type Human Walking Controller Using the Hanger Reflex Haptic Illusion
Authors: Yuki Kon, Takuto Nakamura, Hiroyuki Kajimoto, Rei Sakuragi, Hirotaka Shionoiri, Seitaro Kaneko, The University of Electro-Communications
Since visual and auditory navigation of human walking requires interpretation of navigation information, user attention is consumed, and risk is increased. HangerON uses the Hanger Reflex, an illusory phenomenon caused by haptic stimulus. Mounted on the user's waist, it causes a rotating left-right movement to manipulate walking direction. The demo includes three applications of the method: normal walking navigation that automatically achieves a destination, remote control of one user by another user, and user-controlled walking.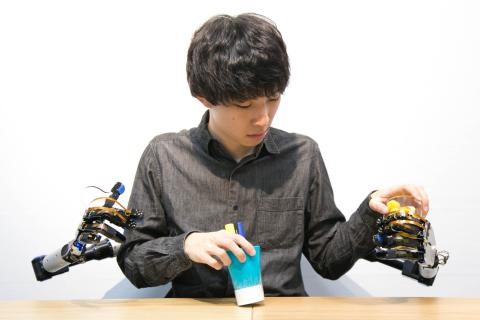 MetaLimbs: Multiple Arms Interaction Metamorphism
Authors: Tomoya Sasaki, MHD Yamen Saraiji, Charith Lasantha Fernando, Kouta Minamizawa, Keio University; Masahiko Inami, The University of Tokyo
MetaLimbs proposes a novel approach to body-schema alternation and artificial-limb interaction. It adds two robotic arms to the user's body and maps the global motion of legs and feet relative to the torso. It also maps local motion of the toes. Then it maps these data to arm and hand motion, and to fingers gripping the artificial limbs, adds force feedback to the feet, and maps the feedback to the manipulator's touch sensors.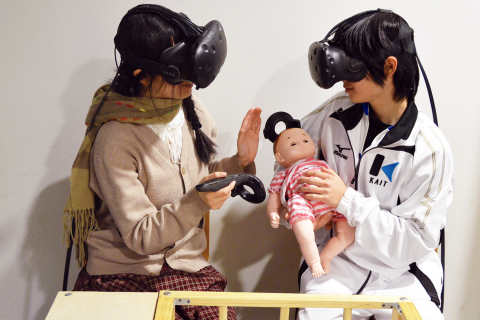 Real Baby – Real Family: Age-Controllable VR Avatar From 2D Face Images
Authors: Rex Hsieh, Yuya Mochizuki, Takaya Asano, Marika Higashida, Akihiko Shirai, Kanagawa Institute of Technology
Real Baby – Real Family is an entertainment VR baby-avatar-generation system that includes visual, audio, and haptic feedback; a physical baby form; and a virtual baby whose face is generated by combining two photos of the players. I project simulates a complete baby-nursery experience.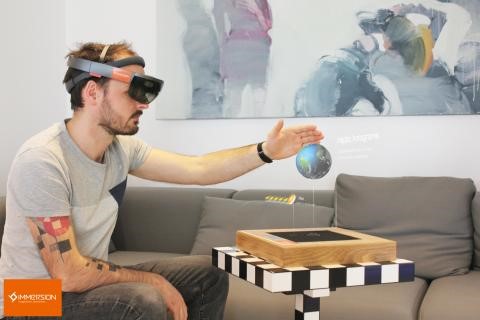 Touch Hologram in Mid-Air
Authors: Julien Castet, Cédric Kervegant, Felix Raymond, Delphine Graeff, Immersion SAS
This demonstration adds a method for touching the objects, based on a touch development kit from Ultrahaptics, the only mid-air tactile feedback technology. It provides a touch feeling without any mechanical equipment in the visualization area (which would be inconsistent with the hologram concept). Touch Hologram in Mid-Air is a singular and surprising experience that illuminates a broad field of future research. It is unique in giving physical presence to intangible objects.
Join us at the conference, 30 July – 3 August. Register now!