Photo: The SIGGRAPH 2017 Program Committee
With the SIGGRAPH 2017 Call for Submissions now open, our annual conference is moving from concept to reality, and it will be no time before we gather in Los Angeles to celebrate, learn and be amazed at the innovation and creativity of our community.
To each of the thousands of attendees who make the annual pilgrimage to SIGGRAPH, the conference means something different. Some think of it as front-row seating for the unveiling of the latest computer graphics research. Others see it as a means to discover and experience a variety of cutting-edge technologies. Still others attend the conference for the opportunities it provides to network and exchange ideas with like-minded innovators.
For a core group of attendees, however, the conference is something more. It's a family reunion.
Every year, hundreds of thousands of hours are donated by dedicated volunteers bent on making the next SIGGRAPH the best one yet. Through meetings, conference calls and email chains a mile long, they discuss and plan every detail of the conference. As months turn to years, colleagues become friends, and volunteer groups morph into something closer to family units than anything else. For many volunteers, SIGGRAPH is like a second home.
It didn't take me long to discover what drives people to give so much of their time to the conference. At around midnight on day one of my first SIGGRAPH, I found myself poolside with roughly a dozen volunteers of various ages, all with different backgrounds. Our conversation was so animated that the night slipped away without any of us even realizing it. We talked about everything from video games to movies, art, 3D modeling, programming, robotics, music, virtual reality and space exploration. Hotel staff eventually arrived and politely asked us to pack it up.
It's this spirit of kinship that, to me, is the essence of SIGGRAPH. When the conference is in full swing, the atmosphere is electric – there are so many ideas bouncing around, delivered with so much excitement and passion, it's impossible to be anything but enthusiastic.
The people of SIGGRAPH are what bring me back year after year, and it's the very thing I'm most looking forward to at SIGGRAPH 2017.
What about you?
---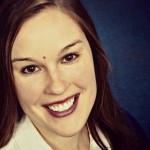 Kristy Barkan is the ACM SIGGRAPH content manager and digital communications manager at the State University of New York at Geneseo.