photo credit: Jim Hagarty Photography
SIGGRAPH 2016 has concluded its 43rd annual event with strong attendance from around the world. With the tagline "Render the Possibilities," SIGGRAPH 2016 was held at the Anaheim Convention Center, 24 – 28 July 2016.
Taking over the Anaheim Convention Center, SIGGRAPH 2016 hosted over 14,000 attendees – over 10,600 from the United States, with the balance from 73 other countries worldwide, including Canada, Japan, the UK, S. Korea, France, China and Germany. Attendees came to see great independent and studio-made films and games; to learn about the newest developments in emerging technologies; to gain hands-on experiences for future application; to hear the "how-to" behind cutting edge productions; and, to experience the merging of traditional hands-on processes with new technologies. During the course of the conference, more than 635 pieces of progressive content were shared by over 1,760 speakers and contributors.
Regarding the conclusion of the event, SIGGRAPH 2016 Conference Chair Mona Kasra said,
"This year's conference was yet another remarkably educational and stimulating gathering of thousands of leading researchers, innovators, technologists and creative practitioners — working across many existing or emerging communities within the disciplines of computer graphics and interactive techniques. During these past five days, our attendees were exposed to incredible opportunities to learn and interact directly, one-on-one, with these content creators. The next wave of excellence in specialties such as technical research, animation, art, 3D printing, real-time gaming, education and virtual reality were presented by the leading experts in these fields from every corner of the world. Overall, this year's event was extraordinary, and I truly hope our attendees had a wonderful time!"
SIGGRAPH 2016 enjoyed over 150 diverse exhibitors on the show floor during this year's event. Nearly one-third of the event's exhibitors this year came from outside the United States, making the SIGGRAPH exhibition a truly global marketplace of products and services from around the world.
Among other SIGGRAPH highlights, the conference played host to the exclusive, North American premiere of Walt Disney Animation Studios' new, animated film "Inner Workings" on 24 July.
Z. Nagin Cox, a Spacecraft Operations Engineer with the NASA Jet Propulsion Laboratory, was the SIGGRAPH 2016 keynote speaker. Cox, who shared stories of her NASA missions, including the Mars Rovers, made attendees rethink their place in the universe by reminding them that robotic explorations of the solar system (and beyond) symbolize all that humankind has the ability to accomplish. Cox inspired thousands of attendees when she declared, "Nothing's impossible when your ideas are the right kind of crazy!"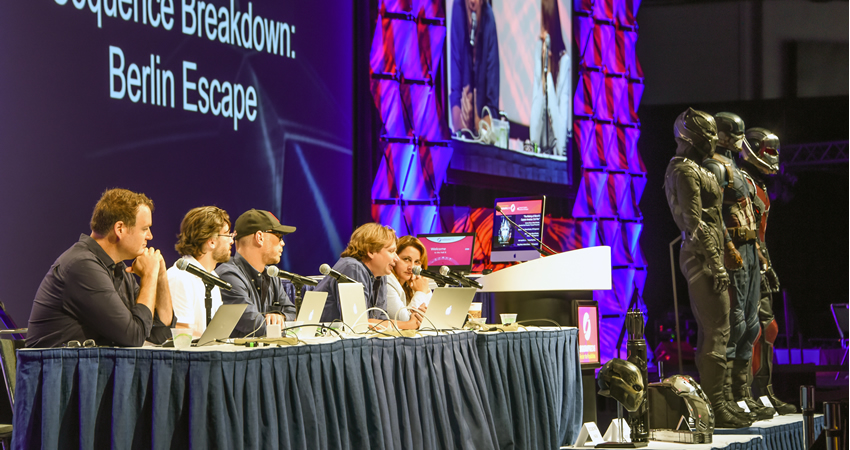 Photo credit: John Fujii
SIGGRAPH 2016 AWARD WINNERS:
On 26 July, the winner of the SIGGRAPH 2016 REAL-TIME LIVE! Award, entitled "Best Real-Time Graphics and Interactivity," went to the presentation "From Previs to Final in Five Minutes: A Breakthrough in Live Performance Capture." The winning project was a collaboration between four different companies: Epic Games, Ninja Theory, Cubic Motion, and 3Lateral Studio. The annual award, decided upon by a jury of talented industry professionals, honors significant accomplishments in real-time graphics made during the past 12 months.
Also during the REAL-TIME LIVE! event, Pixar Animation Studios announced the official open source release of Universal Scene Description, Pixar's technology used for the interchange of 3D graphics data through various digital content creation tools.
On 27 July, the Emerging Technologies program "Best in Show" Award winner was announced. The award went to "Demo of Face2Face: Real-Time Face Capture and Reenactment of RGB Videos," which presented a novel approach for producing real-time facial reenactments of a target-video sequence. The Emerging Technologies "Best in Show" Award honors the latest interactive, innovative, and graphics technologies in the 3D, virtual reality, and projection mapping industries, including practical applications. The award represents a true cross-section of science, technology, and art.
Finally, the SIGGRAPH 2016 Computer Animation Festival award winners were:
BEST IN SHOW
Borrowed Time (USA)
Directed by Andrew Coats and Lou Hamou-Lhadj, produced by Amanda Jones
A weathered sheriff returns to the remains of an accident he has spent a lifetime trying to forget. With each step forward, the memories come flooding back. Faced with his mistake once again, he must find the strength to carry on.
JURY'S CHOICE
Cosmos Laundromat (Netherlands)
Submitted and Produced by Ton Roosendaal
In this short, Franck, a depressed sheep, sees only one way out of his boring life, until he meets with the quirky salesman Victor, who offers him any life he ever wanted. The piece was created as a pilot for a feature film project that, if it happens, will be the first free, open-source animated production.
BEST STUDENT PROJECT
Crabe-Phare (France)
Directed by Mengjung Yang, Gaëtan Borde, Benjamin Lebourgeois, Clarie Vandermeersch, and Alendandre Veaux
The Crabe-Phare is a legendary crustacean. He captures the boats of lost sailors to add them to his collection. But the crab is getting old, and it is more and more difficult for him to build his collection.
Didn't make it to this year's conference? Don't miss the 44th annual conference, SIGGRAPH 2017, which will be held in Los Angeles, California, at the Los Angeles Convention Center 30 July – 3 Aug 2017.