On day two of the SIGGRAPH 2016 conference, attendees — both physical and virtual — heard from Keynote and NASA Jet Propulsion Laboratory (NASA JPL) Spacecraft Operations Engineer Z. Nagin Cox who shared stories from her interplanetary robotic missions, including that of the Mars Exploration Rover. Cox provided attendees with a behind-the-scenes viewpoint of missions that make incredible discoveries possible.
Imagine working on a project for decades and finally seeing it through to fruition. When Cox shared the incredible experience of what it was like the day the Mars Curiosity Rover landed, not only were SIGGRAPH attendees reminded of the way this incredible feat was experienced around the nation but they were also treated to an insider perspective as to what it was like to be in the NASA mission control room. She reminded the audience that the landing of Curiosity was not possible without the help of those working in animation, art, and visual effects. What the computer graphics industry explores on a daily basis provides NASA with a base that helps it to see Earth and the universe in a different way.
When people think of NASA, many think only of the the human side of space exploration, but that is just part of what NASA does. NASA's mission is to explore and understand Earth, but it's also to extend human presence beyond Earth to other planets within our solar system. Now that NASA has explored all the planets (including Pluto!), they rely on the computer graphics industry to show the general public what these planets actually look like.
The rovers NASA has sent to Mars are typically supposed to last for 90 days. Spirit lasted for six years and Opportunity has lasted for 12 years (and counting). Cox's team is now working on the Curiosity and it is the largest payload they have sent to Mars. The size of the rover presented a particular challenge for this project, and with so much needing to go right in order for a mission to be successful, such challenges create an atmosphere of just the "right kind of crazy," to quote Cox.
NASA would not be able to measure radiation, bring a drill, or transport a chemistry lab to Mars without the innovative tools and ideas that originate within the computer graphics industry. The Curiosity team includes scientists and engineers across the globe who work together to complete NASA space missions, spending countless hours preparing and executing. These teams initially come together in rooms to collaborate and learn in order to make a mission successful; however, traditional methods of teamwork all change when augmented reality (AR) is added to the mix. In some ways, AR speeds up the teaming process, allowing NASA teams to visualize the data, not just express it through words.
NASA relies on computer graphics and interactive techniques to make missions more collaborative and to allow scientists and engineers to fully immerse themselves into the experience of their mission. With AR and virtual reality (VR) tools, NASA scientists and engineers are able to make decisions more accurately and efficiently. In the future, robotic human collaboration will undoubtedly be implemented in NASA missions. This is something that will help us experience other far away worlds, since humans are restricted in physical ways. For Cox, it is remarkable to be able to put on a headset and have it be clear as to where the Curiosity rover is and what the rover should be doing for the day.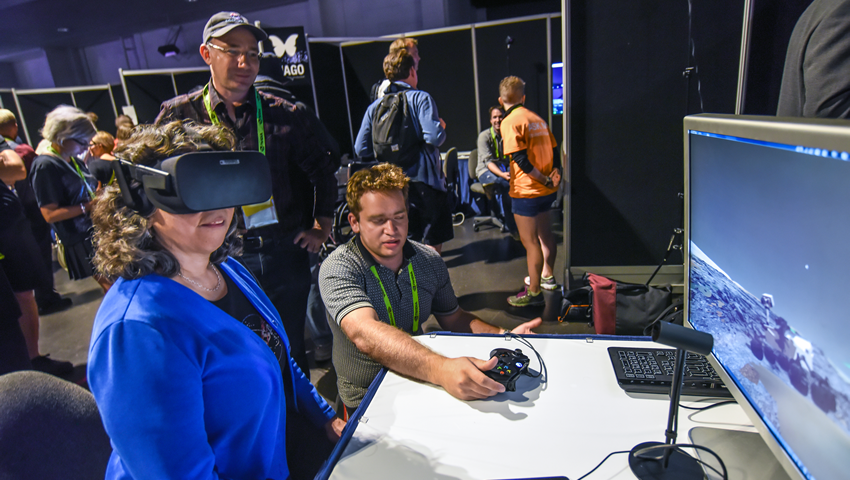 Cox visits NASA's "Scenario" installation in the SIGGRAPH 2016 VR Village.
People are energized by visual effects, Cox reminded the audience, "Never underestimate the role you have in inspiring people to go into science, engineering, or to join organizations like NASA. Computer graphics and interactive techniques illuminate a vision of what the future could be like."
The space industry cannot exist without the minds of those innovating in the fields of computer graphics and interactive techniques. The activities in the conference's VR Village and the ideas in the Papers programs are absolutely amazing, and Cox reminded the audience that they should take the inspiration and innovation they discover at the conference and use it to inform future projects.
Being part of what can help shape the world in important ways is something that both NASA and the SIGGRAPH community share. We are all in this together, it's time to explore!
More highlights from the SIGGRAPH 2016 Keynote:
Z. Nagin Cox has an asteroid named after her!
Mars and Earth are closest every 26 months. Like good neighbors, we try to get there as often as we can.
Fun Fact: The Mars Curiosity Rover is the size of a small SUV.
It took 7-9 months for Curiosity to land on Mars.
The first thing Curiosity did when it landed on Mars? Took a selfie, of course!
More fun facts from @nasa_nagin: Rover software doesn't have to be done when you launch, just by the time you land #SIGGRAPH2016 #TICodes

— Cemetech (@cemetech) July 25, 2016