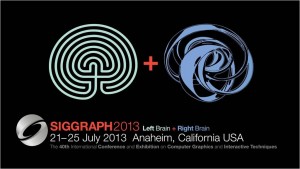 Studio sessions at SIGGRAPH 2013 at the Anaheim Convention Center in California, offer a collaborative working environment and  give attendees a chance to come together to learn, experiment, and create.  Attendees can try out a wide range of new techniques and media in 3D printing, modeling, mobile devices, and animation software and get help from experienced hands.
"Studio is a stand-out program at SIGGRAPH year after year," said Patricia Clark, SIGGRAPH 2013 Studio Chair from Arizona State University. "It's an adult technology playground.  It's more than just seeing the new technology and what it can produce, but attendees also have the chance to collaborate and work side-by-side with experienced professionals that they may not have ever had the chance to meet before."
Below are a few highlights of each facet of SIGGRAPH 2013's robust Studio sessions.
Studio Talks
Attendees get a behind-the-scenes look at Studio-related technologies, artwork, and concepts and have the chance to discuss the technologies with the presenters. Attendees can choose from a sampling of the offerings below or view the full list of Studio Talks here.
Playing Audrey II: Creating a Digital Actor Through Game Technology
Monica Evans and Kathryn Evans, The University of Texas at Dallas
This talk discusses how a team of faculty and students used digital game technology, motion capture, and facial animation to create a fully realized digital east jump actor (the man-eating plant Audrey II from the musical "Little Shop of Horrors") that performed on-stage with live actors in November 2012.
The Bleeding Edge of 3D Printing and Digital Fabrication
Daniel Collins and Don Vance, Arizona State University; Robert Michael Smith, New York Institute of Technology; John William Penn, JWP Design
This presentation provides an overview of new directions in 3D printing and digital fabrication. It includes short video clips of a variety of different systems.
Red Ball – Performing With iPads
Marla Schweppe, Rochester Institute of Technology; Darren Stevenson, PUSH Physical Theatre
PUSH Physical Theatre, a Rochester-based group, added iPads to their traditional tools of magic, mime, and movement in the performance of Red Ball. They added five iPads to the mix, performing with graphics created by Marla Schweppe.
Studio Workshops
Attendees engage a series of in-depth, intimate workshops, taught by the best in the industry. Attendee highlights include the following, or see the full list of Studio Workshops here.
Make Mobile Apps Quickly
Gil Irizarry, Conoa, Inc.
Using a variety of free open-source tools, build mobile apps quickly and easily.
3D Scanning and Fine Tooning With FaceGen
Ketrina Yim, PhaseSpace, Inc.
Using high-resolution video capture and software from FaceGen, Autodesk MotionBuilder, and other vendors, Ketrina Yim works with attendees to create 3D characters from their own faces and animate them in real time with live expressions by building a facial rig inside MotionBuilder.
3D Data Capture
Daniel Collins, Aubrey Wigner, and Joseph Hudy,  Arizona State University; Dan Gustafson, NextEngine, Inc.; Denise Grauzinis-Bartels, 4D Dynamics Bvba; Chris Lane, 3dMD
A hands-on demonstration of the various 3D data capture devices in Studio 3D.
Studio Projects
Attendees get hands on experience with the following technologies.  See the full list of Studio Projects here.
Air Painting & More: Revolutionary New Ways to Paint!
Jeremy Sutton, Sutton Studios & Gallery
Experience air painting with the Leap Motion Controller and Corel Painter Freestyle, an exciting new digital-painting paradigm in which you control your brush strokes through finger movements in the air, plus the latest in photo painting with Corel Painter and painting on the iPad.
CUMOS+: Cubic Kaleidoscope Workshop
Minori Yamazaki, Keisuke Shuto,Junichi Kanebako, and Hiroko Uchiyama, Joshibi University of Art and Design
In this workshop for producing cubic bounce house for sale kaleidoscopes, attendees draw pictures on a computer and use a cutting plotter to cut them into polycarbonate mirrors. Then they incorporate colorful light into the interior of the cubic kaleidoscope, using color-seal film and permanent-marker pens.
Pi Drums
Barry Moon, Hilary Harp, and Byron Lahey, Arizona State University; Miller Puckette, University of California, San Diego
PI Drums are ordinary drums transformed into programmable electronic instruments. Program your own interactive musical interfaces using the Pure Data graphical programming environment and Raspberry PI computers.
Romibo Robot Project
Aubrey Shick, Carnegie Mellon University
Social robot therapy is known to benefit individuals with autism, traumatic brain injury, dementia, and other social and emotional disabilities. The Romibo mobile robot brincolin allows attendees to enjoy participating in the evolution and development of this technology by contributing personal experiences and expertise through clever hacks.
Interactive Card-Weaving Design and Construction Yuki Igarashi
Jun Mitani, University of Tsukuba
An interactive system to assist design of original weaving patterns and their construction. Users can design the color of each warp yarn, the direction of four yarns passing through each card, and the direction and number of rotations of the cards.