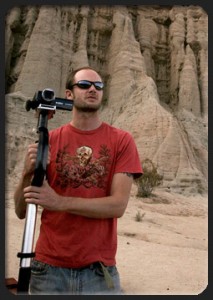 Following below is a brief conversation with Meats Meier – the artist behind the Computer Animation Festival's "Animation Mother" pictured below.
Meier is currently a freelance illustrator and animator living in Los Angeles. He taught the first ever ZBrush course at the Gnomon School of Visual Effects, and is the author of the very popular "Introduction to ZBrush" training DVD produced by the Gnomon Workshop.
Meier is also an award-winning digital artist (including two Expose' Master awards) with over a decade of experience in a wide range of artistic fields. His artwork is on the cover of numerous books, magazines, and web sites and he was honored with the prestigious "Maya Master" title by Alias at SIGGRAPH 2003.
What was your inspiration for this year's image?
The inspiration for this y
ear's image was my interpretation of the design theme of SIGGRAPH 2011 – slightly psychedelic, a little hippy, and very colorful. If you saw her in real life, she would be morphing and changing every second – these images are just snapshots of what she looks like at any time for that year.
What does the image symbolize to you personally?
The Animation Mother to me symbolizes the industry and SIGGRAPH itself – always changing, always updating, something new to look forward to.

How specifically did you create the image?
This is the fourth year that I've created the SIGGRAPH Animation Mother, and each year I take elements from the version the year before and use those parts of the base for her new look. This year, I had the model Jessica Johnson inflatable water slide scanned into a 3D model, and I used that mesh as a base to create her actual body parts. The fun part is just adding and taking away a lot of intricate detail until I'm happy with how she looks. If a new technology appears in the 3D world, there is a good chance that I will use that technique in her creation.
How much time did it entail?
I worked on it for just about four days or so. I like to try a lot of different poses and looks until I stumble upon the 'one'. I have so much fun with these images, if there wasn't a deadline (and if I didn't have other things to do) I could probably work on these until I die.
Where do you look for inspiration on a daily basis?
Nature really is my biggest inspiration. It seems like all design problems have been solved and perfected in nature. Life itself is always so interesting, so many levels of intricacy.
What brought about this collaboration between you and SIGGRAPH?
In 2008, Jill Smolin – who was in charge of the Computer Animation Festival that year – asked me to design something for the show. We discussed options, and we finally decided to do something a bit like a piece that I had done years ago that I called "Mother Nature". We got a really nice response to the image, and I was asked to continue the image for the coming years.
Any interesting projects you are working on currently?
Nowadays I'm mostly involved in art and animation for the music industry. Right now I am working on art for bands like TOOL, A Perfect Circle, and Puscifer Jb-inflatables. Art and music go hand and hand, and I love the creativity that is allowed when working on rock-and-roll.
To view more samples of Meier's work, go here.