Image Credit: "Missing 10 Hours VR" © 2023 Fazakas, Szakonyi, Vincze  
As we prepare for the stories and experiences that will be on display in the SIGGRAPH 2023 VR Theater, we connected with Fanni Fazakas, whose VR experience "Missing 10 Hours VR" received the SIGGRAPH 2023 VR Theater Best in Show award. Here, Fazakas shares background on the inspiration behind this VR experience, the feelings it evokes, and the lessons to take away from the bystander experience.
SIGGRAPH: Tell us about the process of developing "Missing 10 Hours". What inspired you to pursue this VR experience?
Fanni Fazakas (FF): "I think if issues that predominantly affect women are experienced by everyone, we can change the world." Hello, my name is Fanni Fazakas, and I am a digital media artist who loves finding ways to engage my audience as co-creators instead of just spectators. I've traveled across Europe collaborating with innovative teams that use BCI, physical computing, film, and sound. I was fortunate enough to earn a scholarship to study at NYU ITP, where I was introduced to immersive technologies by Todd Bryant, an expert in Unreal Engine and virtual production. I'm particularly interested in giving the audience the freedom to create their own narrative without being limited by traditional storytelling techniques, including the constraints of the frame itself. While I was adjusting to life in New York and becoming familiar with Unreal Engine, a friend told me about Krisztina Meggyes's personal experience. She had been given GHB at a party in Denmark and suffered from traumatic amnesia. We were aware that VR technology differed from traditional documentaries, and numerous studies had already shown the effectiveness of VR as a training tool. We hypothesized that practicing appropriate behavior in a virtual setting could increase the likelihood of taking action in a real-life party situation. As more people joined our mission at RUMEXR and Match-Frame, our collective continued to grow. We established core principles, one of which involves pursuing collaborative approaches instead of relying on a single-author perspective. We have worked with multiple survivors of sexual abuse, conducting story-gathering workshops and providing hands-on opportunities with technology. Through this work, I have slowly come to realize that I too am a survivor of date-rape drug abuse.
SIGGRAPH: What was the most compelling aspect of depicting Greg's behaviors during his night out, as well as creating multi-ending paths for the participant?
FF: "M10H VR" has a dual purpose of raising awareness and providing education and training. We believe that giving users agency in affecting the story is just as important as showcasing the stages of a survivor losing control. During workshops with survivors, we identified common stages of losing control and discussed options such as how to recognize when someone needs help and what to do if a survivor's friends are nearby. We consulted with psychologists specialized in researching the bystander effect to develop the story and mapped out secondary actions based on the four most common outcomes. Meanwhile, our tech team at RUMEXR supervised and filtered actions that could work with VR technology and our budget. Our goal for Greg's character development was to initially portray him as a friendly acquaintance of the user, but as the story progresses, it becomes evident that he has questionable values and harmful intentions. Although it's only a short segment in the story, we wanted to emphasize that perpetrators often stem from intergenerational trauma. Despite facing challenges from his family background and a conflicting call from his father, Greg must take responsibility for his actions and face the consequences as the night unfolds. The user can choose to join Greg and become a perpetrator or stop him to save Mara.
SIGGRAPH: Did you come across any specific technical barriers in making this compelling story translate into a VR world? If so, how did you overcome those challenges?
FF: Our primary objective was to optimize the experience for Quest 2 and to develop a visual style that effectively conveyed the non-fictional nature of the story, making it relatable to real-world experiences. To achieve this, we utilized Quill, a VR painting tool, and simplified metahumans for rapid prototyping, while also experimenting with various shader techniques. We sought to provide additional interactions with the main characters, such as the ability to hold onto Mara's shoulders or push Greg away at key moments. Although we initially experimented with ragdoll functions, time and budget constraints ultimately prevented their implementation.
SIGGRAPH: This VR narrative allows participants to experience making a choice as the bystander. Can you give a hint at some of the choices the participant will have to make during the night out? How have participants felt after completing the VR experience?
FF: Since the event of Mara getting drugged and losing control is fixed, as we wanted to showcase the problem itself the piece is about, the users can only have major interventions later in the story which causes a level of frustration, but that's what we initially wanted to build upon. We're about to start our research where we also measure how this level of frustration can further motivate people to act even earlier in a situation in real life. Before that key moment they are able to influence their environment and control their own actions. This decision was also intentional in order to make sure that by the time they get to the important decision-making points they already know how the VR controllers and the world work around them. In our experience, the user enters the story as a friend of Greg, who offers them free tickets to a party. At the party, they meet other friends, but, eventually, Greg drugs their mutual friend Mara with GHB. The user is presented with two types of choices: major choices that can alter the course of events related to Mara, such as saving her by taking her home in a taxi, and minor choices that do not significantly impact the narrative, such as squirting mayo on a food truck. As the story progresses, Greg makes a series of requests of the user, such as taking a humiliating selfie with an unconscious Mara or destroying the bottle that contained the drug. At one point, the user even has the option to drug themselves and experience the effects of GHB for a short period of time. There are four possible outcomes to the story. In one outcome, the user can be arrested. In another, they can help Mara get home safely. It is also possible for Greg to persuade the user to become a perpetrator alongside him.
SIGGRAPH: What do you hope SIGGRAPH participants take away from experience in "Missing 10 Hours VR"?
FF: At the end of the experience, based on the story's final outcome, the visitor has a chance to understand previous decision-making points and explore them from Mara's perspective. I hope that all SIGGRAPH participants will realize how crucial it is to take action, and to understand that these real-life situations are very complex, and it only takes moments to make the wrong choices.
SIGGRAPH: What advice do you have for VR storytellers looking to participate in future SIGGRAPH conferences?
FF: I hope that the story of how this piece was co-created in a non-hierarchical manner will inspire others to work with underrepresented communities and use XR to break taboos. It is encouraging to see that more and more festivals and conferences, including SIGGRAPH, are interested in experiences with an impact value. The XR community is still relatively small and easy to navigate, with many open platforms for active discussion. I encourage you to join the conversation and be part of the revolution.
Don't forget to register for SIGGRAPH 2023, taking place this August, to experience the VR Theater and much more. We can't wait to see you in Los Angeles!
---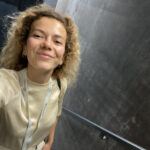 Fanni Fazakas (HU) is an Unreal Engine technical artist, director, and researcher. Her current project, "Missing 10 Hours VR," is a nonfiction virtual reality experience with multiple endings that explores the use of GHB as a date-rape drug and the Bystander Effect. The project has earned recognition as the VR Theater Best in Show at SIGGRAPH 2023 in Los Angeles and Best XR Impact at DocEdge Film Festival New Zealand. Fanni is a senior lecturer at Victoria University Wellington — Te Herenga Waka, teaching in the Master of Design Technology program. Previously, she taught nonlinear storytelling at the Moholy-Nagy University of Art and Design, where she also earned her B.A. degree. She is the founder of RUMEXR, a Budapest-based digital artist collective that creates impactful artistic works utilizing real-time solutions and immersive design to promote social and environmental change. Fanni is a graduate of the New York University ITP Program, where she earned her master's degree in 2019.