From left to right: Kristy Pron, Gracie Arenas Strittmatter, and Mikki Rose
It's time to get inspired and involved! We're amped to celebrate Volunteer Recognition Month with an exclusive interview featuring three of SIGGRAPH's many dedicated volunteers: Gracie Arenas Strittmatter, Kristy Pron, and Mikki Rose. These trailblazing women have devoted their time and expertise to supporting the computer graphics and interactive techniques community. Here, they share their personal stories, the impact volunteering has on their lives, and advice for anyone interested in getting involved. Let's get this celebration started and honor the power of volunteerism!
SIGGRAPH: What skills or experiences have you gained as a SIGGRAPH volunteer that positively impact you in your current career?
Gracie Arenas Strittmatter (GAS): I owe a lot of my current and continuing career success in the games industry to the SIGGRAPH Student Volunteer (SV) program. Above all, it taught me the value of networking with others. I have met so many incredible people throughout the years who have become dear friends through my time volunteering alongside them, and I have seen them grow from fellow students and volunteers to professionals making an impact across the industry at large. I also attribute to the SV program the exposure to working and communicating with people from many different cultures around the world, and as a former SV Chair, it helped me understand what it takes to build a unifying team culture that bridges the love for graphics with the success of the conference. It also gave me the opportunity to work on distributed teams a decade before the pandemic, enabling me to hone leadership skills in both virtual and in-person settings. Over the years, I have become deeply involved with SIGGRAPH as means of supplementing my professional development goals. This has been a huge level-up in the way I approach and shape my work and interactions within my company today. I couldn't recommend volunteering enough.
Kristy Pron (KP): SIGGRAPH was both a growing experience in terms of staying current on the industry and giving me different levels of leadership experience through being a program chair and then the SIGGRAPH 2020 Conference Chair. I gained insight into conference planning as a whole, including meeting and working with vendors, managing conference setup and tear down, and even partnering with companies for donations of equipment. The conference chair experience gained me knowledge into large-scale, nonprofit organizations; working with large-scale budgets, reviewing requests for proposals, presentation pitches, media training, and interview experiences; and learning to compromise and make decisions for the greater good of the conference. Working with various groups of colleagues from vastly different backgrounds has helped me succeed in my management role at Walt Disney Imagineering. It taught me soft skills of functional management and to try to put the needs of the team before everything else, because a happy team makes for a great working environment, no matter what is thrown your way.
Mikki Rose (MR): Through my involvement with SIGGRAPH, I have had the privilege of participating in many different conference programs, having led the conference in 2019 and now leading the Conference Advisory Group. Each of those experiences taught me unique lessons in leadership, project management, and team building that I now use every day in my position as a supervisor of character simulation, technical animation, and grooming at Mikros Animation Studios. When I was a program chair, I quickly learned that my job above anything else was to bring together teams of people to collaborate on the planning and execution of the Student Volunteer program, Computer Animation Festival, and Production Sessions. Later, as a Conference Chair, I realized that communication with all of these people was very important in order to inspire them to work with me, keep them informed of what was needed from them as well as what was going on with their peers, and ensure that they were enjoying the process! When people enjoy what they do and feel valued as part of a team, they are naturally more productive and successful in their work. I witnessed this firsthand with my teams at SIGGRAPH, and every day I try to apply that same takeaway to my teams at Mikros.
SIGGRAPH: As a former SIGGRAPH conferences volunteer, you've had a unique opportunity to see firsthand how the conference has evolved and adapted over time. What role do volunteers — both student and seasoned — play in influencing SIGGRAPH and the future of computer graphics and interactive techniques?
GAS: As a conference volunteer, you have a special opportunity to experience the conference from a support perspective, learning how the conference works behind the scenes, and shaping what the end result looks like from an attendee's point of view. At the same time, you're immediately surrounded by people who are just as passionate about being a part of the computer graphics industry as you are. It's a blend of networking, leadership, and vision all rolled up into one! Many former SVs have gone on to lead and impact the SV program itself, as well as extend to many other areas of the conference, including Conference Chair. In addition to chairing the SV program, I've been involved in programs such as Real-Time Live! and Production Sessions. Over the 20 years I've been involved, I've been able to tie my professional work into producing something tangible for conference attendees to enjoy, whether that's through bringing in relevant submissions, optimizing our processes to arrive at the best content and on-site experience, or being creative about how that content is delivered to attendees — for example, during the times I've hosted Real-Time Live!, I've incorporated a lot of witty puns to make the event even more fun!
KP: As a program chair you are given the opportunity to create a vision for your specific program to help frame the content that will be seen that year. I remember when I was the Emerging Technologies Chair, my vision was centered on work and play. That vision was all about focusing on technologies that improved efficiency in our everyday lives.
On a much larger scale, a Conference Chair does the same thing with their conference vision and tries to select program chairs who will complement that overall vision. When I was planning the 2020 conference to be held on the east coast, I had the ability to shape my vision toward highlighting regions of the world — like Europe — that are less represented at a west coast conference as well as industries outside of film and games, such as automotive, government simulation, and education. In retrospect, SIGGRAPH 2020 helped introduce a virtual SIGGRAPH experience to evolve the conference and reach audiences during times we could not meet in person.
MR: SIGGRAPH volunteers are literally the reason we have a conference at all! We rely on volunteers to plan conferences and programs, do outreach, organize submissions, recruit juries and reviewer pools, build programs around accepted content, manage setup, showtime, and tear down at conferences, and anything else that goes along with putting on the conference. Our volunteers make it all happen. That said, those volunteers are also the instigators of updates to programs when new developments occur, or even the creation of new programs to represent emerging areas of our industries. If you look back at the mid-2010s, the inclusion of VR content in an immersive program was new (again, VR had been around much earlier, then phased out a bit) at the suggestion of a couple of volunteers who saw the need for that presence at the conference. Now, the Immersive Pavilion and VR Theater programs are attendee favorites that people look forward to! Similarly, many volunteers have been closely watching the development of artificial intelligence technologies with tools like ChatGPT, Midjourney, Stable Diffusion, etc., and have brought the topic up to leadership in the Conference Advisory Group and Executive Committee. This group of volunteers is thinking ahead to the implications this topic might have on SIGGRAPH not only in content for the conference, but in submission requirements, ethical consideration, what these developments might mean for artists and technologists in the future, and how to prepare our community for that potential. These volunteers are having an impact on our conference that we are currently watching play out in real time, so you can definitely see the influence that our volunteers have over our conference and community.
SIGGRAPH: What advice would you give to current SIGGRAPH volunteers — both student and seasoned — who are looking to make the most out of their experience? Likewise, what would you say to aspiring SIGGRAPH volunteers?
GAS: SIGGRAPH was very overwhelming to me when I first experienced it — so much to see, do, and understand — and it will likely be for you. That's totally OK! It took me a few years to really get the hang of it. So if you're a first-timer or still new, get in there and absorb and experience without worrying about trying to get it all in or sticking to a hard schedule. Wander into the venues as time allows and just enjoy — you'll get the hang of SIGGRAPH over time. Soon enough, as a volunteer, you'll be able to develop ideas on how to make conference experiences even better. Keep giving back as a volunteer where you can and welcome others into the fold. Make connections with others, get to know people who are working the same shifts as you on your committee. Many of my longstanding, 20-plus year SIGGRAPH friendships started on the ground floor, working alongside others. Above all, bring your passion for the industry into everything you do. That's what keeps our community so inspiring and vibrant and the main reason why I'm still involved with SIGGRAPH today.
KP: Get to know your peers and other volunteers, as those are the people who will help you and guide you throughout your volunteer experience and your professional career. As a Student Volunteer, I made the right connections that helped me become part of subcommittees and later become a program chair. The people I met along the way helped me prepare and supported me through many of the experiences throughout my career. You make lifelong friends and people you can trust and bounce ideas off of. I would have never met the people I've known through volunteering without first becoming a volunteer myself. I would have never had the experience of being a Conference Chair without other volunteers taking a chance to select me for that role. The SIGGRAPH conferences that we know and love would not happen without the countless hours and dedication of the SIGGRAPH volunteers.
MR: My advice to any volunteers is to get to know the people you're volunteering with. SIGGRAPH volunteers are a special mix of interesting people with unique specialties who happen to be giving with their time and care enough about building our community and sharing knowledge to spend their free hours working to put on this conference. I have met some of my very best friends at SIGGRAPH, all wonderful people with whom I volunteered! This community has been with me to celebrate the highs and support me through the lows. The network you build here is truly invaluable. For anyone who is interested in volunteering with SIGGRAPH but hasn't made the leap yet, all you have to do is reach out! Feel free to contact me at cag-chair@acmsiggraph.org, I would be happy to help you connect with your area of interest.
SIGGRAPH is sincerely thankful for all of the computer graphics professionals and enthusiasts who dedicate their time to putting on our annual conference. Thank you for all you do, happy Volunteer Recognition Month!
---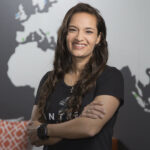 Gracie Arenas Strittmatter is the supervising director of Tiburon Technical Operations for EA SPORTS at Electronic Arts (EA) based in Austin, overseeing operational aspects of technical delivery for the Orlando-based EA SPORTS portfolio (Madden NFL, College Football, and PGA Tour Golf). With 15 years of tech art experience on AAA titles, she is passionate about leadership and career development, problem solving, programming, art tools, team building, and effective communication. As the first female university graduate in her family, Gracie is a champion of education. She is a global advisor for SOMOS EA (Hispanic/Latinx Employee Resource Group), a 20-year volunteer with ACM SIGGRAPH, an industry board member for the Texas A&M Department of Visualization, a 2022 recipient of the HACR Young Hispanic Corporate Achiever Award, and a 2022 recipient of EA's highest honor, the Purpose & Belief Award for Culture Impact. She holds a BS, computer science, and a MS, visualization sciences, from Texas A&M.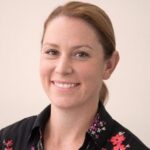 Kristy Pron is a media arts and pipeline manager at Walt Disney Imagineering, creating immersive pre-visualization experiences for designing park buildings, attractions, and experiences. With over a decade of volunteer work at ACM SIGGRAPH, Kristy started as a Student Volunteer in 2006 and later became chair for programs like Emerging Technologies (2015), Experience Hall (2016-2017), General Submissions (2019), and Labs (2022). Kristy was a member of SIGGRAPH's Community Advisory Group from 2018-2021 and served as Conference Chair for SIGGRAPH 2020.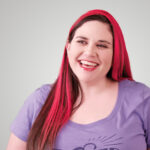 Mikki Rose is a character simulation, technical animation, and groom supervisor at Mikros Animation Studios, with experience in grooming, hair rigging, and cloth and hair simulation. She earned bachelor of science degrees in computer science and mass communication from Middle Tennessee State University and a master of fine arts in digital production arts from Clemson University. Early on she worked at Rhythm & Hues Studios and Sony Pictures Imageworks, and then at Blue Sky Studios as characters fur lead and character simulation lead. Mikki's volunteer SIGGRAPH career began in 2002 as a Student Volunteer and includes chairing the 2012 Student Volunteer program, 2015 Computer Animation Festival, 2016 Production Sessions program, and the SIGGRAPH 2019 conference. She now serves as the Conference Advisory Group Chair and on the ACM SIGGRAPH Executive Committee. She remains an active NYC ACM SIGGRAPH chapter member, as well as maintaining memberships in WIA, ASIFA, and the VES.