Image Credit: Ping Hsuan Han
Discover everything your senses can feel with this "​​Waving Blanket: Dynamic Liquid Distribution for Multiple Tactile Feedback Using Rewirable Piping System." In this new haptic experience, creators designed a system using tubes and liquid to generate relaxation to a person's senses. This new experience could be the next big thing in discovering different ways for humans to relax the body and mind while using non-traditional methods.
SIGGRAPH: Tell us about the process of developing "Waving Blanket: Dynamic Liquid Distribution for Multiple Tactile Feedback Using Rewirable Piping System." What inspired your team to pursue this technology?
Ping-Hsuan Han (PH): With virtual reality (VR) technology, users can perceive compelling visual and auditory feedback. Currently, no universal solution exists to recreate all the types of haptic sensations humans can perceive. Although we can achieve this by integrating different techniques to propose a hybrid-haptic system, giving haptic stimulation in the same place on the human skin is still challenging. Besides, the hybrid-haptic system is bulky and power-hungry. Therefore, we are exploring the haptic technique that can simulate as much as multisensory feedback.
SIGGRAPH: What, in your opinion, is the most interesting aspect of the way the human haptic system receives your technology?
PH: When we talk about haptic feedback, the most common use is vibration motors, such as in mobile phones or game controllers. In our work, we explore another solution to provide vibration feedback by water and air distribution in the tube. Also, the possibility of inducing multisensory feedback by changing the tube shape, which our current result can provide through pressure, weight, and weight-shifting. And we are still exploring it.
SIGGRAPH: How does "Waving Blanket" contribute to the greater accessibility and adaptability conversation? How does it advance adaptive technology?
PH: One of our target applications is meditation and relaxation. The pressure, weight, and weight-shifting feedback are befitting for guiding breathing or doing massage. With VR-HMD and "Waving Blanket," the user can perceive a compelling experience of the virtual scene by combining visual, auditory, and haptic for relaxation. 
SIGGRAPH: What are you hoping people will take away from your technology?
PH: I am hoping that people will gain a way to generate multiple tactile feedback with a dynamic liquid distribution system and wiring system, such as vibration, pressure, weight, and weight-shifting feedback.
SIGGRAPH: What is next for "Waving Blanket?"
PH: We will explore the possibility of different wiring and shapes to induce multisensory feedback with valves and soft tubes. Additionally, we will design multiple outlets and tactile patterns to enhance the combinations' variety and conduct user studies to explore potential applications.
SIGGRAPH: What advice do you have for someone planning to submit to Emerging Technologies at a future SIGGRAPH conference?
PH: Getting "accepted" is always a challenge for me. Before submitting the work, I always take the following into consideration: The work needs to attract people to come to play, see, and enjoy on-site. The experience can only be told precisely once you try it. Even the reviewer can't wait to try it and share it with their friends. So, the video is the key to revealing what kinds of novel interactions, potential application, and usage is possible. Then, I look at the details — how does the system work? Did the system perform well? How will the audience interact with the system? What kinds of reactions could be during the experience?
---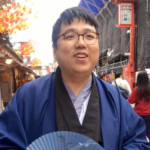 Ping-Hsuan Han currently works as an assistant professor in the Department of Interaction Design at the National Taipei University of Technology. He received his Ph.D. at the Graduate Institute of Networking and Multimedia at National Taiwan University, M.S. from the master's program in toy and game design, and B.S. from the Department of Digital Technology Design, both at National Taipei University of Education. His research interests include human-computer interaction (HCI), virtual reality (VR), mixed reality (MR), and multisensory technology, and he also focuses on creativity in engineering education and immersive storytelling.