© 2021 Disney. All Rights Reserved.
"Encanto," Walt Disney Animation Studios's latest hit film, tells the story of the Madrigal family. The Madrigals live in the mountains of Colombia, and every child in the family is blessed with a unique gift — except protagonist Mirabel. The film and its music have topped charts and taken TikTok by storm, but what went into creating this magical story?
We connected with Scott Kersavage, visual effects (VFX) supervisor for "Encanto" and longtime SIGGRAPH participant, to learn how the VFX team brought the Madrigal family and rich Colombian setting to life. Plus, Kersavage shares background about the technical advancements "Encanto" utilized that no Disney film has employed before. And yes, we may have covered "We Don't Talk About Bruno" and the enthusiasm for the film taking over TikTok. Read on for a behind-the-scenes look at this instant Disney classic.
SIGGRAPH: "Encanto" is a film about family — something the filmmakers decided before a single character was imagined — how did you and your team bring visions for the Madrigal family to life?
Scott Kersavage (SK): It certainly was a team effort. We had an opportunity for our leadership team to take a trip to Colombia, where the story was inspired in so many ways by different parts of the region and the different individuals we talked to there. We were fortunate enough to form a cultural trust, and that cultural trust had lots of different pieces to it. We had anthropologists, we had architects, we had botanists, and we had people who were really involved in music as part of the cultural history. We had great reference and inspiration and oversight in general. Internally, we had a Latinx group of our employees who offered a lot of voice and wisdom to the team as well.
Part of what we try to do with every one of these movies is make something that is going to resonate with people. With this film, we had a large cast of about 12 main characters. Usually with our films, we probably have one or two main characters and we separate them in levels of the detail. That is to say: Are they a character who is walking in the background, or do they have one or two speaking lines? Are they going to have a lot of screen time and singing? And all the bells and whistles.
For the family, 12 of them had a robust set of controls and then very elaborate clothing. The movie's design was inspired by the time period at the turn of the 20th century, so that was our inspiration for the particular style that we wanted to bring to the screen. Through that you had the complexity of the clothing of that period — layered shirts, vests, and jackets for the men, and also skirts, petticoats, and bloomers for the women. Those all have to interact and simulate together. We wanted to make sure that we were being very accurate to the time period and the culture, and that we were representing everybody as accurately as we could. That [goal had to then be] layered with these powers that each family member had. The team did an amazing job trying to balance all these particular things and bring the characters to life. It was a good journey for us.
SIGGRAPH: "Encanto" is set in Colombia, which is known as the "crossroads of Latin America." What techniques did you use to bring the country's rich culture to life on screen?
SK: One of the things that was very specific to the show was that we had very different hairstyles. So, you have ranges of diversity in the characters and also in the different regions from an environmental standpoint.
On the character side, we had different hairstyles to represent. We had straight and wavy hair, we had really tight curls, but we didn't have a more loose kind of curl like what you see with Mirabel. We wanted to be able to make the hair feel super natural, so that was something we really pushed on the development side to ensure we were representing people that had different kinds of hairstyles that were so diverse and making them as accurate as possible. The same thing applies to skin tones.
On the environment side, the research trip took filmmakers to different areas. For the tree in Antonio's room, we started building upon that vegetation with the inspiration we got from these trips, but we also had botanists and consultants guiding us. Our house was almost a character in itself. It had a lot of complexity built into it, and we wanted to represent building techniques that were present in the region during that time period. We learned about different styles of construction at the time through our architects, including how they would set up frames. We really tried to pay attention and represent it in the film so that, if you're familiar with the region, you'll recognize it. It helps the film resonate because of the believability that's behind what we've done.
SIGGRAPH: This film used technical advances that no Disney film has employed. How did use of a visual tool that emulates holograms to create special effects and the deployment of an eye shader add to the film? What led to the decision to use these techniques on "Encanto"?
SK: The eye shader has been a multiyear journey for us. We've been wanting to improve that connection with the audience — you know, the saying that eyes are the windows to the soul? We wanted to make something as believable as possible. One of the main things about this technology was how the pupil actually sits inside the iris. There's a dip that you want to have for the whole iris to be level. In previous versions of our eye shader, we had used projection techniques to make that happen. Here, we leaned into more realistic, natural eye controls and really looked at how the makeup of an eyeball actually works. We had a bow that we implemented into the pupil for how it sat into the overall sclera. On the outside, where the iris meets the sclera, there's an area called the limbus. We built controls to be able to adjust the position and size of the sclera, as well. Lastly, we added additional bulge into our cornea, which is layering on top of it. You get much better refraction through the cornea and, for all the specular highlights, they roll over that area more naturally. You also have better caustics from the light, so where you're usually seeing that bright spot on the iris underneath someone's eyes when you're in the sunlight. All of those things made advancements for us and really made the film come together.
One of the things, ironically, that's kept us from getting this implemented in a number of pictures is being able to get the control of that position. We struggled a little with this technology, trying to make sure that the characters were looking at the right place. We were able to do a number of tests at the beginning of the show to work on that problem specifically. As a benefit of this, when we're doing a stereo version of the movie, we can see where the animators maybe cheated the camera, but this actually prevented us from doing that because you could now clearly see exactly where these characters were looking. I think the animators had a better understanding of where the look-at points were and it felt more natural. Watch the characters in the movie. Our characters have always done well, but we just keep pushing it to the next level with technology like this.
The [glass] shards of Bruno's vision were a really interesting challenge brought to us by the directors. They wanted to be able to tell a story by giving information inside of these sharp pieces. They were such thin pieces of glass and they had to serve other purposes, yet be small enough that they could be handled by rodents that were carrying them around. And, the directors wanted to be able to have scenes depicted inside the shards. We have full control over our shaders, so what could we leverage with the control that we have? We leaned into the notion of having a teleport shader, for practical terms. We were able to take the refracted rays of any object and transport, or teleport, those things into the volume of another object. So, we could take those rays into another scene and then run them through the volume of another object and then back out of that object and into the camera for that particular shot. We were able to build upon that where we could have full control to be able to scale or set depth parameters. In one case, we had Mirabel in front of the house. It was a lot of work to figure out how we get the distance from the house to her to the glass and make it all feel appropriate, and we did a lot of tests bending the shard back and forth to see how far the distance is and how far she can turn before we lose the house from behind her.
It was a great effort, from our TDs [or, technical directors] and also the technology and shading teams to be able to craft and get a hold of the rays. But that's the idea behind it.
SIGGRAPH: "We Don't Talk About Bruno" is somewhat of a surprise musical hit from the movie. Tell us about animating that sequence.
SK: I'll start by saying it was a fantastic journey working with Lin [Manuel Miranda]. As the music was coming in and you're starting to put the boards to it, you realize that it is just so catchy. My wife and I were both working on the movie, and our kids were hearing some of the music playing in our house and they were finding it catchy.
The part that was really great about the movie is we wanted to lean into the idea of it being a stage play. We were inspired by a variety of different films that not only had our main characters marching to the tempo, but we wanted to have our secondary characters and crowds doing that as well. We partnered with choreographer Jamal Sims, who had a variety of dancers on his team from Colombia. [The dancers] had backgrounds in the dancing styles and the music that we were playing. We wanted to make sure we were getting the dances correct to provide a foundational piece to the scene, and we wanted everybody involved in these particular movements, including the crowds, and layering made that work. That song, and a number of these songs, pushed our team to work extremely collaboratively across disciplines in order to make it believable.
SIGGRAPH: "Bruno" aside, what scene from "Encanto" are you most proud of?
SK: If I could narrow down to exactly one, I would say toward the end of the movie you have this moment where Mirabel is going into Isabela's room to do this full-on, I-want-a-hug kind of play. There was always an idea of a flower room, but then there was an idea of this jumbotron that was going to be made of flowers. Each flower is like a pixel on a screen. Thinking about the complexity of that was something that came very late in our production. One of the things that I'm most proud of is that our team, who had been dealing with a lot at this point in time, didn't even budge at this big ask. They just methodically approached it asking themselves how they'd tackle it, piece by piece.
It was a really strong effort, especially between our departments. In our effects department, to get a lot of the movement of the flowers and the code change to represent that jumbotron idea and how we're going to work that all the way through lighting and final color to make those flowers as rich as possible. It was a great journey and really shows the amazing depth and talent that we have inside the studio. I often say it's so great to work with these folks because whatever ideas come at us, we're able to rally to the occasion. We have great artists and technologists and support people who keep our schedules on track. When everybody's working together, we can make really amazing things happen in really short periods of time.
SIGGRAPH: Recently, social media users — especially on TikTok — have been referencing "Encanto" in their videos. What are your thoughts on the virtual (and viral) reach of the film?
SK: It's amazing. I think our marketing and publicity teams do a fantastic job of getting the message out about these movies and telling audiences around the world the story we're trying to tell. When you see it resonate and people taking on its clothing or acting out the parts, it makes me very proud. I'm so proud of our team and what they were able to accomplish and put on screen, and of how many people around the world this movie has clearly resonated with. When I see what everyone is doing, it gives us all the energy that we did a great job, and we want to continue to make great movies that inspire individuals around the world. This film is about inclusivity and ensuring that all different kinds of voices are heard. We support and recognize each other and care for each other as a community, and I think it's great when we have these kinds of messages in the storytelling that are inspiring, and we want to give all of our time to make it happen.
Feeling inspired? Tell your stories at SIGGRAPH 2022 — programs like the Electronic Theater, Productions Sessions, and more are now accepting submissions. Learn more and submit.
---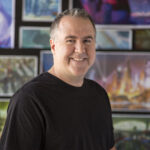 Scott Kersavage, visual effects supervisor for "Encanto," provided artistic and technical guidance to all areas of the production including the asset production, animation, layout, look and lighting, and effects teams in bringing the directors' vision to the screen. Kersavage joined Disney's Florida animation unit in 1999. His Walt Disney Animation Studios feature credits include "Lilo & Stitch" as look technical director, "Brother Bear" as CG supervisor, "Meet the Robinsons" as digital effects artist, and "Bolt" as render lead. He served as visual effects supervisor for the hit feature "Wreck-It Ralph" and then for the Oscar®-winning "Zootopia." For the Disney Animation shorts program, Kersavage served as CG supervisor on "Glago's Guest." Additionally, he was visual effects supervisor on Emmy®-winning TV special, "Prep & Landing." His work on the latter earned him and his colleagues a Visual Effects Society Award for outstanding visual effects in a broadcast miniseries, movie or a special. Prior to joining Disney, Kersavage served as president of his own animation instruction and consulting business. A native of Bellefonte, Pennsylvania, he grew up wanting to be an artist. While completing an engineering degree at Penn State University, he discovered computer graphics, which set the course for his career in animation. Kersavage lives in Valencia, California, with his family, including wife Tammy, daughter Reese, and son Matthew. Away from work, his hobbies include painting, music, and photography.