Photo © Disney/Pixar
In celebration of Women's History Month, we are honored to spotlight show-stopping women, like the team behind the SIGGRAPH 2020 Computer Animation Festival Electronic Theater Best in Show-winning short film, "Loop". Produced by Krissy Cababa and directed by Erica Milsom, of Pixar Animation Studios, "Loop" is a short film featuring a non-verbal, autistic girl and a chatty boy who are partnered on a canoeing trip. To complete their journey across an urban lake, they must both learn how the other experiences the world.
SIGGRAPH: How was the process of creating "Loop" different from other films you have worked on?
Krissy Cababa (KC): This was one of my first times ever producing, so that experience was different. Erica has done a lot of directing before, but this was her first animation, and so that was different for both of us.
The other thing that's different for Pixar is that this is a SparkShort, and that whole production process is new — or at least was new to us when we were making the film. There are different constraints on SparkShorts than there are for theatrical shorts, such as the scale, time scale, and what we are given in terms of people and assets. You have six months to make the film, which is a much smaller-scale production, and there is a lot of reuse going on with assets and sets and characters and not building everything from scratch.
The other thing that was so different, I think, from the get-go is that, when we were making "Loop", we didn't know if it would be released to the world. Because the SparkShorts program was so new, it was just this experimental thing we were doing at Pixar and we did not know if anyone would ever see it.
Erica Milsom (EM): SparkShorts are also different in terms of the executive oversight. For example, we could have a lot of our friends and the director pool take a look at "Loop", and the producer pool, in order to give us notes because we wanted their input. On a theatrical release, you often have to take those notes very seriously and make sure that you are addressing them in a way that fits with studio goals. But, with SparkShorts, leadership encouraged us to pursue new voices, new ideas, new methods, and to not hold everyone to the standard that we would for a theatrical short film.
Because of that process, there was no guarantee that they would be able to release it. But, since it was released, it has had such a universal, really sweet reception and people were so excited to see a broader cast of characters. It expands the box of what Pixar is. I think it lets everyone take more chances.
SIGGRAPH: What was the most technically challenging aspect of working on "Loop"? How did you overcome it?
EM: The first was making sure that we were able to adapt our process to our artistic collaborators. The technical side of that was reimagining many stages: reimagining our casting, our voice recording, editorial workflow, animation, lighting.
KC: We didn't have traditional technical challenges because we were using the standard Pixar pipeline to make the film. Most of our challenges were, like Erica said, on more of adapting the Pixar process to tell a different story with different main characters. For example, how do you read record if you don't have a script with written lines? And, how do you edit non-verbal and verbal performance together into something cohesive and understandable? How do you depict a point of view of a character when you're trying to express a neurodiverse point of view?
EM: How I approached that is similar to how people approach other technical challenges, which is: we did a lot of research, came up with strategies, and brought everyone on the team together to get on the same page. We would do these hour-long "keynote conversations" every time a new person came on the crew to examine what we've learned about autism from our allies who had talked to us about mistakes we made earlier in the process.
It's like learning a new software, but it's about learning a new identity and new voice. And everyone had to be on board. Krissy said, "You have to do this whole keynote every time." It was a great production decision because everybody felt like they were prepared to go to a place that was unfamiliar.
"We would do these hour-long 'keynote conversations' every time a new person came on the crew to examine what we've learned about autism from our allies."
SIGGRAPH: Erica, you were quoted in Forbes discussing the possibilities of animation by saying, "I feel like animation goes through a different heart hole." What do you see as future possibilities for computer graphics in storytelling?
EM: One of the things I loved about "Loop" was that it made me think about how animation, for a long time, has been something that is very, very challenging to do. People have to have a lot of resources to achieve it, and a lot of folks who are in marginalized communities haven't had access to storytelling through animation despite loving it. So many people love animation!
Animation connects to something so deep, so I think, as the tools become more accessible, animation will tell a grander scope of the human experience. We have the possibility to tell more stories that offer more points of view. In "Loop", it was so fun to be inside a new point of view, like the idea of perception-memory fear … all these things that, emotionally, we have understood from a limited perspective. For me, it has totally turned on a creative faucet.
SIGGRAPH: Do you have other animated stories in the works as a director? Krissy, as a producer?
EM: I have a personal project I'm working on, writing an animated feature, which is pulling characters from my previous short films, like "So Much Yellow", and putting them into the future (like a science-fiction story, calling the characters into the future), which is really fun. Also, lately I've been thinking a lot about documentary hybrid storytelling, so I'm launching a little project inspired by a conversation Krissy and I had, actually, about Alzheimer's looking at memory and trauma.
Overall, it's a hybrid idea of like, how do we integrate some of these faster animation tools into telling documentary stories? Or, those places in documentary stories where there are things to represent or explore that you can't really capture in the real world: How do we integrate these things?
KC: My day job right now is as a production manager on a Pixar feature film that is coming out this summer.
SIGGRAPH: In the same article, the "Nothing about us without us" movement is mentioned. Such a powerful aspect of this film is how many voices were brought to the table to help guide the writing, animation, and even the talent selected. How important is inclusivity of voices to your creative process?
EM: I think this was kind of inadvertent in the beginning, Krissy and I actually worked on a film together called "Snow Day: Life, Death and Skiing". It was a documentary about my dad's ski group of older adults. It ended up really focusing on disabilities through parts of it, and the struggles of each was very diverse.
I love bringing in new talent who other people have overlooked or who have lived in marginalized communities, and that can be senior citizens in nursing homes or aged people with disabilities or kids from an inner city — anyone who hasn't seen representations of themselves.
For "Loop", Krissy, do you remember: We were on Hollywood Boulevard, standing there with Madison Bandy [actress who voiced Renee] and her family, watching "Loop" in the El Capitan Hotel theater? That was like magic. That's the thing I find so powerful when you're in the film industry, you get used to parties and acknowledgement and awards and it almost just becomes part of the process. When you're coming from outside of that and the story represents you and you are also being celebrated for your story (having an audience see it and react to it and clap), that celebration gets more meaningful for me. Those kinds of connections I love. I just think that's really powerful, in addition to expressing something to the world right, but there's the recognition of the thing that you created as a crew together.
KC: Inclusivity, it takes a lot of forms: diversity of cultures, backgrounds, race, gender identity, age, etc. There are so many ways to express that and I do think it's really important when you're telling stories — especially if they are not directly from your experience or from your life — to include the people who you're telling the stories about. That's one thing I think "Loop" did so well, and I'm very proud of that. The more we can use our platform or storytelling to broaden the range of what is universally human, or what is universally a struggle or joy, the better.
SIGGRAPH: Since we're currently celebrating Women's History Month, tell us either about a female pioneer you admire and why OR share some advice you have for the next generation of women in computer graphics.
KC: One pioneer I admire is Rachel Carson, who wrote "Silent Spring". As a scientist, she was one of the first to look beyond just science for its own sake and take a broader view of how our advances impact the world. She's widely recognized as the start of the environmental movement and a big reason why we now have a ban on things like DDT. So, for me, I admire her for being able to look beyond her own field and to widen her view to a global and future perspective for future generations.
EM: My advice for the next generation of women is to bring your stories forward, bring your experience forward, bring your point of view forward. Sometimes, even if you're invited to the table, it doesn't always feel like it. Make sure that you invest in your own sense of confidence and value.
Also, you need a safe space to create. Make it. Find allies and support each other and clap for each other. Find your allies, find people that make you say, "I hear their voices but maybe their voices are not finding center stage." Amplify each other and raise the profile of those around you.
You can feel really alone if you don't have allies.
"Amplify each other and raise the profile of those around you. You can feel really alone if you don't have allies."
SIGGRAPH: What advice do you have for other filmmakers considering submitting their work to the upcoming SIGGRAPH Computer Animation Festival Electronic Theater?
KC: Definitely do it.
EM: Definitely submit.
Honestly, I have to say, I was blown away by winning Best in Show. I was like, out of all these amazing things and all these amazing juries? It just made me feel seen as a creator and appreciated as an innovator, and it was powerful to understand that our voice made an impression.
I've actually being making documentaries about SIGGRAPH since the first thing I directed at Pixar, it featured SIGGRAPH pretty heavily. It was about the Shorts program's early days and how it helped to grow the studio. And, to be frank, I saw SIGGRAPH as a group of really cool and wildly innovative dudes, but I didn't necessarily think that I was one of those people that they would recognize. So, when they did, I was like, "Whoa." I was so blown away by this acknowledgement and recognition and it makes me feel proud of ourselves but also that SIGGRAPH as an organization has such a broad sense of innovation.
KC: I agree, it's super gratifying and really humbling to be included with such an amazing group of technologists, creators, and innovators. To the independent filmmakers or other filmmakers: You never know where your audience is going to come from and you may not immediately think it's SIGGRAPH … but you never know.
What's the saying? The answer is always "no" if you don't ask.
SIGGRAPH 2021 is currently accepting submissions for Computer Animation Festival Electronic Theater through Tuesday, 23 March! Learn more about submitting a short film or other project to the Electronic Theater via the SIGGRAPH 2021 website.
---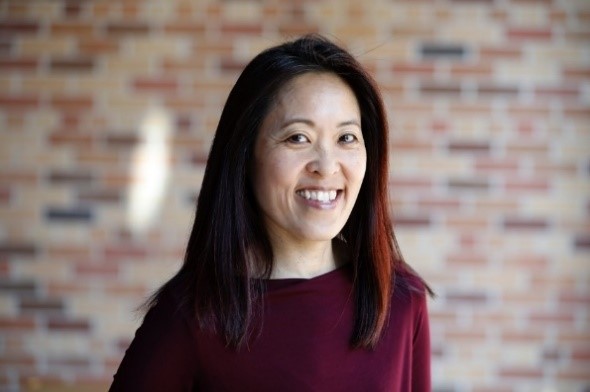 Krissy Cababa (she/her) began at Pixar Animation Studios as a contractor in August 2005, and worked in several departments including Development, Facilities, Systems, and Mastering. Cababa then moved on to work in production on Academy Award®-winning films "Toy Story 3," "Brave," and "Coco." Most recently, she was the producer of the SparkShorts films "Float" and "Loop." Cababa is currently the production manager on Pixar's next feature film, "Luca," where she serves as a liaison between the director and the film's departments. Raised in Torrance, Calif., Cababa attended North Torrance High School. She then went to UC Berkeley where she received a B.A. with a double major in English and Linguistics. When not at work, Cababa enjoys playing taiko, reading, traveling, and wistfully browsing rescue-dog sites.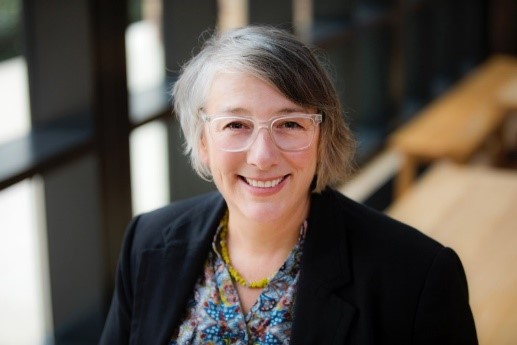 Erica Milsom (she/her) joined Pixar Animation Studios in October 2002. Milsom is an award-winning writer and director who most recently directed several episodes of the documentary series "Inside Pixar" available on Disney+. "Inside Pixar" is a documentary series of personal and cinematic stories that provide an inside look into the people, artistry, and culture of Pixar Animation Studios. Milsom's work on "Inside Pixar" was informed by a decade spent directing behind-the-scenes documentary content at the studio, a role she assumed in 2006. As a documentary director at Pixar, Milsom has created hundreds of short pieces about the studio's filmmaking process. In this role, Milsom works directly with each film's director and producer to highlight the ever-changing production process and unique elements that go into creating a Pixar film, and has told the behind-the-scenes stories for every Pixar film since "Cars." Milsom also directed the SparkShorts film "Loop," which premiered on Disney+ in January 2020 and was awarded Best in Show at the SIGGRAPH 2020 Computer Animation Festival. Additionally, Milsom has directed many short "explainer films" and hybrid animation projects for the studio's educational program "Pixar In A Box," in partnership with Khan Academy, and content pieces for the exhibition "The Science Behind Pixar." Milsom's hybrid animation series, Buzz Lightyear Mission Logs, done in conjunction with NASA, can be seen in the Smithsonian National Air and Space Museum. When the lights go down on her work at Pixar, Milsom makes independent films. In 2017 Milsom's first fiction film, "So Much Yellow," hit the festival circuit taking home the Austin Film Festival Audience Award as well as many others. In 2016, her pilot "Diana and The Cake Boys" won the notice of IFP and was included in their Screen Forward Lab and Film Week in New York City. And, in 2015, she directed a feature documentary, "Snow Day – Life, Death and Skiing." Prior to her career at Pixar, Milsom was a program developer and job coach for the Volunteer Center of San Francisco, where she worked with adults and youth with disabilities. She's also worked on non-formal education projects in California (Oakland and San Francisco), the Dominican Republic, Ecuador, Costa Rica, Guatemala, and Nepal. Milsom continues to volunteer with local non-profits that create economic, creative and social opportunities within her community, and currently resides in Richmond, Calif.