© 2019 Tyler Hurd

The Experience Hall at SIGGRAPH 2019 took attendees back to the '80s with "Beach Body Bros," a VR experience by Tyler Hurd (Gentle Manhands, Oculus) that wascreated with Oculus Medium. We caught up with Tyler post-SIGGRAPH to learn more about how he uses VR to make users feel important and heighten their experiences of joyfulness and fun.
SIGGRAPH: Tell us a bit about Oculus Medium. How was creating with it unique? Why was it the best choice for "Beach Body Bros"?
Tyler Hurd (TH): Oculus Medium is a VR sculpting tool in which you can use your hands in physical space to work with virtual clay in real time. It's a far more natural and organic process for 3D modeling than using traditional software with a keyboard and comprar parque acuatico hinchable baratos mouse … and it speeds things up considerably. Beach Body Bros was a proof of concept using Oculus Medium as a production-ready sculpting tool, and the process ended up being really enlightening, loose, and fun.
SIGGRAPH: How does "Beach Body Bros" differ from other VR experiences you've created?
TH: It builds off of my other designs — easy, stupid, fun stuff — and I've been learning more and more about working with physics, so I was excited to incorporate that into the design for the avatar, interactivity, and animation, as well. The characters all have active physics on them, which really sells the motion as realistic in VR, even though you're looking at highly stylized characters.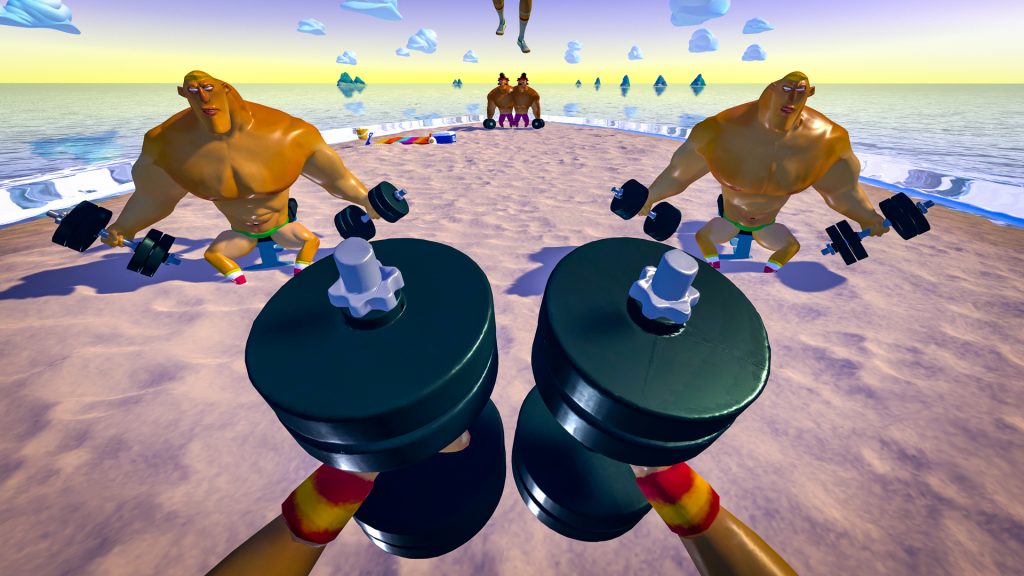 SIGGRAPH: In your article for Oculus Developer Blog, you mention that in "Beach Body Bros" there is "an intense amount of camaraderie and encouragement, which is great for the user to feel like they're engaging with the virtual world and the characters in it." What inspired you to create this feeling for users? Why is this an important aspect of the project?
TH: When designing my projects, I always try to connect the user to the virtual world in fun ways to make it feel more immersive. When people feel like they're an important part of the world they're in, they tend to engage and enjoy themselves more. At the end of the day, I want people to enjoy themselves and feel those specific good feelings I'm trying to invoke.
SIGGRAPH: What was your favorite part of creating "Beach Body Bros"?
TH: We had so much fun making this project; I don't think I can narrow it down to a single favorite. The research of the '80s bodybuilding scene, the art, all the different animations, the ad-lib dialogue recording (voiced by folks I knew), and the music was a band I'm in with friends. We even worked in my dog, Tootsie, as a prop in the experience.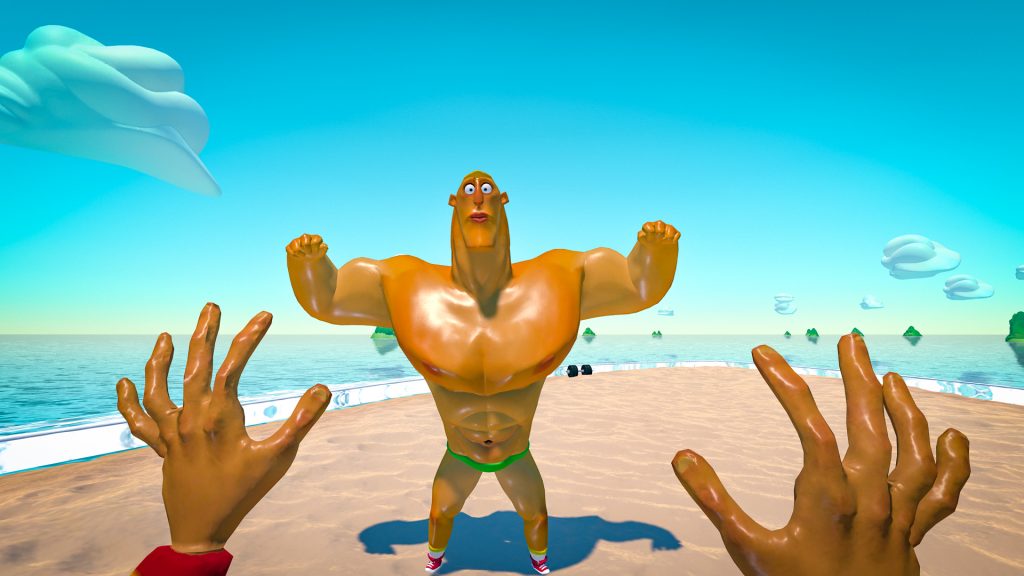 SIGGRAPH: What's next for you, professionally? Any projects you can share with us?
TH: I'm cooking up some new stuff, but mostly these days I'm excited to raise my son. He just turned one this month, and he's been way more fun than working on any VR experience.
SIGGRAPH: Tell us about your SIGGRAPH 2019 experience. How did showing the project go? Are there any key highlights or favorite memories from this or a past conference that you'd like to share with us?
TH: SIGGRAPH went really well! "Beach Body Bros" is a great show-floor piece because it's so easy, quick, and ridiculous. People really had a lot of fun with it. Even the guides showing the project had a great time. There was one gentleman who would do an Arnold Schwarzenegger voice while helping usher folks in and out of the experience. I couldn't have asked for a better showing.
Do you have a groundbreaking experience in augmented, virtual, or mixed reality that you want to showcase in the Immersive Pavilion at SIGGRAPH 2020 in Washington, D.C.? Stay tuned for more information on submissions and deadlines.
---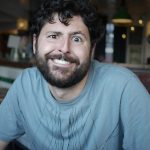 A longtime 3D animator and tech artist from San Francisco, Tyler Hurd creates fun, animated, VR things. After working nine years at the award-winning video game studio Double Fine Productions — and a few years freelancing in the advertising world in New York — Tyler combined his knowledge of game engines and pipelines with non-interactive animation to enter the VR world with his short film "BUTTS" in 2014, which is widely recognized as the first animated short film in VR. After seeing his little characters come alive in VR, he was hooked. From there, Tyler started on a solo animation project "Old Friend," a room-scale VR music video to the song of the same name by Future Islands (presented by Wevr) that puts you, as a wiggly puppet, into an overwhelmingly joyful, psychedelic dance party. Tyler's follow-up piece "Chocolate," another room-scale VR music video to a song by Giraffage (presented by Viacom NEXT), features you, as a robot, in a glimmering chrome world, launching cute kitties out of your transforming hands to a tribe of people in slow motion. His works have won awards and been featured at countless festivals, notably premiering at Tribeca and Sundance. Tyler plans to continue to explore the powerful, emotional response of VR and the joyful effect of interacting with fun, animated characters.