Dina Douglass © 2019 ACM SIGGRAPH
Jerome Solomon, Dean of Education at Cogswell College and SIGGRAPH 2017 Conference Chair Emeritus, boasts 17 years of industry experience in Hollywood. He's worked with Industrial Light and Magic, DreamWorks Animation, Electronic Arts, and Rhythm & Hues Studios, and still makes time to return to SIGGRAPH as an avid participant. We caught up with him to learn more Bouncy Castle For Sale about why he began attending, how the conference has advanced his career, and what made him fall in love with SIGGRAPH.
SIGGRAPH: Share your SIGGRAPH story, and what makes the conference special to you.
Jerome Solomon (JS): When I attended my first SIGGRAPH in 1987, I was 11 years old and traveled there in a tardis. Ok, maybe I wasn't 11 years old in 1987, but I did meet many different people with shared interests. I remember vividly how welcoming the community was, independent of me being a young Black student, and how everybody was attending with shared goals. Everyone just wanted to learn from each other and to move the graphics and technology industry forward. It was home. As a young, eager college student, it made me want to come back year after year… So, I did. The wonderful community that makes up SIGGRAPH remains the same to this day.
SIGGRAPH: We know there are so many good ones, but if you had to choose… What is your favorite SIGGRAPH memory?
JS: My favorite SIGGRAPH memory has got to be being in the Computer Animation Festival Electronic Theater and watching a short film play on the big screen that our team at Georgia Tech worked on. It was the most wonderful feeling. We all felt so fortunate to be a part of the Computer Animation Festival and to have our work screened there.
SIGGRAPH: What project stands out to you as one of your all-time favorites?
JS: One of the most interesting projects I ever saw was in Emerging Technologies. There was a globe of Earth that you could spin around and you could look at the whole world. Around the globe was an outer ring, like [the one] on Mars, and you could turn it with your hands, which allowed you to turn back time on Earth. You could literally watch the continents animate and form while you controlled time and the rotation of the globe.
---
Stand in the longest line you can find. Talk with the person that is in front of you and behind you. They are amazing and may change your life forever. This is the SIGGRAPH experience.
---
SIGGRAPH: The theme of SIGGRAPH 2019 was "Thrive." How has attending SIGGRAPH helped you thrive in your career?
JS: SIGGRAPH is really responsible for my career and so much more. I met the late, remarkably smart and talented Keith Hunter from Rhythm & Hues Studios at SIGGRAPH. We stayed in touch while I finished my Master's degree, and I was fortunate enough to be able to occasionally show him my work at Georgia Tech along the way. Keith brought me in for an interview and everything worked out. I ended up getting my first job in the industry at Rhythm & Hues Studios because of SIGGRAPH! The opportunities, friends, learning, knowledge, and ability to connect with so many smart and amazing people has made it a special part of my life. SIGGRAPH has been a total blessing for me, and I am very thankful to be part of the community. Moreover, SIGGRAPH has been the family I always come back to in order to learn new techniques and share experiences and knowledge.
SIGGRAPH: What advice do you have for someone attending the conference for the first time?
JS: Stand in the longest line you can find. Talk with the person that is in front of you and behind you. They are amazing and may change your life forever. This is the SIGGRAPH experience.
---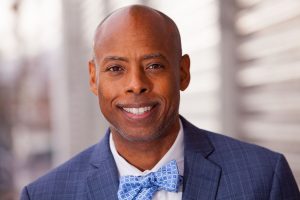 During his 17-plus-year career, Jerome Solomon has received film credits on "Avatar," "Madagascar," "Shrek 2," "Babe," "Ace Ventura II," and "Batman & Robin." In addition, Jerome has shipped 3 AAA game titles in "Star Wars Force Unleashed," "Tiger Woods 07," and "The Godfather Game." Jerome also is the Conference Chair Emeritus for SIGGRAPH 2017 and a 2017 recipient of the Silicon Valley NAACP Circle of Friends Award. Jerome received a B.S. in computer engineering from UCLA and an M.S. in computer science, computer animation from Georgia Institute of Technology. He is currently a Ph.D. student in cybersecurity at Santa Clara University, and an associate professor and dean of education at Cogswell Polytechnical College.