Dina Douglass © 2019 ACM SIGGRAPH
Andrew Glassner is a writer-director, researcher, consultant, and avid SIGGRAPH attendee — and presenter — who continues to return because of the special connections he's developed over the years. Not only does Glassner enjoy the conference, but it has also proven to be valuable for him in more ways than one. We caught up with the man himself to hear more about what SIGGRAPH means to him, and how the conference has helped him thrive.
SIGGRAPH: Share your SIGGRAPH story, and what makes the conference special to you. 
Andrew Glassner (AG): The SIGGRAPH conference is where I commune with my intellectual tribe. Since my first wide-eyed trip to this ephemeral village in 1980, I've returned each year to reunite with friends, fuel my imagination, and help others join in and stretch us all.
SIGGRAPH: We know there are so many good ones, but if you had to choose… What is your favorite SIGGRAPH memory?
AG: My favorite memories always come from the first few days of every year, as I reconnect with old friends and meet new ones. One of the most interesting projects I've seen has to be, for all-around delight, Daniel Rozin's "Wooden Mirror" at the 1999 Art [Gallery]. Not only was it thought provoking, but it was beautiful to see, hear, and play with.
SIGGRAPH: The theme of SIGGRAPH 2019 was "Thrive." How has attending SIGGRAPH helped you thrive in your career?
AG: SIGGRAPH offers a friendly, upbeat, and highly concentrated dose of creative stimulation that can ignite and fuel projects, collaborations, and friendships over many years.
SIGGRAPH: What advice do you have for someone attending the conference for the first time?
AG: Don't be shy — talk to anyone and everyone that you find interesting. Make the most of your time by going to any presentation that catches your eye. You can't expect to fully understand or appreciate anything at first glance, so just soak in what you can. Stay open to new ideas and people, say yes, and seek out new ideas and inspiration. Once you've got the hang of it, don't forget to help others.
---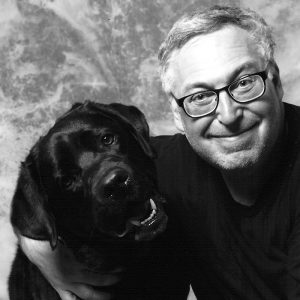 Andrew Glassner is a writer-director, researcher, and consultant in storytelling, deep learning, interactive fiction, and computer graphics. He has carried out research at labs such as the NYIT Computer Graphics Lab, Xerox PARC, Microsoft Research, and Weta Digital. His most recent book is Deep Learning: From Basics to Practice. Glassner has served as Technical Papers Chair of SIGGRAPH 1994, Founding Editor of the Journal of Computer Graphics Tools, and Editor-in-Chief of ACM Transactions on Graphics. A popular speaker, Glassner has delivered invited addresses around the world on topics ranging from computer graphics and deep learning to story structure and narrative. He is a well-known writer of numerous technical papers and books. His book 3D Computer Graphics: A Handbook for Artists and Designers has taught a generation of artists. Glassner created and edited the "Graphics Gems" series, edited the classic book An Introduction to Ray Tracing, and wrote the two-volume text Principles of Digital Image Synthesis. He has also written and directed live-action and animated films, and was creator-writer-director of an online multiplayer murder-mystery game for Microsoft. He has written novels and screenplays, and is developing a serialized story for podcast. He holds a Ph.D. in computer science from The University of North Carolina at Chapel Hill, and is a voting member of the Academy of Television Arts and Sciences. In his spare time, Andrew paints, plays jazz piano, writes for children, and hikes.