"'Space Explorers: Life in Orbit' – Filming VR in Microgravity" © 2019 Felix & Paul Studios, ISS National Lab, NASA
SIGGRAPH 2019 — next week! — will feature a Production Session on one of the most ambitious virtual reality projects ever: "Space Explorers: Life in Orbit." The session, "'Space Explorers: Life in Orbit' – Filming VR in Microgravity," will be led by panelists Sebastian Sylwan (CTO and Creative Partner, Felix & Paul Studios), Michael Interbartolo (Moonshot Navigator, NASA), Rachel Barry (Communications Managing Editor, ISS National Lab), Florent Cohen (Lead Programmer, Felix & Paul Studios), and Laura Gouillon (Software Development and 'Space Explorers' Project Manager, Felix & Paul Studios). The group will discuss the project's background and the challenges and excitement of capturing cinematic VR in the International Space Station (ISS).
We had the chance to talk with Sebastian Sylwan ahead of SIGGRAPH 2019. Here, Sebastian shares how the team developed the VR cameras, a sneak peek at the challenges they faced, and what this project means to him. If you can't make it to the session in-person, you can catch Sebastian and team next Wednesday on our livestream, where we'll be broadcasting the full session!
SIGGRAPH: Felix & Paul Studios, NASA, and the International Space Station U.S. National Laboratory partnered to make "Space Explorers." Share some background on this partnership. What has made the collaboration successful?
Sebastian Sylwan (SS): We've been working with NASA for over three years now, beginning with the first two episodes of "Space Explorers." The way we approached that first collaboration really helped set us up for future iterations of the project. NASA saw we really cared about the quality of the content and how we could harness the expressive and connective power of cinematic VR to tell the stories of astronauts and cosmonauts as they go through training. From a storytelling perspective, it was always a hope to be able to bring our cameras to the ISS. Our media partner TIME was also, at the same time, in conversations with the U.S. National Lab on the ISS (formerly CASIS) to film on the ISS, so it made sense to join efforts. Once that was in place, things started to turn.

One of the mandates of NASA is to inspire people about space exploration, and VR can really take you there, so it became very natural to embark on the next steps.

Having the support and the shared vision with people at NASA and the ISS National Lab — people like Michael Interbartolo, Dylan Mathis, and Dr. Liz Warren — has been priceless for the project and gave us access beyond what any previous production has enjoyed.
SIGGRAPH: The virtual reality cameras you developed sound like quite a technological feat. Can you tell us how the cameras came about? Who helped create them?
SS: Historically, we have always designed and built our own custom, cinematic VR cameras from the ground up. For this project, however, certifying a custom camera for flight to the ISS would have been time prohibitive, so we had to start from a commercial off-the-shelf (COTS) product. We tested every available camera, selected the ZCAM V1 PRO as the best option, and proceeded to enhance and modify it to work with a custom image processing algorithm, and in the specific conditions inside the ISS. The ability to do hardware and software designs at once is what allowed us to make it simple enough for astronauts to set up and operate the camera on the ISS and for our team to interact with the camera from Earth. The ZCAM team was very collaborative, and the Felix & Paul Studios camera team went all hands on deck to build, test, and certify the two units in orbit in record time. It was certainly an emotional moment and a relief to see that SpaceX rocket take off!
SIGGRAPH: Without giving too much away from your session, share some challenges you encountered in capturing cinematic VR on the ISS. Any surprises you can tease?
SS: Every second of an astronaut's time on the Space Station is incredibly valuable, so we had to make our camera technology extremely simple and quick to set up and use. On the other hand, shooting correct stereoscopic footage with wide angle lenses in a very tight environment is challenging, to say the least, and getting the vast amount of footage back from low-earth orbit and stitching it into a cohesive immersive experience is another matter entirely…but you'll have to attend our presentation to find out more!
SIGGRAPH: What do you hope SIGGRAPH 2019 attendees take away from the "Space Explorers" Production Session?
SS: Ad astra per aspera — through adversity to the stars. Getting a VR camera inside (and, in a short while, outside) the ISS was not easy, and we broke many firsts, but the emotions elicited by the experience are unique and make it all worth it.

The unique power of immersive media is its ability to transport you, the viewer, to an entirely different place — and hard-to-reach places are a natural choice. It is almost obvious to think of space. Even with that starting point, everyone we've shown content to is amazed by the feeling of being in the ISS. Young people, after taking the headset off, declare that they want to become astronauts and go to space themselves. Engineers at NASA and the ISS National Lab who have worked on the ISS for their entire careers were overjoyed to be able to "visit" the station for the first time. And this is just with a couple minutes of unfinished content. The final piece will have more than two hours of life aboard the ISS. This makes all the complications of shooting worth it.
The ISS Experience has a story that is truly universal: to celebrate mankind's incredible achievements of exploring our universe and pushing the boundaries of where humans can live. All we can hope — with the session and with the project — is to inspire people to go even further.
SIGGRAPH: Tell us a bit about what this project means to you, personally.
SS: I was always marginally interested in space exploration, but was never a space buff. This [project] has definitely changed that over the past few years. It is incredible what people can achieve when they make a coordinated effort, and this has a parallel with the history of this project at Felix & Paul Studios.
["Space Explorers"] is probably one of the most ambitious projects of my career, and that is likely also true for most people on the team. The size of our team is very small, but what we have achieved is quite extraordinary, so it really cemented in me the idea that a small group of smart people can achieve a lot more than is likely reasonable, even with the challenging parameters (time, budget, etc.). I am most proud of the work that the whole team at Felix & Paul Studios has done for this project.
SIGGRAPH: Have you attended a SIGGRAPH conference before? If yes, share your favorite memory. If no, share what you are most looking forward to experiencing.
SS: Yes, I have attended SIGGRAPH almost continuously since 1996. I've been an ACM SIGGRAPH member since about 2000, and I've served in some roles for the organization. By now, it is a yearly appointment that I would not miss. It's a great opportunity to catch up with friends from around the world and have conversations that will fuel our thoughts for the remainder of the year.
It's hard to pick a favorite memory, but helping Paul Debevec organize the Computer Animation Festival in 2007 was a definite highlight! Trying to convince the fire warden that we were not going to set the theater on fire with the high-powered lasers we installed in the balcony is something I'll never forget. And the final result of combining laser tracing with an animation produced in mere days by my friend — the late Andy Lezniak — looked fantastic!

Learn more about "Space Explorers" by attending the SIGGRAPH 2019 Production Session next week, Wednesday, 31 July at 2 pm PT. Production Sessions are open to participants with Full Conference Platinum, Full Conference, and Select Conference badges. Prepare for liftoff and register for the conference before it's too late!
---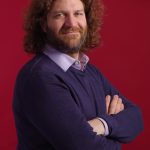 Sebastian Sylwan is the CTO and Creative Partner at Felix & Paul Studios.