Image: AutoFocals: Gaze-Contingent Eyeglasses for Presbyopes, courtesy Nitish Padmanaban, Robert Konrad, and Gordon Wetzstein, Stanford University

An exciting change to SIGGRAPH 2018 is reflective of a larger shift taking place in the industry: the rapid development of virtual and augmented reality.
SIGGRAPH 2018 is pleased to share it has expanded the space for experiential content, making more room for virtual reality (VR), augmented reality (AR), and mixed reality (MR). This year's conference will once again feature the Experience Hall, but will also present a brand-new space for these three mediums: the Immersive Pavilion.
In the past, all SIGGRAPH experiential exhibits were presented in the Experience Hall, a veritable playground for enthusiasts of computer graphics and interactive techniques. This year,  due to space constraints and an expanded VR AR MR program, much of the immersive content at SIGGRAPH will move to the Immersive Pavilion, while the Studio, Art Gallery, and Emerging Technologies will remain in the Experience Hall.
The Immersive Pavilion will be located in the East Building, Exhibit Hall A of the Vancouver Convention Centre, In addition to the VR Village, it will also include: the Vrcade, a space for VR, AR, and MR games or experiences; the VR Theater, a VR-storytelling extravaganza that is part of the Computer Animation Festival; and the brand-new VR Museum, a collection of devices that will show the evolution of the medium and devices over the years.
Says Pol Jeremias, SIGGRAPH 2018 Virtual, Augmented and Mixed Reality Chair, "We are working really hard to make the Immersive Pavilion an incredible experience, so I can't wait to see the reactions from our attendees."
SIGGRAPH 2018 attendees will have breathing room to explore all experiential learning opportunities with this new split-space dynamic. While the Experience Hall and Immersive Pavilion have similarities, they represent two sides of the same coin. The Immersive Pavilion lets the mind wander beyond the confines of reality and body, offering untethered experiences, group experiences, and immersive storytelling. And if the Immersive Pavilion is where attendees can get out of their bodies, the Experience Hall welcomes them back in.
The Experience Hall, located in the West Building, Exhibit Hall A, has always existed at SIGGRAPH as a space for hands-on play and exploration, and this year is no different. The Studio in the Experience Hall offers attendees a space to create and explore. This year, Studio content features "Building a Feedback Loop Between Electrical Stimulation and Percussion Learning," which applies electrical muscle stimulation to the learning of rhythm. There will also be "PaperPrinting: A Machine for Prototyping Paper and Its Applications for Graphic Design," which presents a system that makes paper through an additive manufacturing process by using a dispenser mounted on an XY plotter.
The Experience Hall also includes the Art Gallery, an exhibition for thought-provoking fusions of art and technology. This year's theme is "Origins" and includes work such as the interactive "Transformation Mask."
Experience Hall attendees can also explore budding technologies in the Emerging Technologies program, which is focused on three core areas of our lives: health, home and entertainment. More than 20 experiences will be presented, with work that includes robotics, exoskeletal devices, holograms, haptics, and virtual production technology.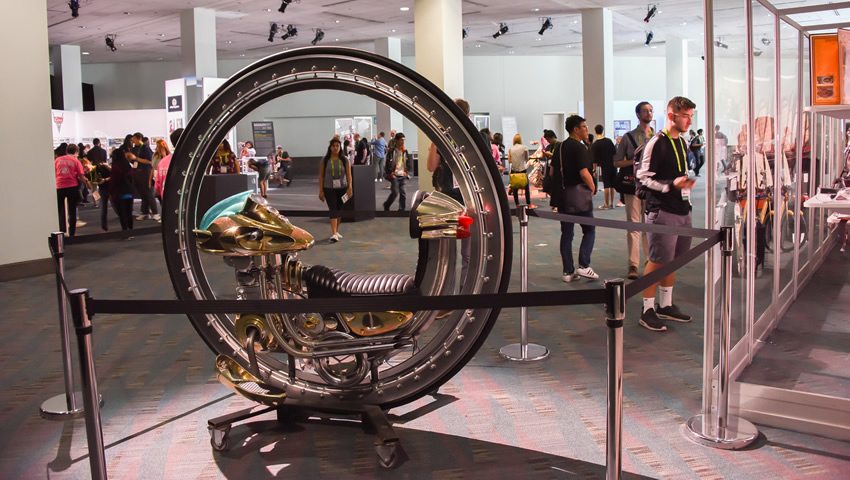 This year, the Experience Hall will also include the Production Gallery, a one-of-a-kind exhibit that recognizes the art, processes, and physical materials involved in the creation of major studio projects. New last year, the Production Gallery features artwork, props, and more from recent film, VR, or game productions for an exclusive behind-the-scenes look at some of Hollywood's biggest blockbusters.
Both the Immersive Pavilion and Experience Hall include Experience Presentations, informal presentations on new ideas that are applicable to techniques, concepts, and strategies related to the experience-based programs.
Our hope is that you travel between these two sister sections, experiencing complementary, engaging forms of immersion. SIGGRAPH has always encouraged learning through a multitude of perspectives, and the expansion of our experiential learning opportunities will allow more room for exploration in 2018.
Ready for a life changing experience. Register for SIGGRAPH 2018 today!