Inaugural SIGGRAPH Garage exhibitor Daniele Federico, co-founder and CEO of Toolchefs, shares his experience as a startup exhibitor at the 2017 conference. The Garage will be back at SIGGRAPH 2018, highlighting new and emerging companies in the computer graphics and interactive techniques space. Look for Toolchefs in the main Exhibition at SIGGRAPH 2018.
SIGGRAPH: At SIGGRAPH 2017 your company exhibited at the Garage. For people who aren't familiar with the Garage, how would you describe the setup and your experience?
Daniele Federico (DF): The SIGGRAPH Garage is the best place for a startup exhibiting at a SIGGRAPH conference. The value for what you pay to exhibit and the ability to show your product and services to the entire SIGGRAPH audience make it an unmissable opportunity. The Garage is an open space where each company gets a table and two chairs. You can then set up your spot with monitors, hanging posters, and more. Last year, I was positively impressed by the Nimble Collective booth, it looked like a lot of fun. It was great to be able to network with other exhibiting companies and attendees, too!
SIGGRAPH: What was the most valuable part of exhibiting at SIGGRAPH 2017?
DF: Without a doubt being able to show our new crowd engine, Atoms Crowd, to professionals and decision makers of the industry. We were able to position our new product in front of the people who matter most, and that was an amazing opportunity. Exhibiting at SIGGRAPH is a great place to receive customer thoughts and insights; we gathered a lot of feedback to better our business. Additionally, we met numerous people working in other industries who were intrigued by our products.
SIGGRAPH: What are your goals while exhibiting at SIGGRAPH 2018 and how are they different than your goals for SIGGRAPH 2017?
DF:
Our goal at SIGGRAPH 2017 was to show a prototype of our crowd engine, meet people, and gather feedback on customers' thoughts and opinions. This year, we are aiming to take our company to the next level and plan to use SIGGRAPH 2018 as a launching pad into the future of our business.
SIGGRAPH: Tell us about Toolchefs. Why is SIGGRAPH the place to exhibit for your company?
DF: Toolchefs is a software company mainly focused on 3D software development and consultancy. SIGGRAPH is the most important event of the year in our main field, VFX. Exhibiting there is one of our top priorities every year because we get to meet with important industry influencers and receive feedback on our products.
SIGGRAPH: The industry of 3D production is growing rapidly — where do you see your company five years from now?
DF: Toolchefs is still a small company, but in the next five years we hope to expand and to have more companies adopting our crowd engine. We are also hoping to target and start serving other industries to expand our business. We do not aim to become a big company, but to keep working on cool stuff, hire a few smart people who can help us, and to keep cultivating great relationships with our customers.
SIGGRAPH: What advice would you give to someone exhibiting in the Garage for the first time at SIGGRAPH 2018?
DF: My advice to someone exhibiting at the SIGGRAPH Garage for the first time is to make sure the people you invited understand the Garage is a specialized area of the Exhibit Hall, so they should not look for your booth in the main Exhibition area. It might be a good idea to show them on a map where your booth is to make sure they will find you or meet them somewhere and take them there yourself — there are a lot of exhibiting companies and this personal touch is helpful!
---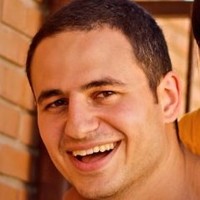 Daniele Federico graduated with a computer science degree in 2004 and began a career in VFX and animated features, first as an artist, then as a programmer. He worked for MPC, Framestore, and Dr.D, taking part in big projects such as "Gravity," "The Chronicles of Narnia: Prince Caspian," "Harry Potter and the Deathly Hallows," "Happy Feet 2," "Guardians of the Galaxy," and many others. In 2014, he co-founded London-based company Toolchefs, focused on offering consultancy services and producing proprietary software and has been working there ever since.