"Visual History with Choson Dynasty Annals" © 2016 Chung-Ang University
Imagine. Create. Innovate. Share.
These are the words that jump to mind when I think about the artists, scientists, designers, and engineers whose scholarship is at the intersection of research, emerging technology, and the arts. At this intersection, ACM SIGGRAPH is the leading conference and Leonardo/ISAST is the leading journal. Both maintain the highest bar for peer-reviewed content and have a shared history spanning more than four decades.
Ten years ago, SIGGRAPH made a commitment to memorializing juried Art Papers as a consistent part of the conference's arts history. Part of this commitment led the organization to renew its relationship with Leonardo. Now celebrating its 50th anniversary, Leonardo is widely known as a forum for principled writings on art where science and technology play an important role [1].
This history excites me both professionally and personally. I made my first contributions to both organizations early in my career while I was still a student. I had peers and mentors who drew my attention to both opportunities, which was fortunate because I didn't think to submit work on my own. It's difficult to overestimate the impact of the decision to participate and contribute to such strong communities. Through them, not only have I been able to share my work in a rigorous, scholarly manner, but I've also met incredible people and made lasting friendships.
I am in awe that even after 50 years, our work continues to invent the future and push the boundaries of what is possible.
I am excited for you and your potential. We have a strong history, and with your contributions we can have a strong future. If you have never submitted an Art Paper before, let this be your first try. If you're a seasoned submitter, welcome back. The experience is sure to transform how you think about your work and impact those who come after you.
Whether you submit or not, I encourage you to join fellow scholars at SIGGRAPH 2018 and add Art Papers events to your schedule — you will not be sorry.
---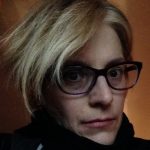 Jacquelyn Martino is an ACM Distinguished Engineer and artist-researcher. She innovates and builds systems for real people, concentrating on emerging forms of human interaction technology, interface technologies, and computational design. After completing her Ph.D. at MIT, she joined IBM, where she is currently making creative technical contributions to consumer and business products ranging in complexity from a novel presentation of financial mathematical models that ordinary people can understand to an IBM Watson culinary application that uses artificial intelligence to combine unexpected ingredients in tasty ways. She has been an IBM Master Inventor since 2011. Her contributions to ACM SIGGRAPH are varied and cross-disciplinary. Some key roles include 2008 Conference Chair, Courses Program Chair, Art Papers Chair, and Sketches Technical Reviewer. Her ongoing art-research focus is on design computation as it relates to computational drawing and human computer interaction. You can connect with her on Twitter and Instagram.