photo by John Fujii © 2017 ACM SIGGRAPH
2017 ACM SIGGRAPH Distinguished Artist Award Chair Sue Gollifer (right) and Ernest Edmonds (left)
2018 marks the 50th anniversary of Leonardo, The Journal of the International Society of the Arts, Sciences and Technology (MIT Press). Leonardo, a publication with emphasis on the writings of artists who use science and developing technologies in their work, and SIGGRAPH have been collaborating for 10 years on a special Leonardo publication that includes SIGGRAPH Art Papers. Here, longtime Leonardo contributor and 2017 ACM SIGGRAPH Lifetime Achievement Award winner Ernest Edmonds shares how the publication and ACM SIGGRAPH have impacted his growth in the field. Edmonds will be presenting "Origins" within the SIGGRAPH 2018 Art Gallery and showcasing snapshots of his work as it has developed over the years.
---
I am excited to, once again, exhibit work in the SIGGRAPH 2018 Art Gallery, where I have been invited to show examples of my work for the last 50 years. In this Vancouver-only showcase, I will be illustrating my involvement with Leonardo, The Journal of the International Society of the Arts, Sciences and Technology (MIT Press), over this same period, and celebrating its 50th anniversary.
The first paper I presented about computers and art was in 1970 at a computer graphics conference, CG70 at Brunel University in the United Kingdom (UK). In the paper, my co-author, Stroud Cornock, and I discussed the advent of the computer and its implications for art and for the role of the artist. Would this machine become the artist of the future? Would the artist of the future have any role at all? The paper included discussions of my first artwork using software in its development, began in 1968, and an interactive work that Stroud and I showed at the CG70 exhibition. We submitted the paper to Leonardo — then a new journal — and it was published in 1973. And so began my relationship both with the computer graphics community and with Leonardo.
As my work developed, I regularly published articles about it in Leonardo, a publication I see as the major journal in which to discuss new ideas in this field. In fact, I even became involved in its production when the journal introduced the fast-track print Transactions section, which I edited. As new publishing mechanisms appeared, it became unnecessary, as there are now fast-track routes for all papers. Leonardo is always changing, but is consistently the leading voice for cutting-edge artists, technologists, and scientists, as it was 50 years ago. It chooses to collaborate with, rather than run, conferences, and among those collaborations, SIGGRAPH has a special place.
As soon as SIGGRAPH began, I took a strong interest and followed the developments it promoted. Although my artist friends were in SIGGRAPH early on, I first showed an artwork in the exhibition, and presented an art paper in 2004. Since then, I have valued my involvement in both the main conference and other SIGGRAPH-sponsored meetings around the world.
What have I learned during my interactions with Leonardo and SIGGRAPH over these many years? One thing is that interaction is far more complex — and interesting — than I first thought. This is true in all areas of computing as it has become applied around the world, but in my art I am exploring radically new forms of interchange: interactions that influence the behavior of the artwork long into the future, interactions that influence other artworks in remote locations, and so on. I was interested in art-centered communication from the start but, again, the possibilities have expanded enormously. Today I make artworks composed of communicating nodes, often in different parts of the world. Each node is, by itself, an interactive artwork, but collectively there is a community of interconnected nodes making up a complex art system, with new ones added from time to time and old ones closing down. None of this reduces my core interest in color, shape, and time, but the canvas grows and grows.
Personally, the SIGGRAPH 2017 conference, and the special issue of Leonardo that went with it, was a high point for me. That issue of the journal announced my ACM SIGGRAPH Lifetime Achievement Award in Digital Art and, as if that was not good enough, the front cover used an image from an included art paper written jointly by Andrew Johnston, who had been my Ph.D. student, and Andrew Bluff, who was his Ph.D. student. Working with Sydney's Stalker Theatre Company, the paper showed how interactive computer graphics could enhance performance and lead to new art forms.
At SIGGRAPH 2018, I look forward to presenting "Origins" within the Art Gallery and showcasing snapshots of my work as it has developed over the years, as well as showing how much Leonardo has supported me throughout its 50-year life.
---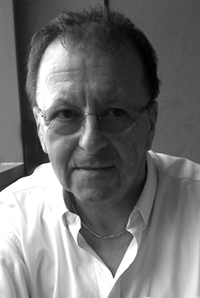 Ernest Edmonds was born in London and studied Mathematics and Philosophy at Leicester University. He has a Ph.D. in logic from Nottingham University and has held the position of University Dean, as well as served on many funding and conference committees. Edmonds was a pioneer in the development of practice-based Ph.D. programs, and has been an invited speaker to events in the UK, France, the USA, China, Australia, Japan, and Malaysia, among others.