Image credit: An Automultiscopic Projector Array for Interactive Digital Humans courtesy of Andrew Jones (University of Southern California)
If you're an industry professional who has never attended a SIGGRAPH conference or are just curious about the future of technology, the Exhibits Plus pass is a perfect way to sample the wide array of programs and exhibits at this year's event. Just make your way to downtown Los Angeles and the LA Convention Center, 11-13 August 2015. For just $75, the Exhibits Plus pass will let you access the Exhibition, where you'll get up-close and hands-on with the newest hardware systems, software tools, and creative services from hundreds of companies.
But the fun doesn't stop there. Here are six other ways to make the most of your Exhibits Plus pass:
2015 Hybrid Craft exhibition showcases craft techniques and values in contemporary digital design: Fifteen works from skilled makers who use computational design tools in their craft, integrating advanced technologies with traditional making processes. The show emphasizes the importance of craft heritage in contemporary digital design, where beautiful and meaningful artifacts are produced by a machine and craftsperson working together, not by a machine or craftsperson alone.
Play with the latest interactive and graphics technologies before they transform the way we live and work. Emerging Technologies presents demonstrations of research from several fields, including displays, input devices, collaborative environments, and robotics.
Making @ SIGGRAPH 2015 provides a community for all those who seek to be inspired and those who want to inspire.
Artists, scientists, engineers, teachers, and students come together and share what they have learned and how they use their creativity, ingenuity, and critical thinking to inspire others. Students and educators will showcase projects in response to a Tinker. Make. Innovate. challenge that aims to show off inventions that could change the world. Adult makers are invited to share their love of learning by demonstrating their creations. Education product developers are invited to share their ideas for reimagining education.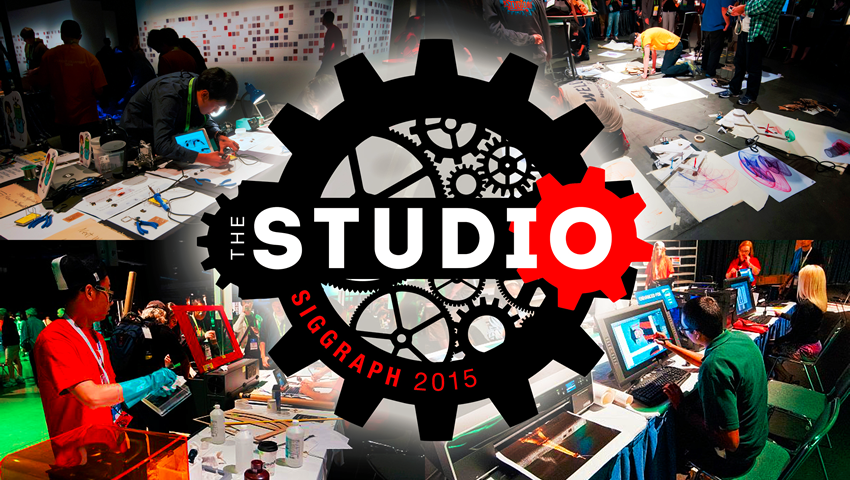 The Studio focuses on disruptive practices in the world of content creation. It presents projects from alternative fields that utilize and build new foundations in computer graphics – particularly those that extend beyond traditional screens and into the physical world through novel interactivity. With four distinct areas, the Studio at SIGGRAPH offers visitors a hands-on experience with the latest in technology, including new softwares as well as 2D and 3D printing.
New at SIGGRAPH 2015, the VR Village offers real-time immersion in tomorrow's virtual and augmented realities. Attendees can explore the fascinating potential of new formats for telling stories, engaging audiences, and powering real–world applications in health, education, design, and gaming.
The Job Fair IS THE BEST PLACE to be if you are actively looking for a new job or are passively networking to see what opportunities are available. It's also a great place to get acquainted with some great companies and broaden your horizons. If you're looking for career development tips or just want to learn about the latest CG and interactive techniques, the Job Fair at SIGGRAPH is your place to connect and open doors.
Whatever you can dream, you'll find it at SIGGRAPH 2015! Register today.