"The Algorithmic Art Studio" © 2023 Merrill
Many computer graphics and interactive techniques enthusiasts have a key interest in art. With that in mind, how does it feel to create infinite artworks? We connected with SIGGRAPH 2023 Labs contributor James Merrill to learn more about his project, "The Algorithmic Art Studio." Read on to discover what inspired the installation and how it welcomes users to tap into their creativity.
SIGGRAPH: Share some background about your SIGGRAPH 2023 Labs project "The Algorithmic Art Studio." What inspired it?
James Merrill (JM): I've been enamored with the concept of generative art for some time now. The idea that an artist can develop a system that is capable of creating infinite artworks is very fascinating to me. Given my technical and artistic background, the artform naturally grabbed my attention. Once I discovered the vibrant plotter art community, I invested in a machine called an Axidraw and began crafting generative systems for plotters.
The mix of generative art and plotters presents interesting opportunities for the artist. Incredible details and intricate designs, which start from algorithms, can be translated to pen drawings on paper.
In order to share the joyous nature of watching an image start as algorithmically generated pixels on a screen and end up as a pen drawing, I devised my Labs project, entitled "The Algorithmic Art Studio." It gives all participants a full view of the process that a generative artist undertakes, all while keeping it accessible and removing the requirement of programming. Instead, participants can modify the generative output via an application and physical hardware. They are encouraged to tweak the input parameters until they find a subjectively wonderful output, much like a generative artwork modifies code until a desirable outcome is achieved.
SIGGRAPH: How can this generative technology expand creativity in its users?
JM: This workflow enables artists to create unlimited numbers of unique artworks, which can be vastly different across the spectrum of outputs. SIGGRAPH was a fantastic opportunity to demonstrate that generative art is a way to apply deep technical knowledge toward a creative artform. Furthermore, the utilization of the pen plotter allows artists to create stunning physical editions of the artworks, all without a professional printer.
SIGGRAPH: Let's get technical. How did you develop the concept of creating a generative algorithm to produce physical artwork?
JM: In order to create art that is suitable for a plotter, you must work with vector files. This isn't particularly difficult when leveraging programming, but it can create challenges that require algebra and geometry to solve. I implemented solutions for occlusion so that I could layer shapes and patterns.
The user experience of the Labs project was key to me, so I built five applications to capture user inputs, save them, and handle the work queue remotely across multiple workstations and pen plotters. My design goal was to have a seamless experience which could be replicated across the five days at SIGGRAPH 2023 for hundreds of participants.
Another engineering challenge was tuning the generative algorithms so that they could be drawn reasonably quickly by the machines. It's not uncommon for pen plotters to run for eight-plus hours, meticulously drawing creations. I optimized my algorithms to achieve full drawing cycles of 5–15 minutes, which allowed the installation to create over 230 individual drawings.
SIGGRAPH: How does the interactive MIDI-based UI in "The Algorithmic Art Studio" allow users to fine-tune their art?
JM: Incorporating a tactile element for which users could interact with the algorithm was a key component to the installation. With no instructions, participants could intuit how each knob, slider, and dial affected the on-screen visuals which were shown on accompanying tablets. Some people pulled up chairs and spent upwards of 30 minutes fine-tuning their creations before sending them to the pen plotters.
The MIDI controllers had 12 unique inputs which I connected to various parameters in the algorithms. For example, one slider was connected to scale while another controlled rotation. These were not labeled, and curiosity and exploration were highly encouraged as users familiarized themselves with the application.
SIGGRAPH: What do you hope SIGGRAPH 2023 users took away from interacting with "The Algorithmic Art Studio"?
JM: Ideally users walked away with a piece of plotter art that they created and will be hung up to serve as a memento from SIGGRAPH 2023. I hope too that they even have some inspiration regarding generative systems and pen plotters. This intersection of art and technology has been profoundly impactful in my life, and it is a joy to share that with others.
Creativity and inspiration continues at SIGGRAPH 2024. Save the date to join us in Denver, 28 July-1 August 2024. Look forward to more details, coming soon.
---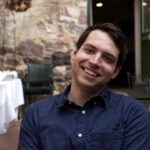 James Merrill is a multi-discipline artist who resides in Vermont. A native digital artist, his portfolio includes an eclectic mix of 3D, animation, illustration, plotter drawings, and generative artworks. His artistic endeavors span decades, and while the medium has evolved, the constant thirst for unabridged, raw, abstract creativity serves as a common thread. Follow James here.